When you have limited space, the best gaming monitor for PS4 is an exceptional alternative to huge TVs. It is cheap, looks great, and takes up very little space. As monitors are specially designed for gaming, so their motion performance is superb and input lag is very low. Plus, it will allow you to experience a completely new world of supreme gaming and play games clearly with every bit of detail. So, whether you are a competitive online gamer or a casual gamer, a gaming monitor will definitely amaze you. Although some people use the TV for console gaming it cannot beat gaming monitors no matter how expensive it will be.
The market is full of a console gaming monitor and every model comes with gifted specs and features. So, buying a new monitor for PS4 is a difficult task and one can't decide which one is better. Anyhow, you should not panic because all the monitors that you will find here offer outstanding performance. Also, our buyer's guide will lead you in the right direction to find a monitor that will conclude all your needs. In addition, while selecting these monitors we have kept the budget factor in mind. As the budget of every user is different, so people of all budgets can benefit from here equally.
Best Gaming Monitor for PS4 2021
Also Read:
Best 4K Gaming Monitor
Best Gaming Monitor Under 150
Best Gaming Monitor Under 300
Top 3 Picks
1. Acer R240HY
Display: 24″(1920 x 1080)
Refresh Rate: 60Hz
Response Time: 4ms
2. ASUS VG245H
Display: 24″(1920 x 1080)
Refresh Rate: 75Hz
Response Time: 1ms
3. BenQ ZOWIE
Display: 24″(1920 x 1080)
Refresh Rate: 75Hz
Response Time: 1ms
Frequently Asked Questions
What is a Console Gaming Monitor?
The best console gaming monitor is the one that is equipped with special features in order to boost your PS4 or Xbox experience. The manufacturer has put itself into console lover shoes while designing it, hence it offers high resolutions and immerses you in the gameplay. Along with this, it has cognizable graphics and very high frames per second. On top of that, such monitors come with calibrated settings customization that will suit you the most. Thus, powerful internal hardware and admirable features provide the extreme setup for PS4 diehard.
What are the advantages of PS4 gaming Monitor?
As already mentioned that a PS4 monitor is specifically designed for PS4 lover, let's look at some of the advantages it offers.
Outstanding Display: The best gaming monitor for PS4 sports a great screen with Full HD display. Some of them even offer a 4K display for a more immersive experience. More, the display is bright, colorful and the picture quality is remarkable.
Wide Range of Ports: Only an HDMI port is necessary for PS4 gaming, but most of the monitors are loaded with ports for a wide range of secondary connections. Hence, you can connect multiple devices at the same time.
Faster Response Time: Whether you are a PS4 fanatics or PC gamer, fast response time is required for smooth gameplay. Only with quick response time, you can enjoy gaming in a true sense without any ghosting. Fortunately, the PS4 gaming monitor comes with a very fast response time, so you should not panic about it.
Additional Features: The PS4 monitors are equipped with additional features like flexible bases and smart displays. Such features are specially added for competitive gaming. So, once you opt for a PS4 gaming monitor, you are in good hands and should not worry about anything.
Is 144Hz monitor for PS4 worth a buy?
It's a straight no. PS4 is restricted to play games at 60fps or lower than that. So, even if you get a 144Hz monitor, it will do you no good in the sense of performance. PS4 hardware is cheap and it doesn't support 90 or 120fps. We suggest that whenever you buy a monitor for PS4, a 60Hz monitor would be the best option to choose from.
What is the best monitor resolution for PS4? 1080p, 1440p or 4K?
Everyone loves to have a 4k or 1440p monitor. The higher the better but not in the case of PS4. Because PS4 will surely run 4K and 1440p monitor but user will not get the desired resolutions. PS4 have the capability to only run at 1080p or lower resolution. So, if a user connect a 4K monitor with PS4, user will only get upto 1080p resolution and everything above that is wasted. So, buying a 1080p gaming monitor is the best option for PS4.
Can I use the same monitor for both PC and PS4?
Yes Absolutely! You can use the same monitor for both PC and PS4 if your monitor has both HDMI and Display ports. But before getting too excited you should ask yourself this question "Do you want to run them simultaneously or one at a time". For running them simultaneously, we all know that a single monitor cannot display two things at the same time, so, you should try one at a time.
Is PS4 better on TV or monitor?
Well, if you are just a casual gamer that want to spend some time playing after office work then you don't need to buy a gaming monitor. Since most of the TV have HDMI, just connect PS4 to the TV you have at home and play. TVs have better color calibration and especially if you are playing story gamers, they are way better. In case, you are professional gamer that play competitive games like PUBG, Apex Legends and more then you will need a good gaming monitor. Because professional games need faster response rate, faster refresh rate for playing fps games and only gaming monitor can provide that.
You may also like to read:
Best External Hard Drive
Best Tablets
Best Bass Headphones
Best Gaming Monitor for PS4 2021
1. Acer R240HY bidx
Acer R240HY is a high quality PS4 gaming monitor with a very affordable price. Bezels around the screen are almost unnoticeable, thus ideal for multi-monitor setup. The screen is supported by a small stand with circular base and allow you to tilt the monitor by 20 degrees for your comfort. Also, the stand is magnetic, so you can attach paperclip or other useful magnetic items. Though, the monitor does not come with VESA mount, so you have to buy an adapter if you wish to mount it on a separate stand. In addition, it comes with different presets like Standard, Graphics and Movie Mode, so what you are watching select the preset accordingly.
The best gaming monitor for PS4 2021 offers a Full HD display, so picture quality is outstanding with its rich colors. The IPS panel will definitely impress you with its great color accuracy and 178-degree wide viewing angle. Hence, you can watch the screen from any distance and angle without noticing any shift in picture quality. On top of that, the 23.8 inches screen is covered by a non-reflective matte coating which eliminates light reflection up to a greater extent. Besides, the monitor is very power efficient and consumes only 19W. However, the power consumption can reduce further to 12W if you select the ECO preset.
Not only the display but the motion performance of Acer R240HY is admirable. With 4ms response time the gameplay will be smooth and you won't observe any blur or ghosting. Along with this, the 60Hz refresh rate will give you additional fluidity in games. Also, the input lag is remarkably low that is just 9ms. Furthermore, it features a blue light filter, so you can play games for longer sessions without eye strain. More, the connectivity is praiseworthy as it sports a DVI port, an HDMI port, a VGA port and an audio jack. Thus, whether you want immersive gameplay or wish a multi-monitor set up at a reasonable price, Acer R240HY will not disappoint you.
2. ASUS VG245H
ASUS VG245H is a TN monitor with great gaming performance. Build material is plastic and the stand is solid with a hole in it for cable management. Bezels around the screen are not very thin but it gives a strong feel to the overall design. However, you should not plan for multi-monitor setup. Plus, you can adjust the monitor in any position with -32 degrees to 5 degrees tilting, -90 degrees to 90 degrees swivel and up to 5 inches height adjustment. As the footprint of the stand is very small so, it can be locate close to the wall. Also, you can mount the best gaming monitor for PS4 with VESA 100 x 100.
As VG245H has TN panel so you should not expect wide viewing angle. Though, the overall picture quality is decent with superb color accuracy. More, the Full HD display on 24 inches screen offers sharp and detailed images. Along with this gray uniformity is admirable but black uniformity is not much appreciable, so dark spots may look turbid. Moreover, you won't notice any color bleed and image retention. On top of that, the best gaming monitor for the console covers all of the sRGB color space and around 70% Adobe RGB color gamut. Hence, such a display will give you the astonishing experience of gameplay.
If you are not happy with the 4ms response time of Acer R240HY, dive straight into ASUS VG245H because it is very good in motion handling due to the fast response time of 1ms. This is favorable for gaming because the blur is considerably reduced around fast-moving objects. Also, the 75Hz refresh rate and FreeSynC technology will eliminate screen tearing. The monitor also comes with ASUS Eye Care technology and a blue light filter to reduce eye strain. For connectivity, you will have two HDMI ports 1.4, a VGA port, and an audio jack. Hence, competitive gamers who want a monitor with fast responses should go for ASUS VG245H.
3. BenQ ZOWIE RL2460S
RL2455S by BenQ is the best gaming monitor for PS4 2021 with a very reasonable price tag. The overall design of the monitor is bulky and bezels around the screen are thick. But you will be pleased to know that the thick bezels reduce reflection. Although the stand offers limited adjustment with -5 degrees to 15 degrees tilting only, you can mount it on the wall with the help of VESA 100 x 100. The monitor also come with some useful gaming features like Black eQualizer due to which the dark objects become more visible in games. Also, the Color Vibrance feature saturates the color for next-level visual delights.
BenQ ZOWIE RL2455S offers a Full HD display on 24 inches screen, hence images are crisp and vivid. Although it is based on a TN panel, yet 160 degrees viewing angle is pretty decent. Besides, the 1000:1 static contrast ratio is excellent. Along with this, the panel is fairly bright emitting up to 250 nits of brightness. On top of that, the Display Mode allows different size and aspect ratio on the screen according to your needs without any disturbance. You can also select various other display presets like RTS, FPS, and Fighting Game Mode giving you complete control. So, getting all these without burning a big hole in your pocket is just amazing.
Competitive gamers will love BenQ RL2455S due to the 1ms response time and 75Hz refresh rate. Due to this, you won't notice ghosting or stuttering issues. Along with this, the monitor has a flicker-free backlight and blue light filter, so you can enjoy gaming for a longer period without worrying about eye strain and headaches. In addition, the connectivity is versatile with two HDMI ports 1.4, a DVI port, and a D-sub port, thus you can connect up to four devices at the same time. Although the monitor is equipped with two 2W speakers, anyway the audio quality is too poor for the gamer. Fortunately, you can connect external speakers through a 3.5mm audio jack.
4. ASUS ROG PG279Q
If you are a pro gamer than you must be familiar with the ASUS' ROG series. As PG279Q is the member of same family, so who can doubt its world-class performance. The monitor will impress you in the first look as it aimed at gamers with angular styling, light-up base and very slim bezels around the screen. Build quality is outstanding as the manufacturer has used high-end plastic in its making. More, you can position the monitor to your liking because the stand is flexible and let you tilt, swivel and height adjustment. If you want to mount on the wall, you can do it with 100 x 100 VESA though it is not a tool-less process.
The best gaming monitor for PS4 has a 2560 x 1440 resolution 27 inches display which is ideal for gaming. As the monitor features an IPS panel, so viewing angle is very wide. Hence, you won't notice any color alteration even if viewed from a different angle. Also, the color accuracy of PG279Q is remarkable. In addition, the screen is very bright and measured to be 350cd/m2. Although the display is fully customized straight out of the box, still if you need to do some tweaking it is child's play because the OSD and control system are incredible. There is a small joystick at the back of the monitor through which you can maneuver around menus.
The ASUS PG279Q has exceptional motion performance with a very low response time and 144Hz native refresh rate. However, if you slightly increase the image blur, the refresh rate can be overclocked to 165Hz. Anyway, it is better to leave it set at 144Hz because you won't notice much difference, still, the choice is yours. Moreover, with G-Sync technology you should not worry about screen tearing, ghosting or stuttering. On top of that, the input lag is very low which will even amuse the ultimate demanding gamers. What is more, the connectivity is flexible with a DisplayPort 1.2, an HDMI port 1.4, and a 3.5mm audio jack. Thus, if you can afford the price, ROG PG279Q is the best to go for.
5. Dell Ultrasharp U2718Q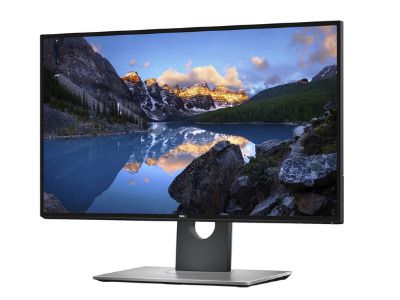 Dell U271Q is a 27 inches IPS monitor which along with gaming is excellent for content creation. The design is a profession and will fit well in your homey. Admitting the stand has a bulky impression, fortunately, the flat base can be used for other things. Along with this, it offers great ergonomics adjustment with -45 degrees to 45 degrees swivel, -20 degrees to 5 degrees tilting and up to 5 inches height adjustment. Also, there is a hole in the stand for excellent cable management. On top of that, bezels around the screen are very slim, so you can plan for a multi-monitor setup. As build material is high-end plastic hence durability is admirable.
The best gaming monitor for PS4 comes with a gorgeous 4K display, so image quality is world-class. Likewise, the viewing angle is wide thus picture quality won't disturb while watching from almost any position. Although it supports HDR, anyway it is not much advantageous because the HDR color gamut and color volume are limited. Fortunately, the SDR color gamut and color volume are remarkable which will give you next-level visual delight on a 4K screen. In addition, the picture quality is the best in a medium lit room and you should not use it in a dark or very bright room because black uniformity and reflection handling are not much admirable.
Dell U2718Q motion handling is polite with a 5ms response time and 60Hz refresh rate. Due to the quick response time, you will notice very little blur behind fast-moving objects. Although the normal response time produces an acceptable result you can also set a 'Fast' response time. In addition, the native refresh rate is good for 4K monitors and you won't notice any issue, though competitive gamers will not much appreciate it. Besides, it offers wide range of connectivity options like a DisplayPort 1.2, a Mini DisplayPort 1.2, an HDMI port, four USB 3.0 ports and an audio jack. Thus, if you want to experience PS4 games on the 4K screen, Dell U271Q should be at the top of your list.
6. Samsung C27HG70
Looking for a 32 inches curved gaming monitor? Let's dive straight into Samsung C27HG70 which is the best gaming monitor for PS4. The panels are clean and the chassis has used matte black plastic giving it a professional look. Although bezels around the screen are thicker one need multi-monitor setup in the presence of C27HG70, so it should not be a worrisome factor. What will you love the most is the minimalist design, as the back is smooth having just a circular junction with an LED ring known as Arena Lighting. One other notable feature on the back is a joystick for OSD control. On top of that, the stand allows you to tilt, swivel and adjust the height to your perfect position.
Samsung C27HG70 is equipped with a QHD display which is more than enough for enthusiast-grade gaming. As it has a VA panel so vibrancy is remarkable compared to TN or IPS monitor. Also, with 302 cd/m2 (600 cd/m2 peak) the panel is fairly bright. Similarly, the color accuracy and producing 100% sRGB color space is impressive. More, the average 2400:1 contrast at nearly every brightness is equally admirable. In addition, the monitor fully support HDR which enhances game graphics up to a greater extent. So, playing HDR-enabled games on such a monitor will be an entirely new world experience for you.
Not only the display but its motion handling will also impress you. With a 1ms response time and 144Hz refresh rate, you can enjoy games in a realistic way without noticing any blur. Plus, the incorporated overdrive modes will give you additional pleasure in gameplay. Furthermore, Free Sync technology will get rid of screen tearing and ghosting. On top of that, the very low input lag of 4ms is great for gaming. Although it does not come with built-in speakers this feature is rarely missed by gamers because the audio quality is not of their taste. Besides, with 1.2 DisplayPort, an HDMI 2.0 port, two USB 3.0 ports, and a 3.5mm audio jack, connectivity is plentiful.
7. Acer Predator XB271HU
Acer Predator XB271HU is the best gaming monitor for PS4 2021 with great design and ergonomics. The stand has a small footprint and won't take up much space. Though the legs are thin, still it supports the monitor pretty well and prevents wobbling. Plus, it offers -22 degrees to 5 degrees tilting, -30 degrees to 30 degrees swivel range, and up to 5.9 inches of height adjustment for comfortable positioning. The back of the monitor is clean and features a hole for nice cable management. Furthermore, borders are very slim, so XB271HU is an excellent choice for a multi-monitor setup.
The 27 inches display with a resolution of 2560 x 1440 delivers gorgeous image quality. As the panel is IPS type thus the picture quality will not distort even if you share the screen with someone else. The XB271HU comes with excellent gray uniformity and it gets much better in near-dark scenes. In addition, it covers the entire sRGB color space and wider Adobe RGB. However, the contrast ratio is medium and black uniformity is not very satisfactory, so it is not ideal for dark rooms.
The best part of XB271HU is motion handling because the response time is faster that is 4ms. The blur behind fast-moving objects in games is nearly eliminated. Also, there is a Black frame Insertion feature to curtail constancy blur. Likewise, the 144Hz refresh rate can amuse the most demanding gamers. Whereas, the Nvidia G-SynC technology ensures stutter-free gameplay. Besides, connectivity is satisfactory with a DisplayPort, two USB 3.0 ports, an HDMI port, and a headphone jack. Thus, the Predator XB271HU is a great monitor for both console and PC gamers and worthy enough to spend on.
Worth a read: Best Gaming Monitor Under 200
Choosing Best Gaming Monitor for PS4 2021
PS4 or Xbox One works best with a gaming monitor which is absolutely manufactured for video games. As games are played for fun and entertainment, so no one wants to destroy his/her fun. Therefore, to have the best gaming experience you should choose the monitor very carefully. As most users can't decide which display they should grab, well we are here with some basic factors, keeping them in mind will ensure the selection of the best gaming monitor for PS4.
Screen Size & Resolution
Screen size and resolution play a great role in your gameplay. Simple is that your monitor should not be less than 22 inches. 24 inches monitor is good for users who have a desk in place. But if you are playing in a living room where the monitor is placed a little further, the screen size should be 27 inches. Going towards resolution, the higher it is the better it will be your picture quality. Gaming monitors offer different resolutions starting from FHD to 4K. The best images are displayed by 4K monitor than QHD and than FHD, remember that higher resolution requires a powerful system, so choose accordingly.
High Refresh Rate
In intense games where you press the buttons fast, everyone wants that the game keeps up with that otherwise the result will be disappointing. So, if you want to save yourself from something unpleasant the refresh rate of your monitor should be high. You can easily find a gaming monitor with a 60Hz refresh rate, also it gives decent gameplay. But if you are into more demanding games either go for 75Hz or 144Hz. Fortunately, all the monitors included here have a very high refresh rate which will certainly amaze you.
Response Time & Adaptive Sync
Lagging during a game is not acceptable for any gamer whether casual or demanding. In order, to avoid this your monitor should have a very low response time. So far, the lowest response time is 1ms in which case the blur is entirely eliminated. Though, up to 4ms response time is acceptable if you are into very competitive games. Along with this, you should also look for FreeSynC or G-SynC technology. Although G-SynC works better than FreeSynC in eradicating screen-tear such monitors are a bit expensive. Likewise, FreeSynC does an acceptable job, also it does not add extra bucks to the monitor's price.
HDMI Slot & Bandwidth
HDMI port is necessary for connecting PS4 or Xbox One to your monitor. However, if you have both then look for a monitor that comes with more than one HDMI slot. Hence, it will save you from plugging them on off constantly. Along with this, HDMI bandwidth is of great importance for gaming because the higher is bandwidth the faster will be data transfer from console to monitor. So, HDMI 2.0 is more preferable as it will ensure faster game loading and is able to convey 60FPS for a 4K monitor.
Flat vs Curved Gaming Monitors
Over the past few years, curved monitors have become popular and favorite of gamers, tech enthusiasts, content creators, etc. And there are some reasons behind the popularity of curved monitors over flat monitors which we will discuss later. Also, if you have not decided which monitor either flat or curved is best for gaming and you also don't know the main difference between these two. Then you have come to the right place because here we will talk about the main differences between flat monitors and curved monitors. Similarly, each one of them has its own pros and cons.
Flat Monitors
Flat monitors have been around for years and surely everyone knows about them because there weren't any ultrawide monitors or curved monitors at that time. More, Flat monitors come in different aspect ratios like 16:9, 16:10 (monitors having any of these two aspect ratios are standard monitors), and 21:9 (monitors who's panel has this aspect ratio are called ultrawide monitors). Further, these monitors are very budget-friendly and despite of least expensiveness then tend to provide an excellent gaming experience.
Furthermore, flat monitors are perfect for gaming because of the outstanding features and specs that it provides like high refresh rates, low response times and great color accuracy. On the other side, curved monitors fall a bit short in providing all of these features at a high rate. Also, if you want to set a multi-monitor setup then flat monitors are great for such setup because it will save you a lot of bucks, and secondly, it will take less space on your desk. As for the flat ultrawide monitors, they offer you an increased field of view, which is especially beneficial if you are playing multiplayer games.
Besides, every game does not support the 21:9 aspect ratio which means that you can't fully utilize the flat ultrawide monitors. Because the edges of the screen will be left blank and unused and the term that is used for this in gaming is "black bars". Hence, if you want an ultrawide monitor for gaming purpose then you have to play those games which supports the 21:9 aspect ratio. Apart from gaming, ultrawide monitors are good for multitasking, content creation, and entertainment purposes.
Curved Monitors
As we have already said that curved monitors are new to the gaming market. Moreover, curved monitors also come in 16:9, 16:10 aspect ratios, and 21:9 aspect ratio (monitors having this aspect ratio are called ultrawide monitors). But the main feature that differentiates curved monitors from flat monitors is the "curvature" of a monitor which is measured using "R". Unlike the other conventional measuring systems, the lower the "r", the greater is the curvature. For example, a curved monitor having a 1800r offers greater curvature than a curved monitor that is rated a 4000r. Additionally, there are 3 common curvature measurements; 1800r, 3000r, and 4000r that you can select from when buying a curved monitor.
Now we know that the lower the "r", the more and greater the monitor will offer curvature. But a question arises that whether the curvature of a monitor is good for gaming? Absolutely yes. Because of the curvature, the monitor gives you a greater field of view. Which in return offers you a more immersive gaming experience. Aside from this, curved monitors put less strain on eyes during gameplay and this is due to the fact that the image is kept adjacent to the eyes so you don't have to adjust the images as that is with the flat monitors.
But when it comes to gaming performance, curved screens fall short of the smaller flat screens that offer solid gaming performance. Still, the technology that is housed by the curved monitors is evolving and tries to reduce the performance gap between flat monitors and curved monitors.
Conclusion
The top ten best gaming monitor for PS4 and everything you need to know about them is mentioned in this article. Your monitor is your investment, so stay away from it such that you will end up regretting it. Our job is done, now it's up to you which monitor suits you the most and choose accordingly. Moreover, keep visiting as we shall be updating our list so that you don't miss the latest models.
Also Check:
Best Hair dryer
Best Electric Shaver
Best Washing Machine