Washing Machine is the biggest investment of every household. It ensures that your clothes are free of germs and bacteria. It is really important to invest in a best washing machine. It has a direct impact on your daily laundry routine making your life simple and easy. With the technological advancements going on, the best washing machine comes with innovative features. It not only helps to minimize the use of water and electricity, but also clean your clothes deeply. Additionally, it doesn't let your shirts shrink up and the soft fabrics are rinsed properly.
There is a growing trend towards portable washing machines due to space constraints and other factors. Portable washing machine is compact and lightweight that you can carry around. Also, it can be fit into your kitchen and bathroom occupying a very limited space. Though these machines are less powerful and have a low capacity, but it thoroughly rinse your clothes and is compatible with almost every kind of fabric.
There are many types of washing machines in the market. Each washing machine comes with different set of features & specifications. The budget varies according to the potential and capability of a washing machine. And you have to choose one that suits your need.
Best Washing Machine 2021:
1. TG23 Portable Washing Machine
2. Speed Queen TR3000WN
3. Black + Decker BPWM09W
4. Minolta CTW84XW-IS Avanti
5. Kenmore 2622352 4.2 cu.ft
6. Giantex Portable Mini Compact
7. Comfee 1.6 Cu.ft
8. Danby DWM030WDB-6 0.9 Cu.Ft.
9. AIMCAE Tumble Dryer Washing
Types of Washing Machine
There are two types of washing machine in the market:
Front- Loading – These washing machines perform at high efficiency and are relatively expensive compared to the top loaders. It consumes less water and energy and perfectly spins your clothes making them drier. It is heavier and often takes a lot of time to wash the clothes due to less use of water. But recently, there is innovation and there are new front loading machines that have a feature of fast-wash cycle. Also, it is more compatible with warm water and washes your clothes gently.

Top – Loading – These washing machines are light-weight that can be placed anywhere at your home. It takes very limited space. It is comparatively cheaper. But it consumes a lot of energy and wash clothes little bit harshly. It uses impeller or agitator to wash off the clothes and fill the drum with water where your clothes float. The wash cycles times are short hence, it will not take a lot of time to do the laundry. Lastly, these are considering more reliable than the front loaders.
Whatever you are looking for a large capacity washer or a portable one, the top performing front loading machine, or a budget washing machine, we have shortlisted few best washing machine on the market that you can consider for your daily laundry routine.
You may like:
Best Gaming PC Under 1000
best Gaming Laptop Under 800
Best Washing Machines 2021
1. TG23 Portable Washing Machine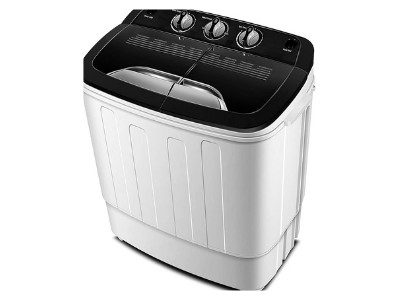 TG23 is designed for the people who do not have enough space for a full-size washing machine. There are space constraints. This portable washing machine TG23 60cm wide with depth of 38.5cm and length of 69cm. It is highly compact and lightweight to be placed anywhere you want to. Even you can take it anywhere on the short trips like camping. There is always a need to wash clothes so you do not have to worry about it. You can put it in your car and just move on.
It features twin tub that make it one of the best washing machine. There are two tubs: washing tub and spin tub. Each has its own timer and a capacity. The controls on top of it are easy to use. It makes your life very comfortable. The guide that comes with it is pretty much self-explanatory. You just have to put in clothes, detergent and set timer. And when done, transfer it to the spin tub and set the timer for that.
Moreover, while running it does not make any harsh and loud sounds that disturbs anyone at home. There is a free lint filter which disposes off any debris. This will make your clothes more clean and tidy. Everything is included in the box: Washing Machine, Water Fill Hose, Lint Filter and fully translated manual (Languages: English, French, German, Italian and Spanish). Overall, if you want a portable compact washing machine then this is one of the best washing machine you can get in market.
2. Speed Queen TR3000WN
Speed Queen TR3000N is the best top load washing machine that has developed its name for long term durability and functionality. It offers exceptional features that ensure a clean wash of clothes. It has a stainless tub that handles your clothes with care. Agitator and tub works well together to thoroughly clean the clothes. It comes with four preset cycles to choose from including Heavy Duty, Normal Eco, Perm Press and Delicate. The washer also includes an Extra Rinse option.
As of design, it is simple in white color. The dimensions are: 28 inches long, 25.6 inches width and 42.7 inches depth. There are touch panel controls at top of it that are easy to navigate. You will not face any difficulty in setting the machine and managing time run. Moreover, it comes with a long-term warranty of about 5-7 years. Overall, this washing machine wash your clothes pretty much good and is highly durable hence, a great option that you do not want to miss.
3. Black + Decker BPWM09W
Black + Decker is another one the best top loader portable washing machine in the market. If you are having space issues at apartment then this compact lightweight washing machine is solution to your problem. It can be easily fit into your kitchen or bathroom with minimum space taking. The design is very elegant and sleek that support washing and spinning. There is a transparent lid at top so that you can view your clothes. This portable washing machine is 17.7 inch wide, 18.1 inches deep 31.5 inch height with a capacity of 6.6 lbs.
It is very convenient for hostilities that live far away from their homes and need something compact for laundry. Also, to wash off babies clothes, bibs, caps etc. this is convenient and easy to use. Black + Decker come with 8-cycle selection to wash off different fabric types: Normal, Cotton, Gentle, Speed Wash, Spin, Whites, Heavy Soil, and Tub Clean. Along with it, you can adjust the water level as per your need.
Moreover, it is only compatible with cold water that has built in lint filter. You don't have to worry about cleaning it every day. Just clean it once a month and you are good to go. Also, there is no harsh sound coming in. Even the spinning sound is very low. The spinning of this machines is really good that tale out about 85% of the water from clothes. Overall, if you are looking for a good portable washing machine that is top load then this is the one you should opt for.
4. Minolta CTW84XW-IS Avanti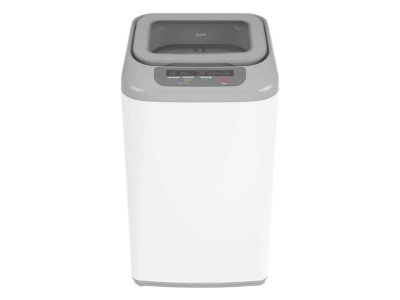 If you are looking for a small washing machine that fit into limited space then this is the best to look. The design is very sleek ergonomic that is ideal for a small family who has a less pile of a laundry. The capacity is of 0.84 cubic feet that can fit every kind of cloth you out in the machine for a wash. It can easily fit into your apartment and dorms so that you don't have to go out for laundry.
Moreover, it comes with 8 automatic cycles to accommodate different type of fabric. This will help you to wash every single cloth at home at your own convenience. There is option of three load size from small to large so that you can manage everything easily. Also, the steel used in drum is of excellent quality that will stay for long term and you won't have to worry about spending on another washing machine. The control panel is located at the top and is easy to use. You can easily set the functions as per your requirement.
Lastly, there is no heave or loud sound coming in from the washing machine while doing the laundry hence, ideal for every household. So, if you are looking for a good portable washing machine then this is an excellent choice.
5. Kenmore 2622352 4.2 cu.ft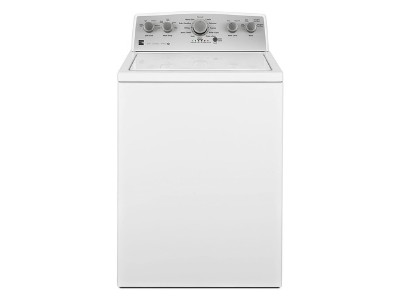 Kenmore washing machine is designed in a way that has made your laundry routine much easier and convenient. You can manage your laundry as per your need. It comes with 12 wash cycles that give you right kind of cleaning for each load. From kids clothes to pile of heavy comforters you can get everything clean at your home. It has the potential to handle every kind of fabric. Express wash get to handle small load whereas Jean/Towel manages the heavy load so that it get the right level of water that makes the clothes come out purely clean.
Moreover, there is option of deep fill that optimizes the water level as per the requirement of a load. Also, the stainless steel wash basket avoids dents and corrosion so that clothes won't rip. This washing machine comes in white color with the control knobs at top. It is easy to operate. There is separate container for fabric softener along with detergent. This helps in making your clothes really soft and gives them a good fragrance. The dimensions of the washing machine are: 28.0 inch long, 27.5 inch wide and 37.0 inch in depth.
Overall, Kenmor 22352 has a 4.2 cu.ft. Capacity that can handle anything you put in the machine for the wash. With its capability to manage heavy loads of comforters, bed sheets and towels etc., you do not have to go out for the laundry service. You just have to set time, water level, and soil level and wash temp for a specific laundry cycle and it will perform its work pretty well. Hence, if you are looking for a top load machine that has a good capacity and power then this is the one you should pay attention to.
6. Giantex Portable Mini Compact
Giantex Portable is a compact twin tub washing machine that has makes your life easier. Due to its lightweight and compact size, it is useful for dorms, apartments, camping trips and small homes. You can place it in your kitchen or bathroom and use it at your ease. The width of the washer is short at 24.8 inches, a depth of 14 inches and height of 28.4 inches, you won't struggle to get it in the bathroom or wherever you choose to wash your clothes.
There are twin tubs, one for washing and other for spinning. The washing side support about 11lbs clothes and spinner have 6.6lbs capacity. It is very convenient to use. The machine comes in white and grey color with top load transparent cover for you to view inside. Though the machine is small but it is highly powerful. It washes off your clothes neatly. 300w washing power & 110w spinner power will get your clothes all cleaner. Apart from this, you can set times as per your need for washing and spinning. The maximum it goes for washing is 15mins and for spinning 5mins.
Further, there is an excellent drainage system. It comes with a drainage tube that let you to clean dirt out of it. In the box, there is everything you need. It includes a 44.5-inch-long inlet pipe to connect to the washer, 20.5 inch long drain hose to release water downwards using gravity, and 110-volt power cord when machine is not in use. Many users has pointed out that this machine is easy to operate and the clothes come out heavenly washed, hence one of the best washing machine to consider in the market.
7. Comfee 1.6 Cu.ft
Comfee is for the one who is tired of making visits to Laundromat and want to have a small portable washing machine at their home. It is another best portable washing machine that is easy to use, saves energy and highly compact. You can place in your room/dormitory/kitchen etc. It takes a very small space that won't bother anyone as the dimensions are: 20.7inch in width, 20.3inch in-depth, and 36.6inch in height.
The 1.6 Cu. Ft can hold about 11lbs of clothes that is enough to make small washes on daily basis. Also, it has a stainless steel inner tub that makes is highly durable for long-term. Moreover, it comes with 6 programs that are universal. Every washing machine has these installed in them: Normal, Quick, Heavy, Bulky, Delicate, and Spin Only. There is option of 3 water temperatures to manage water as per the need of laundry and fabric. Also, there is an option of 'more rinse' if you want to give another rinse to your clothes to remove strong stains and dirt.
If you want to check the status of clothing there is a transparent view from the top and the controls are digital that are very easy to operate. It is equipped with a child lock that freezes the panel to run the laundry smoothly. Further, the motor installed in the machine is of excellent quality that saves energy of about 84%. The spinner is very good that makes your clothes fairly dry. Overall, this is the best portable machine targeted to the one who is looking for something compact and good washing potential at comfort of their home.
8. Danby DWM030WDB-6 0.9 Cu.Ft.
Danby's washing machine is perfect blend of top load and compact size. It is easy to operate and can be stored in a small space. With the washing capacity of 6.6lbs it has made your life easier. It is designed for the ones with small family. You do not have to worry about laundry anymore. You can easily do all the work at your small apartments, dorms or homes. It performs all the needed functions of a good washing machine. There are about 5 cycles designed for different fabric type: Normal, Gentle, Rapid, Heavy and Soak along with auto balancing function to balance the system in case you put in a lot of clothes.
Moreover, it comes with durable and rustproof inner drum that is long-lasting. It increases the life of washing machine and hence, save you from investing into new one for a good time period. As of design, it comes in white color. The height of the machine is 18 inches, depth is 31 inches and width is 17 inches. You can easily install it in your kitchen or bathroom. Moreover, the control panel is placed at top of the machine for you to operate. There is a transparent access to view your clothes.
Danby is famous in the market for manufacturing best electronics. And this compact washing machine is one its best products. It offers powerful 900RPM spin speed and 160RPM wash speed that makes your laundry perfectly clean in a very less time. So, if you are looking to invest in a good washing machine and you are a small family then this is for you.
9. AIMCAE Tumble Dryer Washing
Here we have another best portable washing machine AIMCAE Tumble Dryer. It is convenient to use with an easy touch control panel and LED display. It comes with three different programs designed to handle and wash various types of fabric. When operating it, you just have to select the program and set timer so that you can relax on a couch while machine do the washing.
The size and dimension of this machine is compact and small: 37.5 x 74 x 38 cm (WxHxD). You can mount the machine at your kitchen or bathroom with a limited space. Hence, making it ideal for small homes and apartments with the capacity of 50litres Moreover, the dryer of the drum is very fast and efficient. You get the clothes dry and wrinkle free with 820watts of power. Also, if you want to extend the time of drying it is easily manageable.
Further, the tumble dryer is made of stainless steel which is excellent for cleaning purpose. Once you are done with laundry, you can easily clean the drum. It is really practical for washing kids' clothes as they need a soft delicate care. So if you are looking for a good compact washing machine with a powerful tumble dryer then this is the one to consider.
How to buy the best washing machine?
There are a lot of minor details that you cannot ignore while looking for a best washing machine for your home. Cleaning clothes is a necessity for every household. Hence, you do not want to end up spending a lot of money on a washing machine that do not perform well. We have listed down few factors for you to look before making any buying decision. Those factors are:
Capacity
Capacity is an important factor to consider because you don't want to end up very small washing machine if you have a large family and there are a lot of clothes for washing on daily basis. It is really important to have a right size machine for your household. Therefore, it is better to calculate how much laundry load you have so that you invest in the machine that is practical for you.
Space
How much space is there at your home? Where you want to place the machine? These are the few questions that you need to answer yourself. If you live in a small home or apartment, then obviously you will have a limited space for washing machine. Therefore, you want to look for small compact washing machine that can easily be fit in your kitchen or bathroom. Washing machines comes in different sizes with different dimensions so it is better to measure the area where you want to locate your machine and then look for the options available in the market.
Ease of Use
Before buying a washing machine, have a look into their manual on how to operate it. There are washing machines in the market that are really difficult to operate and program. You don't want a technical product at your hands that you cannot operate easily. Therefore, look into manual and find out how it can be operated.
Efficiency
How efficient your washing machine should be? Finding a washing machine that saves up your overall cost is a blessing. There are many economical washing machines in the market that consumes less water and energy hence, saving up in the long run.
Material of the drum
It is important for you to know the quality of the material of the drum. Drum is made of different materials: plastic, stainless steel or porcelain enamel. The better the quality is highly durable the drum will be in long run. Also, it also creates an ease in cleaning and maintenance of the drum. Lie stainless steel drum is very easy to clean and is highly durable.
Features and Functionality
There are many new washing machines come with innovative modern features and functionalities that has make the laundry much easier now. But there are some fancy features that just add an extra cost, and are not really used. You do not need to pay for those features. Hence, look for washing machines that have features and functions helpful for you to use.
Semi-Automatic or Fully-Automatic
If you have busy routine and cannot look over the washing machine during entire laundry session then fully-automatic is the best choice to consider. Here you just have to give command and even can save the program that you use frequently. It saves up a lot of your time and effort as the machine does everything in a set timer and gives you 85% dry clothes.
Price
Everyone has a budget in mind. They have specified a range under which they want to buy a washing machine. Keeping that in mind along with other factors you can easily choose the best washing machine that is suitable for your home.
Bottom Line
Choosing the right and best washing machine that meets your laundry needs has become a daunting task. There are so many options available in the market at different price range, types and features hence, you get confuse on what is the best. We have listed down few portable washing machines that you can consider if you have space constraint. There are other brands as well that has a lot to offer but here we have listed down only a few for you to consider.