Technological advancements urges us to be always equipped with futuristic tools and equipment's. Whether you are a professional graphics designer, pro gamer, media content creator, or an architect dealing with graphics intensive workloads, you will need a monitor that ensures higher refresh rates at comparatively larger display screens and better resolutions. Gamers would love to get one with 4K resolutions and minimal response time, in order to dominate high caliber oppositions. Similarly, for some, optimal aspect ratio and advanced adaptive sync technology would matter more than anything else. Going with right tech gadgets is equally important in every field whether a businessman or a teacher, to have a monitor with advanced features will surely cherish the on-going work.
Watching your favorite movies on a larger display screen provides great viewing experience. It is extremely a hectic job to opt for best monitor directly without any comprehensive research, as there are millions of options available in market all with different kinds of perks and benefits. Remarkably reputable brands like HP, Acer, Asus, Dell, BenQ, and LG, etc. are contributing to this ecosystem with beasts. We have rounded up top rated monitors for you with all key specifications and designs discussed in detail.
Best Monitor 2022:
You may like:
Best Monitor for PS4
Best Gaming Monitor under 200
Best Gaming Monitor under 150
Editor's Choice
ASUS ROG PG279Q
Display: 27″(2560 x 1440)
Refresh Rate: 165Hz
Response Time: 4ms
Runner Up
Asus VP28UQG
Display: 28″(3840×2160)
Refresh Rate: 60Hz
Response Time: 1ms
See Also:
Best 4K Monitors
Best Gaming Monitor
Best Gaming Laptop
Product Reviews
Best Gaming Monitor 2022
1. ASUS ROG Swift PG279Q
Display: 27″ (2560 x 1440) WQHD | Response Time: 4ms(GTG) | Refresh Rate: 165Hz | Sync Technology: NVIDIA G SYNC | Aspect Ratio: 16:9
Asus Rog Swift PG279Q being first on the list of best monitors 2022, holds immense gaming potential to offer you a seamless and visually pleasant gaming experience. Asus has set a legacy to perfectly pay off for product's cost with worthy features. The Rog Swift PG27 comes with a bright 27 inches large display screen equipped with WQHD (2560 x 1440) resolutions, you will be able to witness true accurate and rich colors. The 165 hertz ultra fast refresh rate lets you play your favorite video games at higher visual settings and giving you an upper hand over your oppositions.
The Asus Rog Swift PG279Q comes with a strong and durable base that strongly holds the 27 inches display screen. The stand is quite capable to withstand low end vibrations etc. The screen is encased in extremely low bezels to offer you an immersive viewing experience. Asus has included an Nvidia's G-Sync technology for screen stuttering and tearing to ensure smooth gaming. Screen flickering that sometimes don't feels comfortable to gamers, are tackled by Asus EyeCare technology. Furthermore, the Swift PG27 has 4ms of gray-to-gray response time and 16:9 of aspect ratio. The monitor is ergonomic enough, giving you a free hand to set it for perfect viewing angle. Getting useful input and output ports in your monitor is a plus, the Asus Rog Swift never disappoints in this section as well. It holds a DisplayPort 1.2, two USB 3.0 ports, and an HDMI port.
2. Asus VP28UQG
Display: 28″ (3840×2160) IPS | Response Time: 1ms | Refresh Rate: 60Hz | Sync Technology: FREE SYNC | Aspect Ratio: 16:9
Speaking of best 4K monitors, they are always considered to be more expensive than the rest. Asus has struggled hard to provide professional creator, gaming geeks, and media artists with a budget 4k option. Asus VP28UQG is a 28 inches best affordable 4k monitor with all key specifications that you would expect from a budget monitor. The 4K (3840 x 2160) resolutions compact 28 inches display screen works amazingly well with truly glossy colors and overall depicts perfectly crispy visuals. This best budget gaming monitor with its immersive gameplay, won't let down while taking over at your opposition.
The Asus VP28UQG with its compact design, don't consumes much space of your gaming setup. It comes with a strong base to firmly hold the display and minimize unexpected low end shocks. You may witness thick bezels around the display screen that sometimes feel slightly disturbing while play high end games or dealing with lots of multitasking. Smart features include EyeCare technology by ASUS to eliminate flickering and eyestrain by lowering blue lights. This best gaming monitor for casual gamers comes with a response time of 1ms and refresh rate of 60Hz to provide a seamless and smooth gaming experience. The monitor include exclusive GamePlus and GameVisual settings in order to further enhance the color performance. Asus VP28UQG holds a headphone jack, DisplayPort 1.2, and two HDMI 2.0 ports. To deal with choppy frames and to eliminate screen smearing and stuttering, the monitor is equipped with an Adaptive FreeSync technology.
3. Dell S2719DGF
Display: 27″ (2560×1440) QHD| Response Time: 1ms | Refresh Rate: 144Hz| Sync Technology: FREE SYNC | Aspect Ratio: 16:9
Dell is the most versatile manufacturer with amazing introductions to the tech ecosystem, whether you speak about best laptops or best monitors, Dell won't fall short to entertain you in either category. Dell S2719DGF coming up next is a contender with worthy specs to offer you an interesting viewing experience. This best 144 hertz monitor comes with a QHD (2560 x 1440) resolutions, ensures to provide a vivid and vibrant colors while watching your favorite movie, seasons, and dramas etc. The monitor is best for those who deals with casual video & photo editing, and low end gaming.
Getting a monitor that adds perfect aesthetic to your overall working setup is a plus, the Dell S2719DGF comes with dark silver shaded metallic deck that radiates professionalism and looks perfect aesthetic. The monitor is configured with AMD Free Sync technology in order to control screen tearing and smearing. The Dell S271 adopts an ergonomic nature with giving you an opportunity to set the monitor for optimal viewing angle. It supports swivel, tilt, pivot, and can be made adjusted height-wise easily. Furthermore, this best 144hz monitor comes with 1ms of response time. The Dell S2719DGF provide extensive set of input and output ports, with a power connector, an HDMI 1.4 port, a DisplayPort 1.2, USB upstream and downstream ports, a USB charging port, and headphone/microphone jack. The 27 inches monitor comes with an aspect ratio of 16:9.
4. BenQ EW3270U
Display: 31.5″ (3840×2160) UHD | Response Time: 1ms (GTG) | Refresh Rate: 60Hz | Sync Technology: FREE SYNC | Aspect Ratio: 16:9
The BenQ EW3270U is another 4K contender on the list of best monitors, but this time with larger display of 31/5 inches. BenQ is a reputable manufacturer with exceptional gaming monitors on its list. BenQ EW3270U is there to offer professional gaming geeks and professional content creators, a crispy visual atmosphere with its 3840 x 2160 resolutions. Watching movies and seasons on this much large display screen with appealing colors and rich details, feel realistic than ever before. Its Display potential is further backed by HDR, in order to ensure more details and clarity, keeps a perfect dynamic range between white and blacks.
The BenQ EW3270U comes with a silver shaded flat base to tightly hold the larger 32 inch display screen. The monitor shares a professional look with its dark thin black bezels around the display screen that also ensures immersive viewing experience. More features include a IntelligencePlus smart technology, which helps to automatically keep a perfect balance between brightness and color contrast according to the viewing content. Screen flickering and blue lights sometimes feels unpleasant to eyes, BenQ in order to deal with such scenarios, has included Eye-Care technology. You are getting an AMD Free Sync technology to cut down screen stuttering and tearing. 1ms of gray to gray response time ensure a seamless and fluid graphics. Furthermore, 60Hz of refresh rate plays a vital role in bringing rich viewing experience on this 16:9 aspect ratio monitor.
5. Acer Predator X34
Display: 34″ (3440 x 1440) QHD | Response Time: 4ms | Refresh Rate: 100Hz | Sync Technology: NVIDIA G-SYNC | Aspect Ratio: 16:9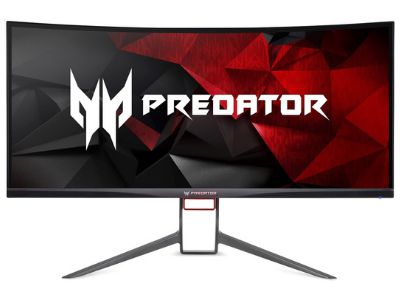 Predator X34 is a best ultrawide monitor by Acer with massive display size. Acer has a legacy of its own when speaking of best gaming monitors. Professional gamers who mostly deals with intensive graphics would want their best monitor for gaming to be capable of providing minimal response time, optimal refresh rates, better Sync Technology, and high resolution graphics. The Acer Predator X34 is no where missing any key feature of a top rated gaming monitor, you are getting all at once that too in affordable price tag (when compare to other high end gaming monitors). The Predator comes with a wide curved screen of 34 inches to offer you room for creativity and multitasking.
Design-wise, the Acer Predator X34 comes with a good looking and perfectly aesthetic design having extremely low bezels. This top rated monitor supports a strong base eliminating unusual vibrations. You are getting QHD (3440 x 1440) resolutions that helps the monitor to depict accurate and vibrant colors. The Nvidia's G-Sync technology provides a fluid gameplay giving you an upper hand to eliminate your enemies. The Acer Predator X34 supports a response time of 4ms and 100 hertz of refresh rates. You can also enable the monitor to overclocking for 120 hertz via DisplayPort. The Acer Vision-Care technology maintains color contrasts and brightness, eliminating risk of eyes getting harmed. Comprehensive set of input and output ports are as important in gaming as other things, Predator being the best curved monitor holds 4 USB 3.0 ports, an HDMI port 1.4, and a DisplayPort 1.2.
6. SAMSUNG LC27F39
Display: 27″ (1920×1080) FHD | Response Time: 5ms | Refresh Rate: 60Hz | Sync Technology: AMD FreeSync | Aspect Ratio: 16:9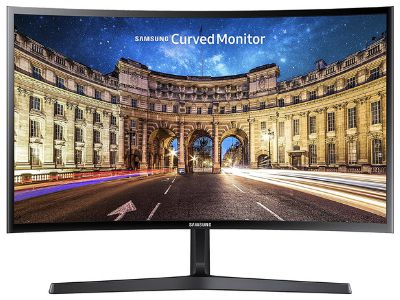 Samsung has stepped up with its best affordable monitor for casual gamers, business oriented geeks and low end video & photo editing geeks. The Samsung LC27F39 comes with extremely amazing specifications keeping a perfect balance between price and performance. You are getting a 27 inches of display screen with FHD (Full high definition, 1920 x 1080) resolutions. The monitor is highly capable to depict true accurate colors of vibrant and vivid nature. You would be definitely amazed with the display performance of this best portable monitor.
The compact design makes Samsung LC27F39 greatly portable, you can easily displace the monitor – because of its compact design and low weight – whenever needed while setting up. You are getting a response time of 5ms that is pretty much acceptable for casual gaming and the 60 hertz refresh rates promises smooth visuals. The Samsung LC27F39 support a strong base to firmly hold the display eliminating any risk. Bring your home a sheer productivity with this amazing monitor, it share flicker free nature, eye saver mode, and wide viewing angle. The Samsung LC27F39 holds AMD Free-Sync technology users to witness realistic and smooth images while dealing with fast moving scenes. Furthermore, the monitor comes with an aspect ratio of 16:9.
7. LG 27GL83A
Display: 27″ (2560X1440) | Response Time: 1ms | Refresh Rate: 144Hz | Sync Technology: FREE SYNC | Aspect Ratio: 16:9
The LG 27GL83A coming up next on the list of best monitors 2022 holds great display potential with in a affordable price tag. The LG 27GL83A is solely made for casual gamers, content creators, and artists. The IPS panel 27 inches display screen with QHD (2560 x 1440) resolutions ensures vibrant and glossy colors. Watching your favorite dramas, seasons, and movies will definitely feel color rich and well detailed. LG never disappoints for key features even in their budget items. LG 27GL includes everything in order to dominate other budget monitors on the list.
The LG 27GL packs a compact overall design, look amazing with a strong and greatly durable base. You can adjust the monitor height-wise for optimal viewing angle. It can be also tilted and supports pivot adjustments. Furthermore, this best budget monitor provides you with a minimal response time of 1ms and 144 hertz refresh rate to let you witness smooth visuals. HDR10 inclusion further boosts the display performance of monitor with more realistic graphics. AMD free-Sync technology eliminates screen tearing and stuttering in order to offer you fluid graphics. LG 27GL83A comes with a 16:9 of aspect ratio, a DisplayPort 1.2, and 2 x HDMI 2.0 ports along with a headphone/microphone jack. The LG UltraGear 27 possesses great gaming potential as well to bless you with am easy lead over your opposition.
8. HP Pavilion 22
Display: 21.5″ (1920×1080) | Response Time: 7ms | Refresh Rate: 60Hz | Sync Technology: N/A | Aspect Ratio: 16:9
HP Pavilion 22 coming up next is a stylish and budget friendly monitor made specially for office, home, business, and students. The monitor costs less than all others on the list but still makes it hard for other best budget monitors to dominate. HP has kept a perfect balance between price and performance. You are getting glossy FHD (Full high definition, 1920 x 1080) display resolutions. Color and details won't bother you at any stage, you will be able to witness vibrant and vivid colors with rich details. Casual video gaming and watching multimedia content (movies, seasons, documentaries, etc.) will appear interesting and immersive. If you are someone on budget, not been able to pay a lot in order to buy a monitor for your day to day tasks, HP Pavilion 22 is the best pick for you to go with.
Even though the HP Pavilion 22 comes on a budget side, the monitor packs a premium looking design with a catchy durable and strong base to hold the display. Most of the budget monitors are criticized for relatively thick bezels around the display, HP has managed to perform well in this section as well. Narrow bezels makes the monitor to deliver content in a more immersive manner. Speaking more about specifications, the HP Pavilion 22 provides 7ms of response time, 178 degree of wide viewing angle, supports VGA and HDMI port. The three sided micro edge design is one of the best selling point of this best budget monitor. Anti glare panel will help you to enjoy crispy visuals without any interruption. Furthermore, the monitor works with 60 hertz of refresh rate and has an aspect ratio of 16:9.
Buyers Guide
How to Choose the Best Monitor?
Hundreds of best monitors by greatly reputable manufacturers like HP, Asus, Acer, LG, Razer, etc. are available in the market. For a laymen with no technical know-how, its comparatively a hectic or risky job to directly opt for one. There are plenty of technical terms that needs to be considered and to be familiar with, else you will regret later on. Refresh rates, Response time, Aspect ratio, Sync technology, resolutions, and display size, after going through all these things, you will get a crystal clear idea about your requirement. All these terms are comprehensively discussed below to help you get the best monitor according to your budget and need.
Nature of Use
The most important factor to consider at first is to sort out your monitor's nature of use. Nature of use greatly influences other factors like refresh rate, resolutions, response time, display size etc. Perhaps, a professional gamer will wish to have minimal response time, greater refresh rates, and to have optimal resolutions to enjoy video gaming to its best. Similarly for Artists and designers, the resolutions type and display size matters a lot as they deals with intensive graphics and comprehensive multitasking. If you see yourself just as a casual user with no such specific needs, there are several budget options for you on the list above.
Display
Monitor's display is one of the most critical factor that particularly needs extra attention. One you are done with your pick, you cannot do anything later on despite regrets. Better to look closely and sort out what specific display meets your requirements in accordance with your budget. Monitor's display further consists of two factors, display size and display type (Also termed as Resolutions). Both of these factors will be further illustrated below.
Size
Display size of a monitor matters a lot. It is directly related to the pixel density, the bigger size you have more denser your display will be required in order to depict sharp visuals. Similarly, display size also depends on your setup (desk). Its useless to go with a 40 inch monitor if you have no enough space. Surely, bigger displays helps greatly while dealing with multitasking but you will need to settle yourself keeping the other factor (Res) in perspective as well. For professional gaming, display size between 23 to 27,28 is suitable one to go with. Professional artists or media content creators will need slightly larger displays as they mostly deals with intensive multitasking. For them, anything between 26 to 33 inches of size is perfect to go with. If you are using monitor for office, business, studies, or home, 25,26,27 inches of display size is considered to work well in each of these scenarios.
Resolutions
Next critical point is to get an optimal resolutions. Resolutions is the pixel count of a monitor in height x width format. More pixels you have, ultimately you will be able to witness sharp and detailed visuals.
FHD (Full high definition, 1920 x 1080)
QHD 2K(Quad high definition, 2560 x 1440)
UHD 4K(Ultra high definition, 3840 x 2160)
These are the most common display resolutions right now, FHD should be considered as the minimum for any monitor. QHD works perfectly fine for professional gamers, content creator, and artists etc. else they can opt for UHD resolutions as well if not tight on budget.
Refresh Rate
Refresh rates in simple terms is the time that takes your monitor to load new information and it is measured in hertz. Refresh rates matter a lot for professional gamers, bigger refresh rates makes the gameplay smoother than ever before. Pro Gamers would want their monitor to have at least 75 hertz RR. There are some monitors on the list above with 100hz, 144hz, 240hz. Apart from gaming, 60 hertz of refresh rate is perfect to go with.
Response Time
The term Response time refers to how long it takes a monitor to transform individual pixels between black and white or from one shade of gray to another relatively. Shorter response time is always better but again, professional gamers are likely to be more worried about RT than a casual user. Monitors with larger response times won't be able to provide your with sharp and crispy visuals, they mostly results in motion blur with watching or playing fast-paced video and games. A monitor with 5ms of response time is perfect to go with for casual usage and for gamers, some monitors might offer you 0.5ms.
Panel Type
TN (Twisted Nematic)
VA (Vertical Alignment)
IPS (In-plane Switching)
These are the three most common panel types used in the market right now, each carrying different type of performance potential. TN panels are considered to be the cheapest among all but provide lowest response times, higher refresh rates for smooth visuals, low input lag and low motion blur for gaming geeks. You might face issues with color contrast and viewing angles while using a monitor with TN panel type. These panels are considered to be the best for gaming. For general use, VA panels are okay to go with as they have higher refresh rates and greater response times comparatively. Color contrast-wise they are better than TN panels and provides better viewing angles as well. IPS panels category are solely for professional users, as they cost more than the rest and provide optimal viewing angles with out of the box color contrasts.
Conclusion
Above are few of the best monitors available in the market right now, all from well-renowned brands. Go through all along with a detailed buying guide describing all key factors in detail.
Good Luck!