Tablets have become essential gadgets over the years. It is a portable machine that you can carry around with you. From serving as a traditional laptop to a complete entertainment hub, the tablet has evolved throughout. So you are looking to buy a new tablet or a replacement for an old one? Whatever the reason for which you are purchasing a tablet, there are tons of options.
The best tablet that completely justifies the value for money is Apple's Ipad. It is the market leader that has set benchmarks for others to follow. It's software and elegant design provide an excellent interface to the consumer. Many colorful, elegant tablets claim to be the best in the market with their long battery life, high performance, sharp display, and screen size when you go out. It gets confusing for anyone to choose the right one that caters to their need.
The market is filled with numerous tablets, with Apple and Microsoft leading compared to the competitors. But how will you know which one is the perfect option for you? We have provided you with a detailed analysis of some facts that you must consider when purchasing, along with a review of the best top-rated tablets so far in 2020.
Best Tablet 2024:
You may like:
Best Gaming PC Under 1000
best Gaming Laptop Under 800
Editor's Choice
New Apple iPad Pro
Runner Up
Microsoft Surface Pro 7
Product Reviews
Best Tablets 2024
1. New Apple iPad Pro
Apple Ipad Pro is the best tablet so far that is closest to the replacement of a laptop. It is incorporated with an A12Z Bionic chip that takes its performance to the next level with its 8-core CPU and GPU. It gives a high boost to the graphical performance that gives you the ultimate gaming experience. Everything can be done in a blink of an eye. It supports most heavy applications and web browsing without any stuttering of the screen. The design is more like the predecessor with an aluminum slate in two colors: Space Grey and Silver. It has a rear camera module with dual lenses and a lidar scanner. The 12.9-inch display is the size of a magazine that is great for drawing. It gives bright, sharp, and vivid picture quality through its Liquid Retina along with promotion technology.
Moreover, you get the most relaxing typing experience with the magic keyboard. It delivers 1mm of key travel, and keys are pretty clickable, giving an excellent typing feel. Also, the trackpad for the cursor iPadOS is a great innovation that lets you select icons really well. The battery life is relatively good at 10 hours. You can manage your activities for long hours without getting worried about plugging in a charger. Further, the camera quality is excellent that gives stunning images. The quad speakers provide a great sound to enjoy listening to music and watching Netflix on the Ipad pro. The sound is quite rich and balanced. Also, you can perform anything on this tablet because of its wide size. From drawing to working on some project, it has the compatibility to manage everything you throw at it.
Final Verdict: Apple Ipad Pro is heavenly expensive, but with the performance it gives of having the fastest processor, excellent camera & sound quality, fantastic display, it has come under the category of the best tablet in the market. So if you don't have a budget issue and want to have your hands on the best one, this is the perfect fit for you.
2. Microsoft Surface Pro 7
If you are searching for a work-oriented tablet, then the Microsoft Surface Pro 7 is the right choice for you. It is one of the best tablets in the market that has Windows 10 software installed on it. It adapts to your work style whether you are at the office or doing work from home. It is a versatile 2-in-1 device that can be transformed from a laptop to a tablet. The 12. 3 inches screen comes with 2736 x 1824 resolutions that give vibrant picture quality. While doing work or watching a movie, you will enjoy the sharp colors. The processor it comes with is quite fast that handles multitasking really well. It features an Intel Core i5-1035G4 CPU along with 8GB of RAM that does not let you feel any slow down or stuttering of the screen while working on the Surface Pro 7.
Moreover, the 256GB SSD is quite enough storage for you to store a large amount of data. It also has integrated IRIS Plus Graphics that make it compatible with moderate graphic games. So if you are a game lover during your free time from your official work, this will suit you. Moving towards the audio quality, it is okay with a low pitch, making it only feasible for Netflix or YouTube. The keyboard gives a tremendous key travel between keys that you will enjoy working on the tablet. The typing experience is quite joyful. Also, the touchpad provides a soft feel to the touch, making it comfortable for you to type. A for the battery life, you can go through the day with a fully charged battery as it can last for about 7-8 hours.
Final Verdict: Microsoft Surface Pro 7 is one the best 2-in-1 convertible tablet that gives high performance with solid graphics and displays quality. It is perfect for official work and drawing purposes, so investing your money is a good option.
3. Fire HD 10 Tablet
If you are looking for a widescreen display for entertainment, then Fire Dd 10 is the best tablet on the market. The 10.1-inch display has 1920 x 1200 resolutions. The colors are pretty accurate with solid picture quality. The design comes with chunky bezels with thin polycarbonate back. It comes in 4 colors: black, blue, purple and white. The Fire HD 10 is powered by a 2GHz Mediatek MT8183 octa-core processor and 2GB of RAM. It can handle multitasking really well. You can smoothly run the applications and do not face any issues of stuttering. Moreover, they have given the option of 32 GB and 64 GB of storage, so whatever suits one can buy. You can also increase the storage with a microSD card if you run out of space in the future.
Moreover, Fire HD 10 can easily manage to play candy crush-type games. This requires light graphics and software, so you won't have any issues running such games. Also, it features Alexa which manages your daily routine and task really well. You just have to command with your voice, and it will perform things. For kids, it is one of the best tablets as you can create their restricted profile and adjust the content and apps to which they can have access. Hence, giving you privacy and control to limit screen time for kids. Fire HD 10 does not disappoint you in terms of battery life. It is excellent with about 12 hours of ongoing screen time.
Final Verdict: Fire HD 10 is the more f everything. The bigger screen, sharp image quality, fastest processor, and better RAM make it one of the best Android Tablets in the market. It gives you value for the money.
4. Samsung Galaxy Tab S7+
The Samsung Galaxy Tab S7 aims to be the best Android 2-in-1 tablet on the market. It gives you the portable experience and a great work mode pleasure of a laptop with an expanded keyboard. The 12.4 inches display is extraordinary, with thin bezels around the edges of curved corners. It features the fastest Qualcomm's Snapdragon 865+ processor with 6 GB of RAM. This makes it one of the best tablets in the market. You will see an excellent performance as it can handle any application or game quite easily. With a built-in memory of 512GB and an expandable limit of 1TB, you have a high storage capacity to store your important stuff.
Moreover, you will see that the battery life is good and can last for hours. Though it majorly depends on the work being done, it has lasted at least 10 hours. Also, it comes with Dolby Atmos speakers that generate high pitched sound. You will get to enjoy the sound when you listen to music, watch Netflix, or play games. It enhances your experience. Further, you can take the gaming pleasure to the next level with this tablet by bringing the console anywhere. In this tablet, Samsung has redefined its stylus pen. It is comfortable to use, for making notes or even drawing. The camera quality is fantastic; that takes stunning pictures at high resolutions and in bright colors.
Final Verdict: In an Android range, it is difficult to find the top-rated tablet that offers everything. But Samsung has continuously innovated its gadgets and presents you with the fastest Samsung S7 tablet with a premium look and high performance. So it can be a wise investment for your family.
5. Samsung Galaxy Tab S6
If you are looking for a tablet closest to Ipad Pro, then this is the one you must have. It is the finest android tablet in the market with all the specs and features. It is a 2-in- tablet that gives you the pleasure of laptops and tablets. You can work on it for hours with an attractive keyboard/trackpad and use it as a laptop. S6 has a slim design with thin bezels and soft edges that gives it a stunning look. The display is beautiful, with 2560 x 1600 Pixels. You will enjoy the picture quality as it is sharp and bright. Moreover, Samsung has incorporated in it the fastest processor Qualcomm. This makes it compatible to work on different apps and data. It can manage to multitask really well.
Moreover, you can choose the storage capacity of 128GB or 256GB that is built-in. So you can store everything you want to without getting worried about low storage issues. Samsung has developed its name in Stylus technology. And at this 10.5-inch screen display, it works smoothly, just like a paintbrush works on a canvas. If you are an artist, then you would enjoy drawing and designing stuff on it. There are Smart Thing apps that let you connect to the other devices at home and manage temperature, the brightness of the light, and so much more. Also, it has Bixby Voice Assistant installed in it that hears your command and responds to it. You can listen to your favorite song, know calendar updates, etc., with just your voice.
Final Verdict: Samsung S6 has ranked as the fastest Android tablet with all the multitasking features that Samsung has put in it. So if you want something speedy and fastest that has great potential, you must consider spending money on this tablet.
6. Samsung Galaxy Tab A 10.1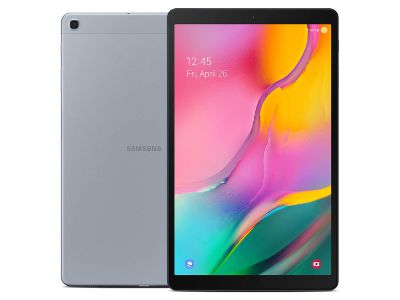 Samsung Galaxy is the best alternative to the Ipad that is relatively cheap with all the specs and features it offers. It is a great entertainment device for everyone at home. The 10.1-inch screen display is beautiful with not-so-thick bezels. The screen is quite sharp where colors are well saturated. The design is of lightweight premium metal that is easy to carry and grip in your hands. It is highly portable so that you can take it around wherever you go. It looks pretty fancy and stylish. Moreover, it features a Samsung processor, the Exynos 7904, with 2GB or 3GB RAM. This lets you face some lag between switching applications and screen stuttering.
Also, this tablet only comes with 32GB of storage capacity that is extendable to 512GB anytime you want to. As 32GB does not give you ample space to store your favorite content. Furthermore, you can have an immersive experience of playing games and watching movies with the Dolby Atmos sound system. Its audio quality is excellent. With the GPU installed, you can play any game you want to that requires moderate graphics. Even kids can use the tablet with parental restrictions on screen time and applications they can run. It also lets you capture moments perfectly fine with its autofocus. Moreover, the battery life meets the standard benchmark that gives a running time of 12 hours.
Final Verdict: Samsung Galaxy Tab A 0.1 is among the top tablets of 2024 because of its relatively lower price and great features. So if you want a good screen, solidly built, and great processor, then it is worth buying.
7. Lenovo Tab M10 Plus Tablet
Lenovo Smart tablet is designed in an intelligent way that attracts everyone in the market. With thin bezels, a vibrant display, and an interactive user interface, it has become the choice of many people looking for the best tablets. It incorporates Google Assistant ambient mode which makes it stand out among the competitors at an affordable price. The tablet body is of aluminum in grey color with round edges that make it look elegant. Every tablet should have all the necessary ports: headset jack, microSD card slot, and USB-Type C ports. As for the display, the 10.3-inch screen gives an intense and bright color display at 1920×1200 pixels. This will provide you with a satisfying experience while watching movies and doing some work on them. The colors, contrast, and picture quality are so good for your eyes. Moreover, its touchscreen is very smooth and responsive to your fingers that you enjoy working on it.
Moreover, its dual speakers fill your room with the best-amplified sound that you enjoy watching movies and listening to music. The sound is pretty much clear and crisp; that feels good. Even if you are playing the game on the tablet, it gives you the ultimate gaming experience with its sound system. Lenovo Smart M10 incorporates an octa-core processor with 4GB of RAM that is good enough to manage to multitask. The applications and tabs take some time to close, but it will not bother you. Everyone wants a long battery life when they make a buying decision for a tablet. Lenovo set a new benchmark of continuous working for about 8 hours when fully charged and in a working state. So, you will get to take it around anywhere you go without getting worried about charging. Also, it supports kid app that any parent would love because of the restriction and limitations of applications and usage.
Final Verdict: Lenovo Smart M10 Plus is targeted at budget-friendly users who want a colorful, vibrant display and good performance in terms of battery life and fast processor. The tablet has good features and specs that can not be ignored. It will satisfy every requirement that you want to satisfy through the tablet.

8. Apple iPad mini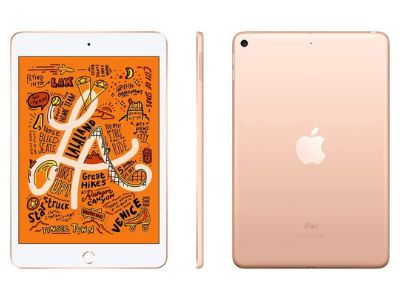 Apple Ipad Mini is one the best IOS tablet on the market. It is the smallest and most handy tablet with 7.9 inches screen. It gives you a grip when you hold it, and with its lightweight, thin design, you can take it anywhere you go. Apple has developed its name in the fastest tablet category. It features an iPhone XS-class chipset that delivers incredibly fast performance. You can run any powerful app and will see exceptional results. Moreover, the retina display represents the stunning color that makes you read things on the iPad, even in the light. Also, with true tone technology, the colors are adjusted accurately, giving a perfect display look.
Further, the biggest edge you will have is its first-generation pencil which is so convenient to use. The feel is so smooth with perfect precision. You can take daily notes and even draw on them. Apple promised good battery life of 10 hours in its Ipad mini that you can daily use for an extended period and carry around without getting worried about charging. The 3 GB RAM also let you manage to multitask really smoothly so that you don't face any lagging issue. As for storage, it comes in 64GB and 256GB which is good enough to store a lot of data. You will have an option of cloud, too, where you can store data.
Final Verdict: Ipad Mini is highly user-friendly and offers advanced features that you may not find in any Android Tablet. So if you are in search of something handy portable tablet with a fast processor, then this is designed for you.

9. Samsung Tablet A 8.0
An android tablet has everything you look for. And Samsung has evolved over the year, coming up with the best tablets in the market closest to Apple Ipads. Samsung Galaxy Tab A 8.0 is nicely built that is sleek and powerful. Its design is quite similar to Ipad Mini with a 9.0-inch screen size. It is really portable and handy that fits in your hands perfectly fine. You can carry it with you anywhere and enjoy full-time entertainment on the go. Moreover, you can view your content at maximum as it is designed with thin bezels. The metallic body is comfortable to use and quite firm to hold on to. Overall, the tablet gives a decent look that you will enjoy using it.
Coming to the storage, the internal capacity is 32GB which gives you a great room to store your favorite content; games, movies, music, etc. You can also extend the memory up to 512GB with a microSD card. So if you run out of space, you always have an option to extend it. It is incorporated with a Qualcomm processor with 2GB of RAM that is fast enough to manage to multitask and run applications smoothly. Samsung never lets you down with its battery life. It is strong enough that your tablet can handle the workload the whole day for about 7-8 hours once fully charged. Also, the picture quality is excellent, and you will enjoy taking pictures and having video calls with your close ones.
Final Verdict: Samsung Tablet A 8.0 is targeted to the one looking for a small portable tablet for their daily use, whether it's work or leisure. So it can be a worthy investment that will keep up with your work and entertainment-related matters.
Buyers Guide
Buyer's Guide – How to choose best gaming laptop?
Choosing the best tablet has become a daunting task. Whatever brand you are looking forward to choosing, plenty of models are available in the market at various price ranges. Also, the purpose for which you are planning to use the tablet varies. There is a need to do extensive research and sort out points before making a purchase decision.
Below is the guide to provide you with some critical facts on buying the best tablet to meet your requirement. It will help you evaluate and compare different brands and models and reach a conclusion to finally choosing the right tablet for you.
Find out what you want to do with your Tablet
When you look forward to buying something, you try to solve a problem or a need. There can be many reasons for which a tablet is used. If you want a laptop replacement, then a tablet with Windows software can be your choice. However, if you are a casual user and just want to browse websites, listen to music, watch movies, or play games, any tablet can serve your needs. Therefore, your decision to choose the best tablet mainly lies in the question, 'How will you use the Tablet?' By answering this, it will get easy for you to move further.
Look for the Design and Display
The design and appearance of the tablets are fundamental. Nowadays, you will see less priced tablets are performing pretty well. But what they miss is the strong design and display quality; the build is of cheap plastic with flat screens that do not give an ultimate experience. So, you should closely pay attention to design and display. The design should be strong that giving it an elegant premium look. If you want to use the tablet for Netflix or other things, you must have better viewing of angles.
Choose the Operating System
Tablets come with three operating systems: Apple IOS, Android, and Windows. You should know exactly which operating system you want as it then shortlists the brands and different models you should consider. Apple Ipads are one of the most acceptable options to go for because of their high quality and a great selection of apps and accessories. But it does not work well with spreadsheets and is relatively expensive. Also, it works better with other gadgets of Apple, so if you own Macbook or iPhone, this is the best option. On the other hand, Android targets multiple users that offer a wide range of Google services and applications. Also, over the years, Android has improved its quality and come up with the most premium Tablets closest to Ipad. Lastly, Windows is highly compatible if you have to use it for Microsoft programs. It gives services like traditional PCs with a good range of apps but performs poorly compared to Apple and Android Tablets.
Screen Size
In the market, you will see different sizes of tablets: 7-9 inches, 9-11 inches, and 12 or more inches. The larger the size is, the more powerful and expensive the tablet will be. But this means you won't be able to carry it around with you all the time. If you are looking for a portable compact tablet that you can carry in your purse all the time, then a smaller size of 7-9 inches is ideal for you. It is just the personal preference of everyone hence;, one should prioritize their needs.
Performance
Good processor and RAM matter a lot as this makes your tablet run and perform. You must look for the quad-core processor as it is the fastest and give excellent results. Also, the better the RAM is of a minimum of 2GB for a Tablet, the better it can manage and handle multitasking. Obviously, you will be browsing a lot of data at a time and running different applications. You want good RAM that can handle the workload. Apple processor is the fastest in the market, and with its frequent updates, it performs really well.
Storage Capacity
This is another feature that influences your decision to buy a tablet. Many tablets in the market do not have expandable storage. This means you have to make your decision right the first time so that the tablet's life is for the long term. Though there is the option of cloud storage now. Here you can store your data that is not frequently needed, but it might not be convenient for you. Therefore, it is better to look for a tablet with a good storage capacity between 512GB to 1TB to meet your requirement.
Wi-Fi Vs Cellular
The majority of the tablets come with only one option of Wi-Fi. It does not have access to cellular data, due to which you are restricted to use the tablet in certain areas where you will have access to W-Fi. Or you will end up getting hotspot access from your own phone cellular network that will drain your phone's battery. Therefore, it is another fact that you cannot ignore while making the buying decision of buying a tablet.
Battery Life
Good battery life is another essential feature. If your tablet cannot last for 8-10 hours in its initial days, it will worsen in a few months. This will force you to invest in a new tablet hence, additional cost on your shoulders. Therefore, it is better to look for a tablet with good battery life for the first time. Apple Ipads battery life stays for about 10hours, which should be the benchmark for you to compare different models.
Connectivity
Best tablet today has a good range of connectivity options. It comes with a MicroSD Card, expandable storage, etc. You will need to connect your headphone to the jack and even use expandable storage because of the large data that fill-ups the internal storage capacity. If you have closely checked Apple and Amazon's product range, you must have identified that it does not have a microSD Card option; hence, if you want to buy a tablet from these, you must already invest in a model with good storage capacity.
Final Verdict: Apple Ipad Pro is heavenly expensive, but with the performance it gives of having the fastest processor, excellent camera & sound quality, fantastic display, it has come under the category of the best tablet in the market.
·