Your gaming session can only be joyful when you have a stunning gaming monitor. Without a proper display, everything you do on your PC will look dry. So, everyone wants to make sure that the monitor they choose offers excellent performance. Most people think that gaming is just spending a lot of money on numerous accessories, partly they are true but not in the case of the monitor. So, you don't need to go for the most expensive model, as you can find the best gaming monitor under 200 as well. Hence, the top ten contenders included here are not just budget-friendly but delivers amazing performance too.
Admitting that these monitors are on a budget, the manufacturers have made some compromises but not on those features that will affect your game. They also come with a high refresh rate and low response time, so their yield is maximum in low and high competition games. Finding a monitor with a satisfactory performance at such a low price is a tough job and needs hours of searching, but we have made it quite simple for you. Thus, knowing your needs and requirement, you can find the most suitable monitor by going through this article. In addition, our buyer's guide will lead you in the right direction to ensure the selection of the best gaming monitor in 2023.
Best Gaming Monitor Under 200:
You May Like to Read:
Best Gaming Monitor for PS4
Best Gaming Monitor Under 150
Best Gaming Monitor Under 300
Editor's Choice
Acer R240HY bidx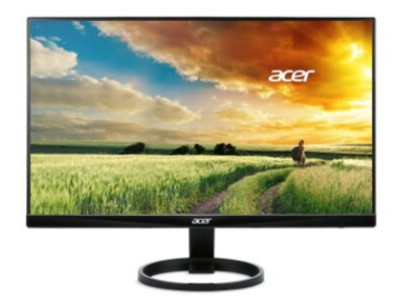 Stylish Design
Bezel Free Screen
High Refresh Rate
Low Response Time
Runner Up
Asus VG245H 24
Very Fast Response Time
AMD Free SynC Technology
Wide Range of Connectivity Ports
Satisfactory Height
Product Reviews
Best Gaming Monitor Under 200
1. Acer R240HY bidx
REASONS TO BUY
Stylish Design
Bezel Free Screen
High Refresh Rate
Low Response Time
178 Degree Wide Viewing Angle
Good gray-scale performance
Low input lag
REASONS TO AVOID
Lacks USB ports
Tilt-only stand
No display input
Acer 240HY, the best gaming monitor under 200, comes with a very stylish design. The panel is accommodated in a bezel-free plastic, and the ring-shaped stand allows you 20 degrees tilting. However, it does not let you height adjustments or swivel movements. The overall weight of the monitor is 6.5 pounds and comes with a 23.8 inches screen size. The Full HD IPS display gives you the next level of visual delight. In addition, the screen is coated with anti-glare layer, also it is capable of emitting 250 nits of brightness. On top of that, the Acer's Flicker-less Technology reduces screen flickering, which in turn reduces eye strain, even during extended use.
The best budget gaming monitor features a default 60Hz of refresh rate; isn't it amazing. But what will please you the most is that this model can be overclocked to a maximum of 75Hz refresh rate, so you don't need to worry about competitive games. Along with this, 4ms response time is astonishing for an IPS panel. Although the 9.6ms input lag is slightly higher, it is still satisfactory, keeping the price in mind. Furthermore, R240HY bidx has three signal inputs: an HDMI, a DVI, and a VGA. if you want to extend your enjoyment from a tablet or smartphone on an FHD display. Moreover, the monitor features power-saving technology to conserve cost and resources.
2. Asus VG245H 24
REASONS TO BUY
Very Fast Response Time
AMD Free SynC Technology
Wide Range of Connectivity Ports
Satisfactory stand Adjustments
best ergonomic design
REASONS TO AVOID
Dimmer than other competitors
Needs proper adjustment
When it comes to gaming, ASUS is a brand that you can always trust. It has launched a new product, VG245H, which is the best gaming monitor under 200. Console gamers will love it the most, as it comes with all those features that they need. The design is pretty simple, and the included stand is admirable. The stand is square and comes with a hole in the middle for improved cable management. Plus, it allows 130mm height adjustment, 90 degrees tilt or swivel, also; you can tilt the screen 5 degrees forward and 33 degrees backward for a comfortable viewing experience. In addition, you can mount it on the wall with a compatible VESA wall mount.
The 24 inches Full HD display is satisfactory for both console and PC gaming. It comes with a TN panel, so colors are not spectacular, but 250 nits of brightness make the deal fair and square. However, on the bright side TN panel offers a very fast response time of 1ms. Along with this, the refresh rate is 75Hz so that a faster response time will eliminate ghosting, and a high refresh rate will make the display fluid. On top of that the monitor comes with AMD Free SynC technology, which makes sure that screen tearing will never occur. For connectivity, the monitor features 2 HDMI ports, a VGA port, an audio jack, and a line-in jack for external speakers. The monitor has two built-in speakers, but the sound is basic, so better to get external speakers or use hands-free.
3. ViewSonic VX2452MH 24
REASONS TO BUY
Excellent Design
Faster response Time
Satisfactory Color Accuracy
Sharp & Accurate Pictures
Quick pixel response
Energy efficient
REASONS TO AVOID
Narrow viewing angles
Tilt-only stand
VX2452MH from Viewsonic is proof that you don't have to spend a lot on a good gaming monitor. Build material is plastic and the thin, glossy black bezels give it a premium look. The monitor is 7.6 pounds in weight and comes with 24 inches screen. The stand with a round base is appreciable, as it offers 20 degrees tilting option. Also, you can mount it on the wall with the four VESA mounting holes. Moreover, the best gaming monitor under 200 offers a Full HD display, so images are reach and accurate. In addition, switch to Game Mode, and you will have better visibility in dark areas during the game.
Color accuracy is decent but being TN panel, so viewing angle is not very wide. However, 2ms response time and ViewSonic ClearMotiv II technology provide a smooth gaming experience. Going towards the audio quality, most of the monitor's built-in speakers do not deliver acceptable sound quality. But VX2452MH's Speakers generate excellent sound, and you won't feel the need for external speakers. Although you won't see USB ports or DisplayPort, you will have DVI, HDMI, VGA ports along with two audio jack at the back of the monitor. Plus, except HDMI cable rest of the cables are included in the box.
4. BenQ GL2460HM 24
REASONS TO BUY
Backlit Display
1920 x 1080p Resolution
2ms Response Time
Less Eye Strain
Low input lag
Brightness intelligence technology
REASONS TO AVOID
No AMD FreeSync
GL2460HM by BenQ is superior hardware that will please gamers the most as you know that a superior monitor requires a superior manufacturer, but who does not know BenQ. The monitor is put up in the matte-black case, and glossy bezels surround the screen. It weighs 9.4 pounds and is supported by a polished round stand. Plus, the stand offers 5 degrees and 20 degrees forward and backward tilt range, respectively. In addition, the 24 inches TN panel features Full HD display, which not only provides detailed images but also improve eye comfort with ZeroFlicker technology. So, you can play games for a long period without any eye strain.
GL2460MH is a TN panel, so the viewing angle is narrow, and you will see a slight color shift when viewing from a different angle. However, the best gaming monitor under 200 claims a 1000:1 native contrast ratio, and 250 nits of brightness are just amazing. HD videos look fresh on the screen, and steady gameplay is due to a 2ms response time. The low response time, in turn, lowers input lag that is 10.5ms, which gives you an extra advantage over your competitors. As ports for secondary connections are of utmost importance for gamers, they must match your computer. Thankfully, it supports DVI, HDMI, and VGA along with headphones and an audio jack so that connectivity won't be an issue.
5. Acer GN246HL Bbid
REASONS TO BUY
Great Quality Display With 3D Capabilities
1ms Response Time
144Hz Refresh Rate
Brighter Screen
Nvidia vision support
Affordable price
REASONS TO AVOID
No DisplayPort
GN246HL is a definitive option for gaming fans, as it is undoubtedly one of the best budget gaming monitors in 2023. The monitor is thin and is supported by 4 spooked stands having some copper features. Plus, it can be mount on the wall, but make sure that the wall build quality is good. The front panel offers 16:9 aspect ratio, so viewing experience is great. As the horizontal and vertical viewing angles are 170 degrees and 160 degrees, pictures don't get disturbed. Moreover, the 24 inches screen gives you a Full HD display due to which pictures are sharp and realistic. Also, the panel is impressively bright, emitting up to 350 nits of brightness.
The best gaming monitor under 200 has a 1ms response time and 144Hz refresh rate, which is remarkable. What will please gamers the most is the Nvidia 3D light boot technology, which offers Full HD 3D imagery. If you are thinking about connectivity, Acer GN246HL features all the basic connectivity options. So, you will have an HDMI port, a VGA port, a DVI-D port, and a 3.5mm audio jack. More, Acer has also included VGA and DVI cable in the box, but no HDMI cable. The only sad part of this monitor is the stand, although it offers 15 degrees forward tilt but does not allow height adjustment. However, the monitor can save up to 68 percent of energy with RoHS compliant LED-backlit, thus making it eco-friendly and energy-efficient.
6. BenQ ZOWIE RL2455T
REASONS TO BUY
Superb Display
1ms Response Time
3ms Input Lag
75Hz Refresh Rate
Optimized console gaming
Black eQualizer technology
REASONS TO AVOID
Lacks FreeSync technology
Zowie RL2455T is a console monitor with zero lag, so along with PC gaming, it is fundamental for PS4 as well. Build material is fantastic, and the overall design is simple. Although bezels surrounding the screen are thick, they are still within a reasonable limit, and the viewing space does not interfere. Overall unit comes separated into two parts, but the assembly is quite easy due to the snap-on design. More, the stand provides -5 to 15 degrees tilt adjustment along with acceptable height adjustment. In addition, the monitor is equipped with two HDMI, a DVI and D-sub ports, so it can be connected to four devices. Plus, there is a 3.5mm audio jack for headphones too.
The best gaming monitor under 200 sports 24 inches TN panel with a resolution of 1920 x 1080. In addition, Black eQualizer technology enhances color representation and visual clarity. So, such an amazing display will give you an advantage in the combat zone. On top of that, 1ms response time and 75Hz refresh rate will eliminate ghosting and lag, providing you a next-level gaming experience. Also, it is suitable for fast-paced games due to a 3ms delay at its fastest. Furthermore, Zowie RL2455T comes with Flicker-Free technology, which reduces optical distraction and eye strain. In this way, you can enjoy intensive gaming sessions without any discomfort.
7. Dell Gaming Monitor SE2417HG
REASONS TO BUY
Rugged Physique
Outstanding Image Quality
2ms Response Time
4ms Input Lag
Two HDMI ports
REASONS TO AVOID
Lacks VESA mount compatibility
Dell SE172417HG is a streamlined monitor that will satisfy the needs of casual gamers. The build material is excellent, so the monitor feels robust and reliable. In addition, the stand lets you swivel, pivot, and tilt adjustment but does not offer height adjustment. As this monitor is budget-oriented, so don't expect much functionality from it. More, bezels surrounding the screen are thicker, which reduces the viewing area to 83%. However, connectivity is limited yet satisfactory considering the price. So, you will have two HDMI 1.4 ports and one VGA port. Also, there is a 3.5mm audio jack if you want to connect headphones or external speakers.
The screen size is 23.6 inches, and it comes with 1920 x 1080 resolution, so pictures appear detailed and realistic. Along with this screen is capable of 96% sRGB coverage and is bright as well. So, the sufficient vibrancy of the screen makes games truly enjoyable. Furthermore, the best gaming monitor under 200 uses the native 8-bit interface to maximize color. Besides, the 60Hz refresh rate and 2ms response time are astonishing. However, you will see some blurring when playing fast-paced games, which is disappointing, though you won't notice such an issue in slow-paced games. On the bright side, input lag is just 4ms so that you won't notice any delay.
8. LG 25UM58-P
REASONS TO BUY
High Resolution
Wide Viewing Angle
Vibrant Color & Crisp Details
Acceptable Response Time
High pixel density
REASONS TO AVOID
No AMD FreeSync
LG 25UM58-P is an ultra-wide monitor, which is an energy and cost-efficient alternative to two standard monitors. The polished black finish across sleek and bezel-free case gives it a classy look. However, the texture attracts dust and fingerprint, so the maintenance with a soft cloth is necessary. Except for tilt adjustment, the stand does not offer swivel or height adjustment. But if you want more flexibility, you can easily mount it on the wall with 100 x 100 VESA mounting holes. The monitor comes with limited connectivity options, as there are only two HDMI 1.4 ports. Also, there is no built-in speaker, but a 3.5mm audio jack lets you connect external speakers.
The main attraction of the best gaming monitor under 200 is the 21:9 aspect ratio. In addition, the 25 inches IPS screen comes with a resolution of 2560 x 1080 offers gorgeous pictures. Indeed, these specs are hard to beat at this price range. More, the screen is capable of 99% coverage of sRGB color space. Hence this panel is way better than what other budget monitors are offering. The gaming performance can reach a 60Hz refresh rate and 5ms response time, so these numbers are more than enough for games and casual productivity. Plus, you get flicker-free safety and blue light filters to keep your eyes stress free during long gaming session.
9. HP Pavilion 25xw
REASONS TO BUY
Bezel-free & Stylish Design
LED Backlighting IPS Panel
Technicolor Certified
Anti-glare Screen Coating
Satisfactory Response Time
Refresh Rate
REASONS TO AVOID
Compromised adjustments
Whether you are working on a spreadsheet, gaming, or watching movies, you will need a monitor that will immerse you into your viewing pleasure, so is HP Pavilion 25xw. The best gaming monitor under 200 comes in white with silver accents, balanced on a metal base and a thin bezel-free design makes it elegant and beautiful. In addition, the stand lets you a -5 and +25 degrees tilting angle for your comfort. So, for ultra-wide video viewing and game-playing, the entire monitor is frame-less, and buttons for OSD menu control are present at the bottom section. Through the OSD menu, you can easily customize the display of your monitor.
Talking about the display, the 25 inches screen offers a Full HD display. Being Technicolor color certified, colors are energetic and charming. Plus, the low haze screen enhancement reduces glare while keeping images sharp and crystal clear. Furthermore, 7ms response time and 60Hz refresh rate make it perfect for casual gaming and graphic design. The monitor sports HDMI and VGA ports. However, it does not offer a wide range of ports but is still sufficient for casual gamers. On top of that, due to the mercury-free backlit, the monitor is energy efficient, and 100% arsenic-free surface glass makes it eco-friendly.
10. Dell SE2717H KYKMD
REASONS TO BUY
Great Picture Quality
Free SynC Technology
High Refresh Rate
Low Response Time
178 Degrees Vertical & Horizontal Viewing Angle
REASONS TO AVOID
Not enough connectivity options
SE2717H by Dell is a classy product with a neat and clean design. The sides bezel are 10mm in thickness, and the bottom bezel is 15mm, so it won't distract your gaze from the 27 inches screen. The case has a black piano finish, as it attracts fingerprint and hairline scratches, so it takes a bit extra care to maintain the classy look. Furthermore, the stand allows up to 6 inches of height adjustment and acceptable tilting. Going towards connectivity, SE2717H comes with limited options, as you will find only HDMI and DVI ports but no USB ports or DisplayPort. There are no built-in speakers, but gamers rarely miss this feature because even expensive monitor speakers don't deliver pleasing sound.
The IPS panel with a native resolution of 1920 x 1080 displays outstanding pictures. Plus, the viewing angle is very wide, so the picture remains undisturbed even if the view is from a different angle. Besides, there are multiple color modes in the OSD, but the Standard preset is most accurate. Therefore, we recommend sticking to that if you want amazing accuracy and vibrancy. Even though the monitor is on a budget, the screen is very bright, and uniformity is outstanding without any color bleeding. On top of that, to give you a realistic gaming experience, the best gaming monitor under 200 has a 75Hz refresh rate and 6ms response time. Still, if you are not satisfied, then Free SynC technology will certainly clear all your doubts.
Worth a Read:
Best Mesh Wifi
Best Gaming Laptop Under 800
Best 4K Gaming Monitor
Buyers Guide
Choosing The Best Gaming Monitor Under 200 in 2023
Whether you are a pro gamer or a casual warrior, your hardware plays a key role in your victory or defeat. So, to get the most out of fast-action games, sports, and racing, along with a powerful gaming PC, you will need a monitor that will display images without any flicker and tearing. However, choosing the right gaming monitor is difficult for many users because many options and specs need consideration. Plus, buying a budget gaming monitor becomes more complicated, as the manufacturer has made many compromises. But don't worry, the following are some important factors which will ensure the selection of the best products.
Know the Purpose of Your Monitor
The first thing you need to do is to prioritize your needs. Gamers prefer a high refresh rate and low response time. Professionals give more importance to color accuracy, and general users have limited needs, so they mostly opt for a monitor with high contrast. Now, you have to decide whether you are expecting only gaming from your monitor or some other activities. If you have decided and gaming is your top priority, you should give special attention to resolution, response time, refresh rate, panel technology, adaptive SynC, and connectivity.
Resolution
The more will be the pixels of your monitor; the better will be the image. But higher resolution like 4K will slow you down unless you have a powerful GPU like GTX or RTX series. These GPUs are very expensive, and every gamer can't afford them. We are talking about budget monitors here, so don't even think about 4K resolution. Full HD (1920 x 1080) delivers the highest frame rates, and the pictures generated are also of good quality. So, gamers with a low budget should stick to FHD. However, ensure that your monitor screen size is not more than 27 inches; otherwise, the picture quality will be disturbed.
Response Time
Response time is the time taken by the monitor to change a single pixel from black to white. The longer the response time, the more blur will be moving, and you will notice ghosting. The longest response time so far is 7ms and the lowest response time is 0.5ms. So, make sure that the monitor you select has a low response time to enjoy games in the true sense.
Refresh Rate
Refresh rate is the number of time your monitor update new information per second. It is measured in Hz, so higher will be refresh rate images will appear more smooth and less rough. As a high refresh rate is necessary for gamers, so never accept anything less than 60Hz. Although 144Hz is a much better option, most budget monitors come with 75Hz, yet it does an adequate job.
Panel Technology
Monitors mostly come with three different panel types that is TN (Twisted Nematic), IPS (In-Plane Switching), and VA (Vertical Alignment). All these have their advantages and disadvantages. TN monitors are the fastest as the response time is mostly 1ms, but they offer a poor viewing angle. IPS monitors offer excellent viewing angles, and pictures quality is amazing, but they are a bit slower as the response time is mostly 5ms. On the other hand, VA monitors offer the best contrast, but they are for general users. So, it would help if you went for either TN or IPS panel.
Adaptive SynC
If you want a tear-free screen while playing games then you should consider either Free SynC or G-SynC technology. Most of the budget monitors include Free SynC, but G-SYnC is only available inexpensive models. Although G-SynC is more efficient for that, you have to spend extra bucks. So, it will be wise to stick to Free SynC as it also does a nice job of eliminating screen tearing.
Connectivity
The three main port necessary for gamers is DisplayPort, HDMI port, and audio jack. We have included budget monitors in this article so that you won't have DisplayPort, but you will have HDMI, DVI, VGA, and audio jack. Admitting that HDMI does not support as high a refresh rate as DisplayPort, it is still acceptable because it transfers both audio and video. An audio jack will let you connect external speakers for immersive audio because the monitor's sound quality is unsatisfactory.
Conclusion
All the necessary information regarding budget gaming monitors is provided here. Our job is done; now it's your turn to select a monitor that will suit you the most. Although some compromises are made by manufacturers while designing these monitors, yet they will take your gaming experience to the next level. Besides, we shall be updating our list, so you can visit again if you would have any reservations in the future.