Are you looking for a tablet that is portable and carries traditional laptop things? From surfing the browser to watching movies or videos to playing games and using different applications. You have come to the right place to look for.
Tablet is an exceptional advancement in technology. Its interface and touch screen has a lot to offer in a small and lightweight design. Tablet has the ability and competency to manage everything in a single device. With long battery life and the fastest operating system, it has become a mini laptop for people. You can easily run applications, play games, and watch videos/movies in your comfort zone.
There is so much a tablet offers. Companies are regularly improving the standard model and coming up with new specifications and features by updating everything. It has become tough to choose the best tablet that meets your need. There are different tablets at different price brackets. It would be best if you did your research to choose one. Hence, we have come up with some best-budgeted tablets under $200 that fulfill your requirement and do not put a heavy dent in your pockets.
Best Tablet Under 200 in 2024:
You may like:
Best Gaming Laptop
The Best Gaming PC
Editor's Choice
Kindle Paperwhite
Runner Up
Lenovo Tab 4
Product Reviews
Best Tablet Under 200 in 2024
1. Kindle Paperwhite
Are you looking to upgrade your e-reader? Kindle Paperwhite brings you the best blend of everything you need. From Bluetooth-oriented to waterproof reader, it offers you perfect features. The design is slim wrapped in a matte plastic body. The edges are slightly curved for you to hold onto for long reading sessions. There is a power button at the bottom of the Kindle and a USB slot for charging purposes. As of display, it is 6 inches with a resolution of 300 pixels. And that is perfect for reading because of brightness levels and clear display.
Its waterproof feature makes it highly portable for you to use at different places. You can read your favorite novel while sitting on the beach or beside a pool. It is IPX8 rated for water resistance in case any accident happens. Moreover, Bluetooth lets you easily switch between reading and listening. You can carry on listening to stories while doing other tasks. In addition, the 8GB memory is large enough for you to store a good amount of reading material. Also, battery life is exceptional that lasts for days and weeks. It makes your life easy, saving you from the hassle of frequent charging on a daily basis. Overall, Kindel WhitePaper is one of the finest choices at a price of under 200 dollars if you are looking for e-readers.
2. Lenovo Tab 4
Lenovo Tab 4 is a budget-friendly tablet designed for everyone at home. Every user can have its account made on a tablet for a personalized interface. It is targeted at families that have kids at home. Secured and dedicated accounts for kids can be made with a limitation on content. And for other purposes, you can switch to productivity mode and use your own customized space. The design of the tablet is appealing with a textured black surface. The lefts side has an SDcard slot, and on the right, there are power and volume buttons. And on top of it are the headphone jack, speakers, and a slot for charging. These are the standard ports that every tablet has.
Apart from that, the display is a 16:9 aspect ratio and has IPS panel technology. It gives an excellent picture quality, making everything very clear at wide viewing angles. Moreover, the loading apps takes time which makes this tablet slow. When playing high-end games that require heavy graphics, Lenovo Tab 4 will disappoint you. Hence, it is highly feasible for casual videos and less demanding graphic apps. Tab 4 is a solid tablet with good battery life. It's well-suited for multipurpose with kids at home. With the price you pay, it is an excellent option in the market.
3. Fire HD 10 Tablet
Fire HD Ten Tab is one of the best-budgeted tablets available in the market. It offers a 1080p Full HD screen. The display is very sharp. It gives a vibrant picture quality to the screen for you to enjoy videos and movies. With its new processor, it has become the finest choice for all potential users of tablets. The 2.0 GHz octa-core processor and 2 GB of RAM give you ample storage to install different apps and enjoy movies, videos on the go. The battery life is excellent for you to enjoy the content for an extended period. Moreover, there is Alexa software installed. It manages your privacy. It allows you to control everything with your voice, ask to play videos, run different applications, check on weather updates, etc.
Further, it lets you create a kids account to manage the time limit, restrict applications for kids' content, and much more through Amazon Kids. It is free for every tablet. In addition, there is 1- year warranty card packed in a box. As of design, it is a solidly built tablet with a black, blue, or orange plastic body. There are loud dual speakers on the left side, along with a standard headphone jack, a USB port, and a microSD card slot. With all the features and a great display, it is one of the best value tablets in the market.
4. Lenovo Tab M10 Plus
Lenovo Tab M10 is a mid-range tablet that caters to the needs of everyone in a family. Its 10.3-inch display gives you an excellent view of pictures, videos, and movies. It is an IPS panel that gives wide viewing angles. The color contrast and brightness are good. The design is decent with a plastic body. Lenovo Tab M10 comes in black and white colors. It also comes with the premium sound quality provided by Dolby Atmos that gives you an immersive experience of everything you play on the tablet. Moreover, a face recognition privacy setup lets you unlock your tablet from your facial impression. It's highly secure and protected. Moreover, it also allows you to manage and control your kid's activities on the tablet. You can limit the content to which they can access it through its kid's app.
In addition, to reduce the eye strain while using the tablet, it has eye- protection technology installed. It will not cause any headache or any strain on your eyes. Hence, it's quite healthy. Moreover, Lenovo M10 has 450 octa-core processor offering 2.3Ghz main frequency along with 32GB storage capacity and 2GB RAM. The performance is exceptional. You will be able to run applications, stream videos, and play games smoothly. Looking at the price and the performance level of offers, it is worth the investment. You will get everything pure Android through this tablet at a very reasonable cost.
5. Fire HD 8 Plus tablet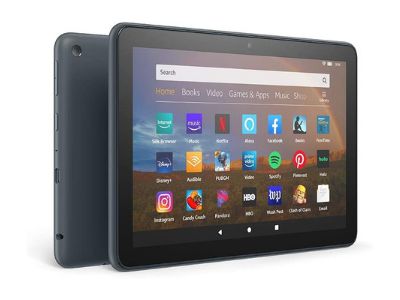 All-New Fire HD 8 Plus has become one of the favorite choices in the market for its wireless charging feature. It comes with Amazon's charging dock on which you can place the tablet and initiate hand-free Show Mode to connect with Alexa. Now you will get the daily updates, manage queries, and other things through your voice on Alexa. Moreover, it comes with 3GB RAM and a quad-core processor that increases the tablet's performance. You can smoothly watch any movie, surf through the internet, play games, and use social media. Also, there is 1TB of expandable storage that is more than enough for you to stream and download your favorite content and games so that you can watch them on the go.
The design is fundamental and simple. It has all the connectivity ports; a power button, USB – C charge port, headphone jack, and volume button. The 8-inch display has 1280×800 resolutions that are fine. The picture quality is clear and bright. You get to enjoy the movies and read books of good picture quality. The major drawback here is that Amazon does not offer many applications that any Android tablet provides. There is a limit to the applications that can be downloaded. It is more like the predecessor Fire HD 8, with a bit of wireless charging upgrade, more battery life, and more RAM. It is specifically designed for the strong high tablet users for whom wireless charging is the best feature.
6. Lenovo Smart Tab P10
Lenovo Smart Tab is a 2-in-1 tablet, a smart screen with Alexa built-in. You can place it in a dock and ask Alexa to update you on weather updates, play your favorite playlist and see your daily calendar. It is one of the best affordable tablets designed by Amazon. Its back and front are flat panes of glass, with a sandwich of aluminum in the middle. The Lenovo Tab P10 has a good display with a 10.1-inch, 1920 x 1200-pixel screen. Color contrast and brightness are excellent. It is an IPS panel which means there is no problem with wide viewing of angles. It will be pretty much clear.
A fingerprint scanner sits below the display, letting you login in securely without a pin or password. The Lenovo Tab P10 comes with 3GB of RAM and 32GB of storage which is sufficient for quite a few titles. There's also a microSD card slot. Lenovo Smart P10 has a lot to offer. The most prominent feature is the Quad speakers. Two are placed on the front top and the rest two at the bottom. Lenovo has put a lot of features in this P10 model. Hence, if you want a good quality tablet with all the features, this is the one you are looking for.
7. Fire 7 tablet
Amazon's Fire 7 Tablet is the least expensive model that has a lot to offer. Its design is slim with thick bezels with a plastic body. The back comes in three different pastel colors: blue, green, or pink. There is a good range of ports. There is a headphone jack, a micro USB charging port, and a microSD slot. The display remains a 7-inch, 1,020-by-600 LCD. The colors are pretty decent. But the viewing angles are okay as it is not IPL panel oriented. You might face some issues viewing the screen from different angles. Moreover, Audio is a disappointment. It offers low sound quality. It is good for surfing the internet and reading books, but not for movies.
The Fire 7 comes with a 1.3GHz quad-core processor that Amazon claims is faster, along with 1GB of RAM. But this tablet is overall slow in performance. It takes time to load and running of applications. Like other Amazon models, it has Alexa installed that makes your life easier. You just command through your voice, and Alexa serves you best for entertainment and daily updates. In addition, there is a Kids application for you to manage and limit the content your kid watches. The Amazon Fire 7 is the best choice knowing the budget constraints, as this tablet still serves the purpose of portability, sleek design, and normal pace performance.
8. Samsung Galaxy Tab A 8.0
Samsung has developed its brand image in the market by coming up with an affordable tablet that offers a lot. Its design is very simple and elegant. It is wrapped in a plastic body, compact and lightweight. It is easy to carry around in your hands. There are power and volume buttons on the upper side of the tablet and a microSD card slot. And the lower end has Micro-USB Port, the headphone jack, and a speaker. Coming to display, it features a 1,024x760p pixel resolution that makes your screen pixelated. It is difficult to read the text on the tablet. But, the HD video's picture quality is clear and sharp.
The Samsung Galaxy Tab A comes with a 1.2GHz quad-core Qualcomm Snapdragon CPU, 1.5GB of Ram with 16GB of internal storage that can be extended. It is more than enough to run the applications smoothly and download your favorite material. You can smoothly run everything on this tablet. However, the heavy games and movies stutter in the middle and make the tab slow. It shows that it is not convenient for large data or files. Apart from that, it allows multitasking by displaying and running two applications on a single screen. It is done smoothly for you to carry different tasks at one time.
9. Lenovo Tab M8 Tablet
Lenovo Tab M8 is a user-friendly budgeted tablet that delivers the best entertainment experience. The metal body with a thin plastic bezel on the sides gives a premium look to the tablet. At this price range, the design is very sleek and elegant, giving a modern touch. There is a micro-USB port on the left and a microSD card slot on the right side. Along with is headphone jack and speaker at the top. Though speakers are loud, with poor bass, it did not give the best sound experience when watching videos/movies and listening to music. 8-inch HD display comes with a resolution of 1280×800 pixels that is very poor compared to the other tablets. The brightness is adequate, and the IPS panel made the viewing angles wide.
There is MideaTek A22 incorporated in the Lenovo Tablet. As for the processor, it is a quad-core processor with 2GB or 3GB of RAM. You have a choice to choose a model with two different storage capacities; 16GB or 32GB. The performance is good enough. You do not face any issues while surfing the web, running different applications, and watching movies. It also features a split-screen view for multitasking purposes. But it can only be done with less heavy applications. Also, the battery life is pretty good as well. You can use the tab non-stop for a whole day without getting worried about charging. Overall, with the price, it is one the best tablet under $200 that gives the best display and performance.
10. LG G Pad F 8.0 16GB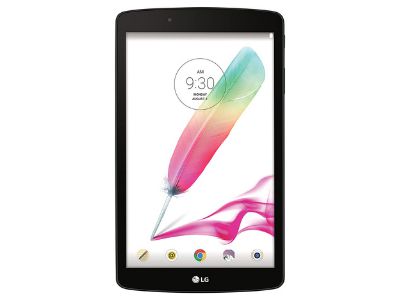 LG G Pad F 8.0 is for casual users who want an easy-to-use tablet daily. It has become famous in the market for its full USB Port. It will help you store, transfer, and share any data from your table to the computer without any difficulty. You can connect to external devices and manage everything smoothly. Also, it comes with a stylus pen that lets you write and draw things comfortably. As for design, it is very simple and boring, covered with thick black bezels. It offers a good range of ports that are placed on the top and bottom of the tablet.
The 8-inch display has a 1280×800 pixel resolution that is very poor. But it is an IPS panel; hence, better viewing angles at HD. It gives a vibrant picture to the screen, and hence, you will enjoy watching movies. The good thing is it can be paired with your smartphone hence;, you can get all important calls and messages on your tablet and respond to them without any delay. LG G Pad F 8.0 comes with a quad-core 1.2-GHz Qualcomm Snapdragon 400 with 1GN of RAM. The apps are run smoothly without any lagging. A new feature of Android OS Lollipop is an innovation itself and gives a new feel to the device. So you can say that this tablet offers promising features that will meet your need at an affordable price.
Buyers Guide
How to Choose the Best Tablet under $200?
Since the launch of the Apple Ipad, there has been a growing trend towards buying tablets. Many technology-based companies introduce different tablet models. Every tablet has some set of features and an attractive, sleek design at a specific price range. What sits for one may not be a convenient purchase for another. Hence, it has become challenging to choose the right tablet that fits your budget and requirement.
How to look for a tablet that is suitable for you? Here is a guide on the tips that you need to review before deciding to buy a tablet.
Identify the usage of Tablet
Are you looking for a tablet? You must sort out the purpose for which you need a tablet. With the features a tablet offers, there is a lot of things you can do. It is better to narrow down the field that a tablet can fill. It will make it easy for you to compare and evaluate different brands and models.
Do you want to use a tablet for watching movies on Netflix? Or want to play different games? Will it be used only for web browsing and surfing through social media? Or will you be doing some official work on it? Having clarity on such questions can make it easier to choose the tablet that meets your basic requirement.
Operating System – What to look for?
Tablets come in four different operating systems: Android, iOS, Windows, and Fire OS. iOS is specifically designed for Apple iPads. It is a premium, high-end product. The software is simple and easy to use. To use different applications, watch movies on Netflix, and listen to your favorite playlist, everything can be done on an iPad. But it is not suitable for making and editing Microsoft spreadsheets. So, this is not a suitable option for those who want to use tablets specifically for educational or business purposes. Android, on the other hand, is the most popular operating system. There are many options in Android. Each brand and model having Android is somewhat similar to each other. You can have a customized interface and can adjust it based on your own need. Fire OS is primarily designed for Amazon's product range. It has a limited set of applications and is designed to encourage you to purchase things on Amazon. Lastly, Windows supports Microsoft applications and programs. If you want to use Excel or Word frequently, then this is the one you must be paying attention to.
Screen Size and Appearance
It is better to look at the design and size of the tablet. Do you want a sleek and slim design tablet or a rugged one? What is the screen size you are looking for? Do you want to carry it around with you in a bag or just place it at home? These are some questions to think about before making a buying decision. Generally, tablets come in two sizes 7-inch and 10-inch. The larger the size is, the better experience of watching movies and reading books is. However, smaller tablets are compact in size and highly portable.
Battery Life
Every tablet gives you a good 8-10 hours of usage once you have fully charged it. Based on your usage, the battery drains. Hence, you need to look for the one that offers a good battery life, so you do not have to worry about charging and conveniently use the tablet.
Other Specifications
Few specs need your attention while evaluating and comparing different tablets. It includes the following:
Processor:
It is a small chip that pushes the tablet. The quad-Core processor is fast enough to give you the best results compared to the Dual-Core processor.
RAM:
It plays an essential role if you want to use the table for multitasking purposes. It helps in running apps smoothly without any issues. So, you need to look for good sufficient RAM GB.
Storage Capacity:
It refers to the number of spaces available to store media, data, games, and other applications. Storage is highly important, so look for tablets that allow for expansion through SD cards. Without enough storage, tablets get slow and stutter while running applications.
Camera quality :
If you are looking forward to using a tablets' camera for taking pictures, then you must look for the camera quality of the front and back. Though there is hardly any tablet that offers excellent camera quality. But you can always get better results if you deeply look into it.
Price
How much am I willing to spend on a Tablet? It is one of the most critical questions you need to ask yourself. There are different tablet models at different price ranges. The higher the price is, the better the performance will be. If the budget is tight and you cannot go above a certain amount, there is always a compromise on few factors. Tablets that range from $100 to $200 offer some good specifications and features. The tablet at this range is value for money. It meets the basic requirement of a user at an affordable price.