To be the best and beat your enemies like a pro, you will need the best gaming laptop in your arsenal. Playing fps games is exactly like going to war. Along with skills, you will also need proper tools to dominate your enemies and be the winner. We have compiled a list of gaming laptops that features the most powerful internals on the market and are specially designed for gaming purposes.
The first thing you need to do is list out all the top features that matter to you and your budget. For some portability is also important along with gaming capability but others can sacrifice that for gaming horsepower workstation laptop. In our list, we have added laptops for all kinds of users, you can find portable, extremely powerful and also affordable laptops.
Best Gaming Laptop 2020:
You may like:
Best Gaming PC Under 1000
best Gaming Laptop Under 800
Best Gaming Laptop 2020-21
1. MSI GS75 Stealth
Gaming is exactly like going to war. You will need the best armor possible to beat your enemies. MSI GS75 Stealth proves to the most powerful beast possible with all the powerful internals. Everything is packed very nicely in a sleek ventilated design. The golden hinge design of the MSI GS75 Stealth gives an edge over other laptops in the design department. Furthermore, the laptop gives the best possible viewing angle with a 17.3″ full HD (1920×1080) display. Honestly, MSI GS75 Stealth is the most amazing, most powerful sleek gaming laptop and not including it in the best gaming laptops list will be an injustice to this laptop.
For gamers, the only thing that matters is performance. No matter, how fancy your laptop looks, if it's gaming performance isn't up to the expectation then it's useless. The MSI GS75 Stealth features the latest Intel i7-8750H processor and NVIDIA RTX 2080 graphics which has the capability to run AAA-rated games at an impressive fps and smooth gameplay. Furthermore, a 32GB RAM that has the ability to run a big number of tasks and 512GB NVMe SSD for storing your favorite games. Moreover, MSI GS75 Stealth has a stunning IPS level display with a refresh rate of 144Hz. What more could you ask for?
The MSI GS75 Stealth comes with an amazing cooling system featuring 3 fans, 7 heat pipes and 4 exhaust that keep the laptop supercool while playing heavy games. Furthermore, it features a silky-smooth glass touchpad that works superbly giving you the opportunity to comfortably perform 10+ gestures. The keyboard of the laptop has good travel and typing on it is a fun job. Moreover, gaming laptop should come with more connectivity options and MSI GS75 Stealth have done justice to that. You will find a thunderbolt, HDMI, USB ports and headphones jack. So, basically, this laptop has everything, design, power, performance except extended battery life. But we all know that games consume a lot of power and gaming laptops batteries have a shorter life as compared to other laptops.
2. ASUS ROG Zephyrus S GX701
To dominate your enemies you need to be skilled. This laptop is for extreme level gamers, who have the skill and need the best tools to support their gaming ability. You know that you can't beat your enemies with having the proper gaming laptop. In professional gaming lagging and performance issues isn't acceptable. To have smooth gameplay and no lagging environment, you will need a laptop like ASUS ROG Zephyrus S GX701 to achieve that. This laptop features an amazing 17-inch display with extremely narrow bezels which is packed nicely in a sleek 18.7mm thin chassis. The laptop just looks just stunning. If you are a streamer, you will love the 1080p detachable webcam on the top of the screen.
They have done a fabulous job at the architecture of this laptop. You will notice that there is a lot of space left on the top of the keyboard that helps in proper ventilation and cooling the laptop during gameplay. The touchpad is placed in the Numpad. You can use it as a Numpad plus as a touchpad when needed. Isn't that amazing. Furthermore, internally the laptop is packed with the Nvidia GeForce RTX 2080 Turing graphics and latest Intel Core i7 8750H Hexa Core processor with a 16GB RAM. These internal are powerful enough to take on any challenge whether it's gaming, graphics designing or development. Furthermore, to store your games and movie collection you get a fast 1TB SSD. Calling it the best gaming laptop ever wouldn't be wrong because it's loaded with the power possible and have a stunning design.
ASUS ROG Zephyrus S GX701 Optimus that switches between the two graphics cards depending on the load. So, when you are not playing, it will switch to the intel graphics extending your battery life. The colors of the laptop are Pantone validated which makes it perfect for gaming visuals and content creation. Also, it offers an RGB keyboard that allows customization of the colors and has a good typing experience. Furthermore, ASUS ROG Zephyrus S GX701 has all the connectivity options needed for gaming and other work purposes. So, overall, you get everything you need with all the amazing things.
3. Razer Blade Pro 17
Razor is known for its gaming laptops. They have built some of the finest gaming laptops ever. The design of the razor blade has its own fan base. Their tagline, For Gamers, By Gamers shows that this company is specifically making their product for gaming purposes. Their new model Razer Blade Pro 17 features the most powerful internals packed nicely in a sleek and slim aluminum CNC chassis. You will fall in love at the first sight of the Razer Blade Pro 17 gaming laptop. The 17.3′ inches factory color-calibrated large display is capable of giving you the perfect gaming visuals with the refresh rate of 144Hz.
Featuring the latest 9th Intel Core i7-9750H processor and NVIDIA GeForce RTX 20 Series graphics, the Razer Blade Pro 17 is a mobile workstation and gaming laptop at the same time. Create, Develop or play anything, Razer Blade Pro 17 will always be up for the challenge. No other laptop can beat the class and power of this gaming laptop whether it's in the performance department, design or durability. Furthermore, to handle heavy tasks and multitasking, a 16GB RAM is housed inside plus for storing your favorite games, you get a 512GB SSD. This laptop proves to be the best gaming laptop 2020 and worth every penny you are going to spend on it.
Razer Blade Pro uses a vapor chamber cooling instead of using heat pipes for cooling. This method uses the entire surface area to maximize heat dissipation. Furthermore, for easy upgradation it houses an empty M.2 drive and 2 DIMMs slots easily accessible via the back cover of the Razor Blade Pro 17. So, if you need any performance boosts, you can easily do it through easy upgradation. Moreover, it also offers the thunderbolt, USB 3.2 ports, and other connectivity ports as well. Razer Blade Pro is one of the best gaming laptops promising high-level performance, amazing design and special gaming features that really boost the gaming experience.
4. Alienware New M17 Gaming Laptop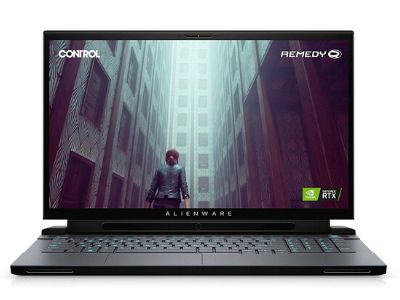 Alienware New M17 gaming laptop is extremely powerful with a stylish sleek design. It's a flagship model from dell which houses the most powerful component on the market packed in a nice CNC chassis. You can call it the thinnest and lightest gaming notebook which is engineered in a way that it can handle almost everything. It's constructed with the magnesium alloy which is the lightest material in the world. This makes Alienware lighter and durable enough to handle a beating or two. Plus, it features a 17-inch display for full immersion and deeper gaming experience.
Gaming can be tough when you don't have the proper gaming laptop. A powerful gaming laptop is an ultimate necessity to take further your gaming skills. Alienware New M17 gaming laptop provides the exact same environment. You won't need an update because it features a powerful 8th Gen Intel Core i7-8750H 6-Core processor, NVIDIA GeForce RTX 2070 Max Q graphics, a 16 GB RAM and 512GB SSD. This internals can face any challenge whether it's running high-end games at 1080p, graphics designing or programming. Basically, Alienware New M17 has an excellent design, powerful internals and works like a pro. So, calling it one of the best gaming laptops won't be wrong.
Alienware New M17 features a great cooling system. A dual exhaust airflow design to let the heat disperse plus heat pipes that go across GPU and CPU for discharging heat. This a very intelligently designed cooling system for a laptop. Furthermore, the laptop features an excellent FHD front cam for gamers who love to stream and a killer e2500 ethernet controller that delivers super-fast internet. So, overall, it's a great gaming laptop that is specifically designed for gamers keeping in mind all the things gamers need. Spending on this laptop is totally worth it.
5. Gigabyte AERO 15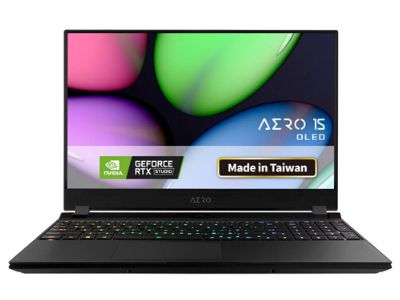 OLED display laptops are getting more and more. These 4k displays are super cool for gaming laptops and Gigabyte AERO 15 is one of them. It offers a great OLED 4k display panel that takes your game to the next level. Furthermore, it offers a super comfortable keyboard and a great gaming performance. Despite the fact that it features a bottom bezel webcam, it still enters our list of best gaming laptops on the market. This laptop comes with everything but you will need to pay a handsome amount to get it.
Gigabyte AERO 15 offers a powerful 4.5 GHz Intel Mobile CPU and NVIDIA GeForce GTX 1660 Ti that combinedly can face any challenge. It can provide you smooth gameplay of running AAA-rated games in high settings. Furthermore, to handle multitasking, AERO 15 offers a whooping Samsung 16GB RAM and for storing your favorite games, you get a 512GB SSD. This is enough power to run games, run-heavy application, and multitasking. Also, this laptop has many variations. In case, if you need more more, you can select a higher graphics card and processor.
Gigabyte AERO 15 comes with the latest cooling system that works like a pro and keep your laptop cool while playing games. As AERO 15 is made of a full block of aluminum which makes it solid to touch, durable to use and light while carrying around. Basically, this is an all in one laptop which is affordable, good at gaming, have wonderful design plus it's durable enough to handle beating. Furthermore, this best gaming laptop has a 94Wh which makes sure an amazing battery life. Honestly, it's full of amazing features that can't be explained in detail. Last but not the least, gamers need connectivity ports and AERO 15 provides that. You will find all the important ports including Thunderbolt 3.0. So, overall its a great laptop and you should definitely but it.
Bottom Line
Choosing the best gaming laptop isn't an easy job. There is a lot of money on the stack. You need to be very careful while choosing your gaming laptop. Some of us think that getting an expensive laptop ensures a good gaming laptop. To some extent, it's true but there is a big difference between the best and right laptop. Sometimes, you don't need the best. You should first define your needs and then buy a laptop that fills those needs. This will save from a lot of hassle and save you a lot of money. Always avoid the gold plating and features that you don't need.