To Experience the Ultimate music that shuts out the outside world and let you completely immerse yourself in the sound you are listening to, You will need the best over-ear headphones 2021. In-ear headphones are also great to hear, but they are mostly used by people who listen to music all the time. In-Ear headphones can never compete with over-ear headphones in case of sound and design.
Over-Ear Headphones are mostly used by audiophiles to get the ultimate music experience. They are super expensive but have great quality music and design. Furthermore, over-ear headphones also contain budget-friendly headphones that won't be a significant burden on your pocket and will still sound good. Our compiled list includes headphones that suit all the style and budget. You will find wireless headphones, best bass headphones, and also noise-canceling headphones.
Best Over Ear Headphones 2021:
Best Over Ear Headphones FAQs
Do I Need a Headphones Amplifier
A Headphone amplifier plays a great role in the sound. Plugging your headphone into something with a poor amplifier will significantly affect the quality of the sound you listen to. For example, the CD/MP3 player are generally awful and have a very poor quality amplifier. You can't blame it because this little guy has to power the whole electronic and amplifier with a few volts available. Not only this, some of the better home AV amplifier headphone jacks offer highly variable sound.
To experience the ultimate quality of the sound. You will need to do some research and find a better sound amplifier if you care about what you listen to and want to experience a better sound quality. You can find both home and portable amplifiers on the market that can handle high-end headphones.
Do a Higher Price Tag Means Quality
Well, this isn't necessary. Not all the time, money is spent on the quality of the headphones. Sometimes expensive headphones are just gold plating, they may look and feel beautiful, but they aren't quality. But still, some of the expensive headphones are very good and provide you with the ultimate sound experience. However, not all inexpensive headphones should be assumed cheap because sometimes they can give you the best sound and compete with many of the expensive headphones.
Best Over Ear Headphones 2021
1. Sony MDR7506 Professional
WHAT'S IN THERE?
Headphones Type: Dynamic, Closed
Frequency Response: 10-20kHz
Connectivity Type: Wired
Magnet Type: Neodymium
Weight: 8.1 oz
Driver size: 40.0 mm
Sony MDR7506 Professional are favorite among headphones lovers. Despite being a budget headphones, they promise a great design and quality music. They are ideal in studios around the world due to their large diaphragm and other excellent reasons. MDR7506 promises a lot in this price range and easily compete for many expensive headphones. Furthermore, these headphones have been used in live productions and critical engineering environments around the world. Plus, they will stand up for a lot of regular use and can handle some beating.
When it comes to the comfortability of headphones, MDR7506 is suitable for long listening sessions because they are very light and comfortable to wear. They weigh only 8.1 ounces that rest gently on the head and have only a slight tension on the ear pads, making it very comfortable to wear. Being a closed-back ear cup, they work good for noise isolation and perfectly seals the outside environmental noise. Moreover, Sony MDR7506 features a long cable of around 6 feet, which is suitable for desktop and recording studios use, but it's not useful for portable and mobile users.
Sound quality is something that every one of us expects from headphones. Sony MDR7506 is good for using professional studios and critical music listening. With the 40mm drivers and neodymium magnets, they are capable of producing a loud sound. Furthermore, the quality of the sound and signature is great if you are a constant music listener. Also, the bass is there, mids are great and not muddy at all, plus highs are bright and well balanced. They are good for professional and casual music listeners. However, they aren't perfectly flat and for audiophile-grade cans.
2. Bose QuietComfort 35 II
WHAT'S IN THERE?
Headphones Type: Dynamic, Closed
Frequency Response: 10-20kHz
Connectivity Type: Bluetooth
Battery Life: 20 hours
Weight: 10.9 oz
Dimensions 8 x 6.5 x 2 inches
Do you want a headphones that offers both wireless operation and noise cancellation? This mayn't be an easy job because there are number of issues arises around bluetooth and sound quality of headphones. To your surprise, Bose already offers such headphones. It's not just a sound quality and wireless connectivity but an increased importance of a voice assistant. With the Google assistant on board, you get to simply press the button and give commands. Plus, the assistant also reads out notifications, so you won't need to take out your phone each time you get a notification.
The design of Bose QuietComfort 35 II is quite simple as the previous generation headphones except for the new google assistant button on the earcup. They come in two different colors, silver and black. Being a stiflingly generic, they are Favorited by business-class traveler but not by one's who incase want to have some impression. Furthermore, the build is a simple plastic that is cheap as compared to the other luxury headphones, but that doesn't affect its quality and durability. Plus, the plastic also helps in the comfort of the headphones, as they are lightweight and comfortable to wear for long sessions.
Best thing about these best over ear headphones is the active noise cancellation. Just switch on active noise cancellation and you will feel like walking into a quite room from being on a busy city street. Bose QuietComfort 35 II draws out everything from a rumble of train to a car driving and other environmental noises. Further more these headphones, does an excellent job at blocking ambient noise even when the active noise cancellation is off due to earpad design. The sound quality is good but not class leading as the other expensive headphones. Overall, if you want a headphones with great sound isolation and google assistant, they are one of the best over ear headphones available on the market.
3. Sennheiser Momentum 2.0
WHAT'S IN THERE?
Headphones Type: Dynamic, Closed
Frequency Response: 16Hz – 22kHz
Connetivity Type Wired
Impedance: 18 Ω
Weight: 25.6oz
Dimensions: 7.5 x 3.7 x 9.9 inches
The original Sennheiser Momentum headphones already changed our assumptions about portable music and new generation headphones. Momentum 2.0 is pushing the original concept to another level. There isn't much changes but still, it induces 18-Ω neodymium transducers that work flawlessly with all the modern devices like smartphones and other audio devices. However, if the momentum was so popular and well regarded, why isn't they ranked as best over ear headphones. Well, some say that earpad are a bit small to be perfectly comfortable which results in sore ears. Well, momentum 2.0 fix this by featuring larger ear cups and pads to provide the ultimate comfort.
It was a great move by Sennheiser for all-round comfortability. This benefits not only the comfort but also the aesthetic of the Sennheiser Momentum 2.0. The design is quite similar to the predecessor with an ear cups a bit bigger. The pad of these over-ear headphones are memory foam and tapped with leather. The same is the case with the headband making it very comfortable to wear for long sessions. They sit well on the head with a feather-light contact with your head and also stick well. Being comfortable and lightweight makes it perfect for exercise, running, and gym. Furthermore, they do an excellent job of noise isolation due to larger ear pads. Plus, you can get them in the color of your own choice.
Actually, these headphones are special because of having an 18-ohm transducers which are capable of delivering a wide range of frequency response with almost any device you can connect to. This feature is an expensive one which justifies the high price of the headphone. When it comes to the sound quality, Sennheiser momentum 2.0 does some magic with smoothness and spark in the rendition of mids. The bass is there, controlled and all the detail are easily recognizable. So, you can say, these over ear headphones steals the show with the perfect design, powerful features and ultimate sound quality.
4. Bowers & Wilkins PX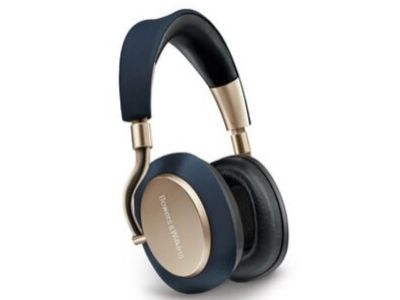 WHAT'S IN THERE?
Headphones Type: Dynamic, Closed
Frequency Response: 10-20kHz
Connectivity Type: Bluetooth
Battery Life: 22 hours
Weight: 11.7 ounces
Driver size: 40.0 mm
Bowers & Wilkins are new to the market. Their first headphones hit the market in 2009, and the company hasn't looked back since. Their headphones were fabulous and had much impact as their tradition B&W's loudspeakers. Bowers & Wilkins PX headphones are the first pair of noise-canceling headphones by the company. Their biggest problem was lacking sound quality due to Bluetooth. Still, with the implementation of the new aptX HD Bluetooth codec, they have achieved creating the best traveling and noise-canceling headphones for noisy offices and train stations.
Px Wireless isn't just different internally from what the company has done before, but also the design is entirely different. The look of the headphones isn't as fantastic as before, but the build quality is super cool. The chunky yet sleek construction is sturdy in hand and also feels good on the head. Furthermore, when it comes to the features of the headphones, everything is there. USB type C? check. Complete set of button controls? Check. Long battery life? Check. Bluetooth aptX codec? Check. So, you can say, these headphones have a high build plus all the essential features included.
It is the first noise-canceling headphones by the Bowers and Wilkins. You will be surprised to see that the functionality of the headphones is very impressive. You will love the noise cancellation done by these over-ear headphones, and they easily compete with other established players in the market. However, as the noise cancellation technology, sound quality isn't as impressive. The biggest problem, you are going to face is in the mids and trebles, they are fuzzy. So, overall, you can say they are suitable for professionals and casual music listeners, but they may not impress audiophiles.
5. Plantronics BackBeat PRO 2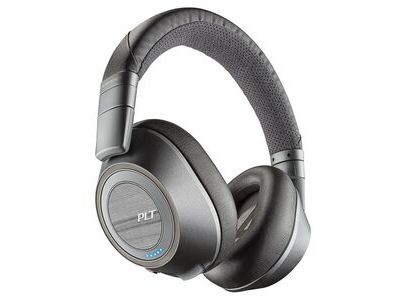 WHAT'S IN THERE?
Headphones Type: Dynamic, Closed
Frequency Response: 10-20kHz
Connectivity Type: Bluetooth
Battery Life: 24 hours
Weight: 9.6 ounces
Driver size: 40.0 mm
Plantronics BackBeat PRO 2 are the second generation headphones which fixes the mistakes made by the first generation headphones. They offer a great sound quality and hold well upto the competition of the over ear headphones. The original headphones weren't perfect but they worked quite well, had an excellent sound quality, premium look and better active noise isolation. Plantronics BackBeat PRO 2 repeats, what was better and fixes everything that was bad.
The design of these best over-ear headphones is quite generic, and you will either love them or hate them. For the earcups, you will find glitter silver mesh rings features on each which houses the headphones noise-canceling mics. On the left earcup, there are controls for playback, volume, and toggle for active noise cancellation. Talking about the comfort of the headphones, they feature leather around the earcups and on the headphones, making them extremely comfortable to wear for hours. They are smaller and lighter as compared to the original headphones, making them easy to carry on traveling.
They keep some of the good things from the original, which is fun, a bass-heavy sound signature. They are pleasing to many, but audiophiles may not like it, but they can use them in wired mode, which tames the bass quite a lot. The highs are bit rolled off, which may not be right for some, but they are preferred for long flights because highs won't fatigue you. Mids are good and have an average soundstage, so don't expect and overhead experience. Battery performance is quite enormous, and you won't need to worry about charging them all the time. So as a whole, they are one of the best over-ear headphones with a good design, sound quality, and noise active cancellation.
6. Audio-Technica ATH-MSR7
WHAT'S IN THERE?
Headphones Type: Dynamic, Closed
Frequency Response: 5-40kHz
Connectivity Type: Wired
Jack: 3.5 mm jack
Weight: 10.2 ounces
Driver size: 45.0 mm
Audio-Technica ATH-MSR7 are serious headphones and they are specially design for portable use, like listening to music on a train station or an 8 hour long flight. The sound quality of the headphones is quite improved and have a great design stylish enough to go head to head with big names like Sony and Beat Studio. Audio-Technicia mayn't be styel guru or trend setter but they have produced a headphones that looks good and sound good enough to satisfy music enthusiasts.
Audio-Technica ATH-MSR7 is quite a flashy take on your typical over-ear headphones. Everything in MSR7 is carefully lathered in a modern style. The headband is coated with leather, and inside is stuffed with enough padding to give you a very comfortable experience. The earcups hinges can glide smoothly up around 90 degrees, so the earcups, when not in use, can rest on your chest. However, they don't fold up to be adjusted in the smallest pouches. You will love the various shapes, colors, and angles offered by Audio-Technica.
Audio-Technica ATH-MSR7 has undoubtedly the best look, but when it comes to the sound performance of the best over-ear headphones, they shine with the most satisfying audio performance. Featuring 45mm drivers inside, they excel at whatever you are listening to. Furthermore, MSR7 doesn't have noise activation technology but still, with closed-back design and dense leatherette in the earpads, creates a peaceful and quiet environment to enjoy music even in the noisiest places. However, these closed-back design and tight earcups may be good at noise isolation, but they aren't too comfortable. Especially during summer, your ears are going to cook. So, overall, rather then a little uncomfortable, they are excellent at everything.
7. Beats Studio3 Wireless Noise Cancelling
WHAT'S IN THERE?
Headphones Type: Dynamic, Closed
Frequency Response: N/A
Connectivity Type: Wireless
Height: 7.2 in / 18.4 cm
Weight: 9.17oz
Driver size: N/A
Beats has been the market king since years. They have been producing headphones that ensures a quality design, a promising battery life, durabiliy and audio quality. Beats is a go to brand when you are confused and want something that really click your likes and interest. Beats Studio3 Wireless is their full sized flagship model released back in 2017. These over-ear headphones provide an aeathetic design, excellent battery life and a sound quality you have never experienced before.
Beats Studio3 Wireless has been designed with great care. The soft ear cushions are specially designed for providing ultimate comfort and flexible fit for any head shape or size. Also, these headphones are so comfortable that you can use them for hours without any sweat or burning of ears. Furthermore, the Apple W1 chip features Class 1 Bluetooth that ensures signal strength and long-range. Plus, a multifunction controller is used to take calls, skip songs, use Siri or control volume. So, Beats studio3 is the best over-ear headphones with all the amazing features and quality.
When it comes to the sound quality of the Beats Studio3 Wireless. Buy them, put them on and we believe that you won't be disappointed. They won't provide you an audiophile-level quality sound but still, they are quite good as per their price. Bass is there, the sound is detailed and Highs, Mids are good. Furthermore, they features Pure ANC (Active Noise Cancellation) that is specially designed to avoid noise and distortion of the outside environment. Honestly, they are quite good at everything and you should definitely give them a try.
8. Shure SRH1540 Premium Headphones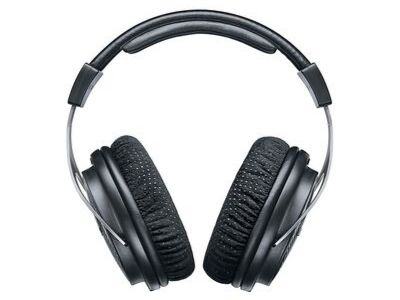 WHAT'S IN THERE?
Headphones Type: Dynamic, Closed
Frequency Response: 5-25kHz
Connectivity Type: Wired
Impedance: 45 Ohms
Weight: 10.1oz
Driver size: 40.0 mm
Sound is everything when it comes to headphones. Audiophile level sound quality will cost you in over thousand of dollars. That mayn't seem achievable but with Shure SRH1540 Premium Headphones, you can achieve ultimate sound in a less price. They don't have wireless connectivity, no active noise cancellation, and no microphones control cable. In feature department, you won't find much but in the audio performance, they are the best over ear headphones that you will find at this price.
They are incredibly lightweight, and you can carry them on your travel whenever you go on a business trip or do the traveling. The outside of the earcups is garnished with carbon fiber accents. The inside of the earcups is made of memory foam to give a very comfortable experience and wear them for long hours without any fatigues. They perfectly sit on your ears and seal them to block noise from the outside environment. So, you can say that they do well in the audio performance department plus have an excellent comfortability.
Name anything related to headphones, and we can say with confidence that SRH1540 will may you happy in that department. They are just magical with extremely deep bass and always in line with the source. Also, Mid-range is totally clear of congestion plus treble sparks, shines and rings with perfect intonation. Overall, they are good at everything related to performance. So, if you are not a fan of shiny design plus features and care about performance, nothing can beat these best over-ear headphones.
Steps To Buy Best Over-Ear Headphones in 2021
Buying a good pair of headphones isn't an easy job because they are expensive, and you won't want to waste your money on some cheap quality headphones. Forget about cheaply made earbuds and headphones that come with your phone or MP3. The right pair of quality over-ear headphones can take your listening experience to another level. Whether be it at home or on the go, consider spending some money on quality headphones and you will thank us later.
Identify how You will Use Your Headphones
The trick is finding the right kind of headphones in understanding the precise requirement. If you don't know what you need or why you are buying your headphones. You will always buy the wrong pair of headphones. So before buying headphones, first think about how are you going to use it. Will you be using them while traveling, sitting at home, or exercising in the gym. For each situation, there are different types of headphones. This guide will take you through every step that you need to know to buy the best over-ear headphones.
Closed Vs. Open-backed Headphones
Closed-back Headphones: In this type of headphones, there are no holes or vents in the casing, and the entire structure is made to ensure that all the sound produced by a driver goes directly into the ear. Of course, the part that seals the space between your ears and outside is made of soft, cushiony material and is quite comfortable. This is the most common type of over-ear headphones.
They are most pleasing if you are into music for real. Just close your eyes, and you will feel an orchestra playing into your head. Meanwhile, the person sitting next to you will have no idea what you are listening to. So, the whole concept is cutting from the outside world and
Open-back Headphones: Well, open-backed headphones have holes and vents. The drivers are exposed to the outside world, and the vents let the flow of air in and out of the ear. Some say that these headphones have more natural sound and give the illusion of true stereo. Well, if we stick to listening to an orchestra analogy, you become the second person sitting with musicians.
However, these headphones aren't ideal for public places because everyone around you will hear the music you are listening to as a result. So, it's better to think about before buying that if you are going to use them at home or office or public places.
Wired or Wireless
Well, at first, when Bluetooth was invented, and somebody put it in a pair of headphones. The quality was of music was awful, like an AM radio awful. But with time, everything changed. Premium Bluetooth headphones these days have an awesome sound quality and its indistinguishable from the wired version of the headphones.
Wireless headphones give you a sense of freedom, and you no longer are physically tethered to your music device. They are of-course expensive, but if you can afford them, you should buy them. Also, most of the wireless headphones are shipped with a wire, if you need it.
On the other side, wired headphones have their benefits. If you are a serious musician, audio tech, or an audiophile, then you need to buy hard-wired headphones. It's only because, no matter how robust your Bluetooth is, it can never meet the sound quality of the wired headphones.
The second big reason is the battery of wireless headphones. You will need to charge it every-time, and you don't know when it's going to end. In the case of wired headphones, you don't need to worry about that. Still, nowadays, premium wireless headphones come with long battery life.
Remember what you are Paying for
Generally, more expensive headphones are more high quality. They are made with great material that can last longer and will also sound better. There are better quality equipment and engineering involved in ensuring a better sound. You can't expect quality from 30$ headphones that you get from a 60$ and so on. A more expensive model will sound better, and you will hear the detail that you have never heard before.
Furthermore, better quality headphones happen to last longer. Cheap headphones can last for the longest a year and also will not sound better. On the other hand, expensive headphones can last for a long time. You may have heard about people that use headphones form the late 70's or 80's that still work today. It's only because they are built with good material. So, not all the times when you shop for a big name, it's not just a name, its the trusted quality that you pay for.
Sound Isolation
Sound Isolation is fundamental when you are listening to quality headphones because no one want's to hear the background sound of a train, bus, or people chattering around you. Nothing can be more annoying than turning up the volume to block the outside noise. Blocking the outside noise isn't the only case. If you turn up the volume, the people around can hear your music, too, and you give them something to gossip about. So, proper headphones with sound-isolation will not only save you from turning up the volume every time to avoid the noise but also save you precious batter.
Earbuds are good at sound isolation due to the seal they provide in your ear, but while buying stereo headphones, you need to be careful. Over-ear headphones come into two types. Open-backed and closed-backed. Open-backed headphones tend to be more natural and distort free, but people around you will hear your music if the volume is turned up. So they are more comfortable and recommended to be used at home. On the other hand, closed-back headphones are better at sound isolation and sound like the music in your head.
Some people prefer closed back for having a booming bass and sound isolation while others back off open again for the more natural and precise sound experience.
Frequency Range
The frequency range is the most important thing that headphones offer. The wider the frequency range, the more you hear from the music. Longer ranges, such as 10Hz to 25000Hz is recommended. Headphones in this range will sound good.
The most important thing is the curves of the sound. The sound curve, frequency response curve, and sound signature decide, how much the headphones are worth. If you notice that the low end on the graph is higher, that means that there will be more bass, but that doesn't mean that the bass will be precise and better. For example, some headphones have boosted the bass, but it's muddy and boomy with no precision.
Typically, Cheaper headphones like under 100$ will have a U curve, which means that the mid-range is cut out, and they will sound flat. At first, it may seem pleasing, but you won't be able to hear the details and layer of music you are expecting to listen to. So, flat sound headphones aren't good at any range. At every range, whether it be a low range, mid-range, or higher, you will experience the same layer of music. Also, these headphones have no bass at all and will sound boring eventually.
Avoid Noise Cancelling Headphones
Noise Cancelling comes at a very high cost and is mostly found in gaming headsets. Anything you get under 200$-250$ is not worth it. They may promise you to noise-canceling, but they are just not worth it 90% of the time. Some may cancel some noise, but most of the time, they do is turn up the volume. However, if you are interested in noise-canceling, look for high brands like Bose and Etymotic, but that comes at a cost.
OTHER REVIEWS
7 Best Robot Vacuum Cleaners
Best Hair dryer
10 Best Digital Watches for Men
10 Best Bass Headphones