After the summertime is over, everyone gets busy in preparations for back to school, college, or university to-do-lists. Some went out looking out for new bags, new books, new clothes, etc. There are many students who run after looking for the best laptop for students. Everyone wants to be well-equipped with all the necessary things needed to get back to school/college.
Nowadays, laptops have become the need of every student. There are tons of assignments and projects that a student has to do and hence, you need a laptop for that. The best laptop for students should perform pretty well, have the competency to handle the workload, manage light gaming sessions, and post-work on streaming. In 2020, laptops will become more important as the education sector entirely shifts towards online learning to maintain social distance. Hence, it is one of the biggest and most important investments of every student. The best laptop should meet the needs of a student whether he/she is studying remotely or going to a school or a college. It should have the potential to manage whatever you throw at it.
So as a student and looking for a good budgeted college laptop you need to ensure that it has a good battery life, strong built, heavy storage, and powerful CPU performance.
There are so many options available in the market at different price ranges, so it gets a little tricky on finding the right laptop for your needs. We have done our little research and provided a list of the best laptops for college students in the market.
Best Laptop For College 2021
1. Apple MacBook Air– Best Overall
2. Lenovo ThinkPad X1 Carbon – Best Powerful
3. ASUS ZenBook 13 Ultra-Slim – Best Lightweight
4. Acer Swift 3 – Best Ergonomics
5. Google Pixelbook Go – Best Small Laptop
6. Dell New XPS 13 9300 – Best Design Laptop
7. HP Envy 13.3″ 4K – Best Portable
8. Lenovo Yoga C940-14 – Best Touchscreen
9. HP Spectre x360 2 – Best 4K Display
10. Acer Aspire 5 – Best Graphics
You may like:
Best Gaming PC Under 1000
Best Gaming Laptop Under 800
Best Mesh WiFi
Top 3 Picks
1. MacBook Air
CPU: Intel Core i3
Display: 13″(2560 x 1600)
RAM: 8GB
2. ThinkPad X1
CPU: Intel Core i7-8565U
Display: 14″(1920 x 1080)
RAM: 16GB
3. ZenBook 13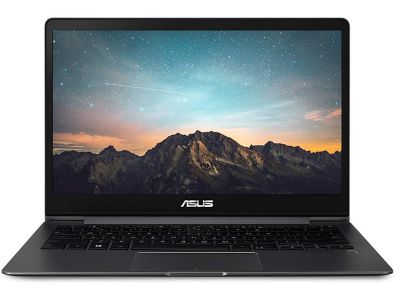 CPU: Intel Core I5-8265U
Display: 13.3″(1920 x 1080)
RAM: 8GB LPDDR3
Best Laptop for College 2021
1. Apple MacBook Air

Apple has developed its strong brand image in the mind of consumers. And with its MackBook Air it has launched affordable laptops in the market. This is a great achievement of Apple as this laptop has become highly popular among students in the market. The new MacBook Air has an attractive classical design with a 13.3 inch screen, sleek and thin. For the students it's quite lightweight that can be carried around in the college. So you won't feel any issue to take it with you all the time. It comes in three colors: Silver, Space Grey and Gold that gives it a premium look. In addition, there are two ports only; Thunderbolt 3 and Audio Jack.
As for the display, it is crisp and beautiful that gives a seamless experience. The colors are adjusted as per the light through Apple's True Tone technology hence you will have a better view. It comes with IPS technology hence better viewing of angles. The pixels give sharp image quality with a density of 227. Another important new addition is the Magic Keyboard. You get to enjoy a satisfying typing experience as the keys are comfortable with travel at 1mm. There is a touch ID fingerprint scanner right above the keyboard that recognizes three types of fingerprints. This gives you privacy as laptops cannot be accessed by everyone.
Coming to the processor MacBook Air comes with an Intel Core i3 processor, 8GB of RAM, and 256GB of storage. The storage capacity is excellent for you to store a large number of documents, projects, movies, pictures, and music. Moreover, it gets complicated when there are heavy workload and multitasking. You will observe frequent shutdowns. So, being a heavy user you should invest in an i5 model that is more advanced and compatible. The good thing for students is that the battery life is good for about 7-8 hours so you won't have to worry about charging it while doing important tasks in college time. Overall, it is one of the best laptops for college students who prefer thin lightweight laptops with better battery life and excellent performance for all kinds of tasks any student throws at it.
2. Lenovo ThinkPad X1 Carbon

Looking for a good laptop for college? Lenovo ThinkPad X1 Carbon is an excellent choice in the market due to its thin and sleek design. It is quite light in weight that you can always carry it with you in your bag and move around in college. This laptop is 12 MIL-STD certified so you must not worry about it getting damaged due to extreme weather conditions. It has a potential to resist and survive in such surroundings. For a student, picture quality is very important and this comes with two options of 1080p and 4K. It is bright and sharp with great color accuracy hence, you get to enjoy watching movies, playing games or working on heavy programs.
This laptop is equipped with a Core i7-8565U CPU and 16GB of RAM that gives excellent performance. For a student, stuttering on-screen creates an issue as they have to multitask on a daily basis. So with this you can browse many tabs and work on different programs, there will be hardly any lag issue. Moreover, there is 512GB of storage for you to download all the important software and documents required by a college. For entertainment, you can also watch movies and play games as the display is quite good. The picture appears bright and colorful. There are standard graphics installed on the laptop that can support some basic games you can play. But if you need to play high setting AAA-rated games, then you must invest in a new graphic card.
Thinkpad X1 comes with dTPM 2.0 chips to protect against the stealing of documents. You don't have to worry about your data being stolen. Moreover, it has all the ports needed: Thunderbolt 3 ports, an Ethernet dock connector, USB 3.1 Type-A port, an HDMI, an audio/headphone jack, and a Kensington Lock. As for the keyboard, the chiclet-style keys are excellent. The amount of travel is so comfortable that you enjoy doing projects and assignments on the laptop even for long hours. Also, the touchpads respond to the touch really well and give a good feel. The battery life is good too if you go for a 1080p laptop model. It can save you from plugging in a charger for about 8-10 hours. Overall, with good build quality and strong features, this is one of the best laptops for students in the market.
3. ASUS ZenBook 13 Ultra-Slim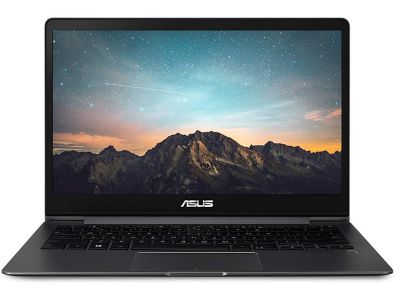 If you are a student and want to have the best ultrabook without emptying its pockets entirely, then this is the right laptop for you. The design aesthetic of Acer swift and the thin aluminum chassis with the matte silver finish of the logo on the back give it an attractive look. Inside is the island-style keyboard that gives you a comfortable tying experience. Also, the track pad is standard and is highly responsive to touch. They both give you an amazing experience while playing games or doing day to day college work. Moving toward ports, it has everything that any laptop offers: USB 2.0, a USB 3.0, and a USB-C Thunderbolt 3 port to go along with an HDMI port and headphone/mic jack.
Moreover, Swift 3 comes with the strongest and everlasting battery life. You can take it with you anywhere for a whole day and do your work for about 11.5 hours. 14-inch screen size is IPS panel oriented that gives vivid picture quality from different angles. Also, it incorporates a powerful AMD Ryzen 7 4700U processor with 8GB of RAM that helps any student manage to multitask really well. There is 512GB of storage capacity which is another plus point as you can store a lot of data of your college along with some entertainment stuff.
Swift 3 has advanced software that lets you manage the daily routine with your voice over. Alexa helps you set alarms, reminders, calendar timers, and manage to-do-lists. This can be of great use for any student's life in a college. In addition, security is essential for every person. This laptop has a fingerprint reader that is more secure and easy to sign in with the touch. So, if you are looking for a good laptop for college students then you should look at it.
You may like:
Best Laptop Under 600
The Best Tablets
Best External Hard Drive
The Best Headphones

4. Acer Swift 3 Thin & Light Laptop

Dell XPS 13 is the best laptop for students that you can ever buy. With its fastest 10th Gen processor and lightweight portable size it has everything you must have imagined in your laptop. The new processor makes it highly compatible to efficiently manage multitasking. From basic browsing on the internet to doing your college projects you can throw at it anything you want to and see how it meets your requirements. Dell XPS 13 is strongly built with an aluminum body and arctic white interior. With the display of 13.4 inch, the bezels are super thin that makes the laptop look quite elegant and attractive. The color and brightness level is excellent and gives an immersive experience of watching movies and playing games.
This laptop features the fastest Core i7-1065G7 U series that handles multitasking without any screen stutter. So while doing an assignment and listening to music you will have a seamless experience. It is packed with 512GB that is more than enough to store heavy software and your college documents. Moreover, in Dell XPS 13 you get to play basic games on the integrated graphic settings. As for the ports, there are two Thunderbolt 3 USB-C ports for charging and connecting to USB-C accessories, along with a microSD reader and a 3.5mm headphone jack.
In addition, the edge-to-edge keyboard of Dell XPS 13 is a great experience itself. It is so comfortable that as a student you will love the long typing of projects and assignments. Also, the touchpad is large enough to give you ease to move your fingers around. Moreover, battery life is the longest that makes this laptop your biggest choice. Overall, Dell XPS 13 delivers the best performance with the immersive display, fastest processor, great battery life, and excellent keyboard. Hence, it is the best laptop for students in the markets.
5. Google Pixelbook Go

HP Envy is one the best college laptops that has everything a student looks for. If you are a student and want a durable ever-lasting laptop for the college, then this is the one. The design of the laptop is sleek and elegant. The frame is of silver with matte finish and HP logo at back styled at center. It gives a laptop a premium look. On the deck there is a power button with a finger sensor. The 13.3 inch display comes with thin bezels and gives an excellent viewing from different angles with IPS technology.
HP Envy 13 houses Core i7-1065G7 Processor that gives a smooth experience while working on the laptop. Also, there is 8GB of RAM and 512GB of storage to let you manage to multitask and store large amounts of data required in college life. It also comes with a discrete graphics card that can let you play games at moderate settings pretty well. Moreover, the laptop is thin and lightweight so that you can have it on your backpack and roam around the college. HP Envy 13 does not disappoint you in terms of the ports available. There are USB 3.1 Type-A ports on each side for you to connect external devices. On the left side, there is a USB-C port along with the headphone jack, and the right side has a microSD card reader with a power jack.
Coming to the keyboard, the island-style keys are another good feature. It adds more comfort and joy to your typing experience from typing for long hours to play games. Also, the touchpad feels great too that responds to gestures very well. Further, the battery life is good. You can have the laptop fully charged at night and take it with you for your college activities without getting worried about charging. So, HP envy proved to be the best laptop for college students that have everything a student needs.
6. Dell New XPS 13 9300

If you are a student and looking for the thinnest portable laptop to carry in your backpack then this ASUS Zen book 13 will meet your requirement. It is recognized in the market as the most lightweight laptop. Not only this, it has a good battery life along with discrete graphics and excellent performance that check all the points for any student looking for the best laptop for college. Coming to the design, this 13- inch laptop has a crystal like aluminum finish that gives it a premium look. The NanoEdge bezels display is so thin and sleek. The laptop weighs only 2.5 pounds that make it highly compact and portable.
The internals is very impressive. There is a Core i5-8265U processor, 8GB of RAM, and a 512GB solid-state drive. It can handle multitasking really well. You do not have to worry about screen stuttering. You can work on it smoothly. Also, with this storage capacity, you can store a good amount of data you need for your work and entertainment. Along with it, the graphics works really well hence, you can play games at moderate settings and enjoy the immersive experience.
Moreover, connectivity ports do not disappoint you as well. There are a good number of ports, USB-A, USB-C, audio jack, SDCard reader, and an HDMI. ASUS Zenbook 1 comes with a Chiclet keyboard that is quite comfortable and easy to use. For a long session of typing, you will find using the keyboard joyful. Also, the touchpad is highly responsive. Moving towards battery life, it is good to meet the benchmark of other competitors in the market. You can have it with you and use it for normal work or about 8-9 hours. Overall, it is one of the most powerful laptops that come with good graphics at an affordable price and the performance level is excellent meeting the requirement of any student. So, it can be a worthy investment.
7. HP Envy 13.3″ 4K

Chromebooks have gained importance over the years as the demand rises by the students. The major reason behind its popularity is its excellent battery life of about 12 hours. This means that students can work on the laptop and can always carry them anywhere they want to without getting worried about plugging in the charger. Also, it is a lightweight laptop of about 2 pounds that makes it the best for the student to put in a bag pack and move around. The design is made of magnesium alloy making it easier for anyone to hold and grip the laptop while using it.
Google Pixel Go features an 8th Gen Intel Core processor that is really fast. It has the potential to manage and run good graphic games at 1080p. The picture quality is excellent with sharp and vibrant colors. Also, the 8GB of RAM has the capability to do multitasking. You can browse different webs and run heavy software without getting worried about the stuttering of the screen. Also, you will enjoy the excellent picture quality and sound with its HD touchscreen display. Watching movies and listening to music is an excellent experience that you can enjoy on weekends.
For the protection of the data, there is a Titan C security chip that lets you put passwords. It also features built-in antivirus software in order to protect your data. This is a plus point for every student as using public WIFI in college there are high chances of capturing different kinds of viruses that can corrupt your data. Moreover, it comes with a backlit keyboard that is comfortable and easy to use. The touchpad is spacious and highly responsive to the light touch making it easier for you to manage your work. Moving towards connectivity, it has two USB-C 3.1 ports and a headphone jack that are enough for the students in college. So, if you are looking for a 2-in1 laptop that is compact and has the best battery life then this is one you should pay attention to.
8. Lenovo Yoga C940-14

As a college student you might be looking out for a 2-in1 portable laptop that performs more like your phone but at a bigger screen and high performance. Lenovo Yoga C940 is an excellent choice to go for with its powerful performance because of the 10th Gen Intel Core i7 processor. There is 12GB of RAM that can handle strong graphics games, manage heavy software and program along with the browsing of the web without any issue. Also, it has storage of 512GB that is good enough for any student to store important data. The design is beautiful with an aluminum body with the YOGA logo at the corner left of the laptop. Also, it has a speaker in the laptop's hinge so that the sound is clear and good when in tablet form.
Lenovo Yoga C940 comes with a full 14-inch display. With the resolutions of 1080p, it does not give sharp picture quality but if you go and buy a 4K model then the display is excellent. The color picture and brightness accuracy become more vivid. It has IPS technology that makes viewing of the screen great from different angles. Moreover, for your daily work use, it has provided plenty of ports. On the left, there is a USB 3.1 Type-A port with Thunderbolt 3 ports and a headphone jack. And on the right side, there is a power button.
For every student, keyboard comfort is very important as they have to work on the laptop for hours. Yoga C940 comes with a comfortable keyboard with a good amount of travel and soft keys that make typing a joyful experience. Also, the trackpad responds fairly well to the touch. For security purposes, there is a fingerprint scanner that makes your laptop highly protected. Further, the battery life is good for about 8 hours but it is always better to have your charger with you in order to avoid any unforeseen situation. Overall, with the outstanding features, Lenovo Yoga C940 has to offer it has become the best 2-in-1 portable laptop for college students.
9. HP Spectre x360 2

HP is known in the market for continuously innovating its laptops for different markets. With its HP Spectre X360 it has taken another step to come up with the best convertible 2-in-1 laptop to meet the needs of any college student. The design is stunning and gives it a premium look. The finish is of brush metal that gives it a complete look. The logo is placed in the middle and the overall quality of the built is strong. This laptop is lightweight so as a student you can always have it with you while travelling or going to a college.
Spectre X360 does a great job for your daily work with its Intel Core i7- 1065G7 CPU and 8GB of RAM. It is fast enough to manage to multitask and run the heavy software programs that any college student needs. Without facing any issue, you can manage a good number of Google chrome tabs and stream videos. Moreover, 512GB storage capacity is good for you to store all important data and entertainment material. Also, it comes with integrated graphics that as a student you can play games at high settings in your free time.
Moving towards the internals, the keyboard is comfortable to use. The key travel is accurate and the keys are super soft that gives you a good typing experience. Also, the touchpad feels quite responsive to the gestures and is responsive enough to satisfy your basic requirement. And the stylus is of good quality that you enjoy using. Moreover, it has all standard ports: Thunderbolt 3 ports, USB-C ports, headphone jack, microSD card reader. HP Spectre has a good battery life of about 8-10 hours. It entirely depends on the work you are doing. So for basic things, it will outperform compared to the competitors in the market. Therefore, if you are looking for a good 2-in-1 laptop with outstanding performance, classy design, and excellent battery life then this is the best laptop to consider.
10. Acer Aspire 5 Slim

If you are looking for a college laptop then you must have to get the one that is much powerful and have a beautiul design plus the portability is mandatory as almost all the college students wants a lightweight laptop that can be easily carried to everywhere. All of your these requiremnts can be weel understood and fulfilled by the product named Acer Aspire 5 Slim. From display to specs and battery life you will find each and every feature at its best level in this best laptop for college students 2021.
Its 15.6 inches screen offers 1920 x 1080 FHD resolution so it projects a perfect view of movies, games, and other works with some clear image results. As concerned with the performance so the superb features of Aspire 5 including AMD Ryzen 3 3200U processor and 4GB DDR4 RAM will never let you stuck in the mid of any power-intensive task. Moreover, it offers a good storage capacity of 128GB SSD that will also accelerate the overall laptop's performance. Besides, the study purposes it will also entertain you well in your entertainment time for playing games with some clear graphics as per its AMD Radeon Vega 3 graphics card.
Most of the users ignore the connectivity options on laptops and it's not a good practice. But there is no need to be worried about the connectivity ports while buying Acer Aspire 5. It is housed with USB 3.1 Gen 1,2 USB 2.0 ports & 1 HDMI port. Also, the audio system delivers the best sound that a user expects from a budget laptop. Furthermore, its powerful battery delivers almost 8 hours of battery backup that is more than enough to tackle your college tasks.
What to look in the laptop for college students?
With many choices in the market it has become one hell of a daunting task to choose the right and the best laptop for the college students. But don't worry, we have provided a good detail of some top picks and a guide below to help you pass through this phase. It can help you make a good decision as per your need and budget.

There are few colleges that have their sets of picks to recommend to respective students. They may have some technical software configuration that is compatible with certain brands. For example, they have a long-term contract with HP that their students' will buy their specific model, and hence, their software of a college will only work in that. Moreover, some colleges have a preference for Windows-based laptops hence, it will be useless to look for and spend money on a MacBook. So, it is better to know your college requirement.
Look for the Right Size
A big-screen laptop is not practical for college students. You have to carry it around from one class to another every single day. You want something light and compact that you can carry in your backpack the whole day. With the decrease in screen size, everything will shrink and appear small. But it does not create any difficulty for you to manage. Instead, with a lightweight laptop, you better perform tasks as it is handy and very convenient to use.
Check the Keyboard and Touchpad
Students mainly do assignments and projects on the laptop for which they need a comfortable keyboard and touchpad. They need good key travel, space between keys, and comfortable keystrokes so that the typing speed is great and comfortable to use. If you are buying a compact notebook-style laptop, then you should invest in a standalone keyboard that you can place at your dorm/house and use for long sessions. Also, the touchpad should be accurate and respond in a consistent manner to the touch.
Choose the Right Specs – Processor and RAM
It is not an easy job to find the right one as there are a vast number of choices that offer many levels of performance at various ranges of budget Intel and AMD processors that run the life of laptops. You need to have a perfect blend of these two as they define the performance of your laptop. If you want high performance and require running of heavy programs or software then you must look into Intel Core i5 or i7. On the other hand, if you just want to surf through webs, attempt minor assignments, and play light games then Core i3 would be more than enough to meet your needs.
Moreover, 4GB of RAM is good enough for the daily tasks that you perform on the laptop. Like browsing webs, doing minor work on Microsoft, listening to music, etc. But 8GB and more is an excellent option as it can get you to do multitasking and manage heavy software. Overall, it increases the performance and efficiency of a laptop.
Storage Capacity
You need to ensure that the laptop storage capacity meets your requirement. In college, there are so many things that you need to store on a daily basis. For example, daily lecture data, assignments, projects, photos, movies, music, etc. So you need a sufficient storage capacity that can keep all your data stored and saved. Many laptops in the market come with 500GM to 2TB storage capacity and 500GB is quite sufficient for any college student. But at this storage, you cannot install or download a large number of games and movies hence, for that you either need to invest in a 1Tb/2TB laptop or get an external hard drive to connect to the laptop.
Battery Life
Another important factor that a college student cannot ignore. If you are taking a laptop to college on a daily basis then you need to invest in one that has a good battery life of about 8-9 hours without charging. You won't be able to plug in the laptop during class or in the cafeteria hence, look for the one with good ratings on battery life. In the reviews sections from third-party, if there are more cells then it means the better is the battery life of a certain laptop. Also, sometimes there is an option of battery changing with certain laptops, so it gets easier for you to have another backup battery to carry around.
Connectivity Ports
You need ports for connectivity purposes. If you have only a USB-C Port in the laptop then how come you can connect external devices to the laptop? Many external devices like hard drives, standalone keyboard, mouse, etc. rely on USB-A Port. So you need to look into the range and type of ports equipped in the laptop.
Design – Hybrid or Traditional
Nowadays laptops come in a hybrid 2 in 1 form too. Here you can detach the screen from the keyboard and make it a tablet with a touch screen. So as a student if you are not doing anything that requires a keyboard then you can easily detach it and use it at the comfort of your dorm's bed. However, there are people who do not like touchscreen and want their laptop to perform as a traditional laptop so it's useless to spend money on such a type.
Define your Budget
There are many brands that offer various kinds of laptop models at different price ranges. Compact and lightweight laptops can be cheap to buy but you have to compromise on performance then. Intel i7 is only an ideal investment if there are a lot of things you want to do from a single laptop but that will be an expensive deal. So, plan things based on your budget. If you have a budget in your mind and the basic requirement to fulfill then it can get easy to shortlist the best in the market.
Conclusion
We have listed down some aspects along with a few best laptops for college students to make it easy for you to choose the right one. We hope that this guide adds value to your research and helps anyone in the market going out looking to buy a laptop for their college.