Being a professional gamer, it's very important that you use a very stable WiFi network. Professional gamers cannot afford to have issues or lag during the crucial moments of the game. If you are a pro gamer who uses powerful gaming components to play the best online PC games then you shouldn't compromise on your router. To have a stable/reliable connection and uninterrupted online gaming. You will need the best gaming routers for pro gamers in 2021.
In fact, these routers have the ability to prioritize the network traffic to your gaming session. Thanks to the little feature called QoS (Quality of Service). These routers are very strong and even some of them use MU-MIMO technology to further stabilize the network.
Let's Have a look at the gaming routers for pro gamers.
Best Gaming Router 2021
1. TP-Link Archer C5400
2. Netgear Nighthawk Pro Gaming XR500
3. Asus RT-AC5300
4. Asus ROG Rapture GT-AX11000
5. NETGEAR Nighthawk 6-Stream AX5400
6. TP-Link AC3150
7. Linksys WRT32X AC3200
8. D-Link AC2600 WiFi Router
You may like:
Best Mesh Wi-Fi
Best Gaming Laptop
The Best Gaming Monitor
Best Gaming Router Reviews 2021
1. TP-Link Archer C5400 v2
TP-Link Archer C5400 v2 is a newer version to their C5400 which is more powerful, more appealing, and offered at a lower price as compared. This is a kind of router that will really boost your WiFi signal and stabilize your whole network. It's just about games. This router would appeal to all kinds of users like gamers, small businesses, and even individual users.
This router has all the features that you need, packed very nicely in a good looking device. If you are a gamer and have enough budget to spend on, this can be the perfect opportunity for you. TP-Link Archer C5400 v2 has the ability to adjust to almost any situation whether you are playing FPS games or you have a guest that wants to connect to your network.
Setting up C5400 v2 is extremely simple and also, they offer a smartphone app called TP-Link Tether that lets you configure and control your network direly from your phone. Furthermore, the performance of the TP-Link Archer C5400 v2 is very impressive. We believe that this best gaming router from TP-Link will completely solve your network problems and let you enjoy the lag-free gaming experience.
2. Netgear Nighthawk Pro Gaming XR500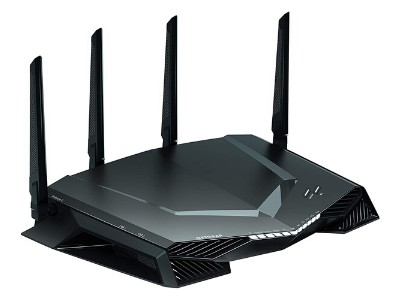 Now this one is for hardcore gamers. if you are living in a place where your network is used by many of your colleagues for watching movies or downloading files. Netgear Nighthawk Pro Gaming XR500 can really solve your problem and deliver a ridiculous fast 2.6Gbps speed. If you have got a good budget then you should definitely buy this gaming router for pro gamers because it's totally worth every penny you spend on.
Let's talk about the features that XR500 offers. MU-MIMO technology offered by this router offers unique gaming features that will completely change your gaming experience. Features like location-based connection filtering and QoS can make your gaming connection completely reliable and provide you with a lag-free experience all night.
Nighthawk Pro Gaming is specially designed to provide you with the ultimate gaming experience. It's very easy to set up at home and supports a dual Wi-Fi band to double the bandwidth and boost your network speed. XR500 supports a blazing 2.6Gbps speed and lets you completely immerse in the gaming world. The price tag may feel a little higher but that's completely worth it looking at the features and power that it offers.
Also read:
The Best Gaming PC
Best Graphics Card
3. Asus RT-AC5300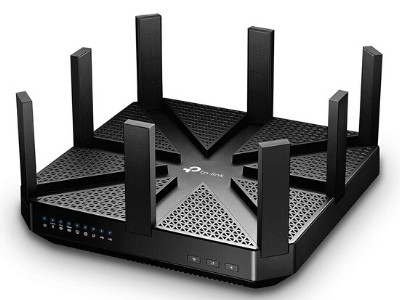 Asus RT-AC5300 is specially designed for pro gamers. In the online world, whether you are a professional gamer playing high-end FPS games or streaming. lag and buffering is completely out of the equation. Asus RT-AC5300 can be a great opportunity to solve all those problems with its latest NitroQAM™ (1024-QAM) technology. This technology delivers a combined speed of 5.3Gbps which ensures a smooth gaming experience.
For a router with such a high price tag. You should expect a lot of features and in that regard, Asus doesn't disappoint you. It broadcast three wireless bands, where most of the router stick to two. Furthermore, Asus RT-AC5300 offers WPA-Enterprise encryption, MU-MIMO technology, and QoS features. We believe that will be enough for a stable internet connection and a lag-free environment.
This router is an expensive one. So, you should be careful before buying it and see if you really need what it offers. Moreover, setting up this router is extremely simple and will need just a few minutes then you are good to go. Last but not least, there are very few routers that offer such amazing technology and speed. Asus RT-AC5300 is one of the best Gaming routers for pro gamers and worth its price tag.
4. Asus ROG Rapture GT-AX11000
Asus ROG Rapture GT-AX11000 is a gamer's dream come true. They are beautifully designed with a gaming look having 8 antennas to cover the whole house and provide the strongest possible signals to the users. It's one of the first WIFI class 6 routers that set new limits for the gaming Wi-Fi routers. Signals are the strongest at close range and also get stronger at a distance thus providing a great internet experience with no lags and problems.
Asus ROG Rapture GT-AX11000 is a class which surely is expensive as compared to the other common routers but when it comes to speed then there is no match for it. They are specially designed for gamers and one's with big homes. They are designed fabulously featuring rubber feet to avoid scratching on the table or a window shelf. Also, they can be mounted on the wall.
Furthermore, Asus Rog house the best features available at the market and is one the best router available. It houses the Broadcom BCM43684 Wi-Fi Chip which creates a tri-band network. This network is known as Wi-Fi 6. Moreover, it features a 1.8 GHz processor, 1GB RAM, and 256GB Memory for firmware storage. What more could you want.
5. NETGEAR Nighthawk 6-Stream AX5400
NETGEAR is one of the wells know the brand when it comes to quality and efficiency. They manufacture the finest product with zero compromises on quality. The same is the case with NETGEAR Nighthawk 6-Stream AX5400 featuring Wi-Fi class 6 with extremely fast ethernet. It is one of the most advanced Wi-Fi routers available on the market with a 10.8Gbps Wi-Fi speed that can flawlessly stream movies, video calls, gaming, and download files.
If you are looking for something that provides stable internet with a large coverage area then nothing can beat NETGEAR Nighthawk 6-Stream AX5400. They are compatible with all the internet service providers whether it's a DSL, cable, satellite, or fiber. Also, setting them up is extremely easy. They connect to their nighthawk app in minutes and you are ready to go.
Further, AX5400 is loaded with the most advanced technology like MU-MIMO, Dynamic QoS, 1024-QAM, Smart Connect for one Wi-Fi name, Beamforming technologies plus also connect to Google and Amazon Alexa easily. For connecting laptops, they also feature Ethernet ports and more. Overall, it is one of the best gaming routers you can find on the market that has extreme efficiency and has powerful features.
6. TP-Link AC3150
TP-Link AC3150 is another best gaming router with all the powerful internals to support your needs. Archer comes with a powerful 2.4GHz dual-core processor that fully unlocks the potential of NitroQAM and 4-Stream technologies. Installing this router at home make things like lag, dropped connection, and dead zones talk of the past. If you are living in a large house, this router can certainly be helpful because of its large coverage area and stable internet.
Furthermore, it supports MU-MIMO Technology that creates 4 different data streams that run simultaneously to provide 4x faster internet service than the standard routers. Archer AC3150 can help you in achieving optimal performance. It's a great gift for gamers who are tired of the lags and connections drop. AC3150 can stream games, movies, and more without any lag. So buying this router will be one of the best decisions you can make.
Furthermore, it has a large coverage area. In case you have a large home with many rooms or floors. AC3150 can be very helpful in filling the dead zones with the internet. Also, setting up this device is extremely easy. You just need to simply plug it and enjoy the fast internet. Overall, this may not be as strong as 6 streams routers but when looking at the price and performance, it surely deserves to be on the list of best gaming routers.
7. Linksys WRT32X AC3200
Linksys WRT32X AC3200 is specially designed for gamers with a killer prioritization network that gives you an edge over other gamers. In gaming vicinity games, in FPS games even milliseconds can result in winning or losing the games. So, you will need a router that assures that you won't miss even a millisecond. Linksys AC3200 does that with extremely fast and stable internet. It achieves that with the help of a killer prioritization engine that reduces peak pings by 77% that can actually make a huge difference.
Furthermore, It comes with a dual-core processor that ensures a combined speed of 3.2GHz throughout the house. This may not seem a big deal but it is a big deal. Dead zones, slower internet, lag is a problem of every household for ages. AC3200 can let you enjoy games, streaming movies, video calls, and more with zero lag and connection drops. What more can one need?
Moreover, it comes with a custom-built interface that lets you control that router quite easily. Controlling speed, changing the password, and doing more is at your fingertips. Also, setting the router is extremely easy. It's a plug and play. Overall, it's one of the best gaming routers because of its features that are installed especially for gamers, and the efficiency that it provides.
8. D-Link AC2600 WiFi Router
D-Link is a well-known router around the world. They ensure great quality, faster internet, and stability. D-Link AC2600 is a powerful router that can be used by gamers as well as normal users. It a dual-band wifi router that ensures lag-free gaming and lower pings. The 4x data stream technology lets multiple users at home enjoy the internet with no slowdowns and connection drops. D-Link AC2600 is an extremely powerful router with flawless streaming and gaming capability.
Furthermore, the D-Link AC2600 features MU-MIMO technology that helps in simultaneous streaming at home. It creates data streams that help in providing stable internet to every user that is connected to the routers. Routers with MU-MIMO technology are way faster and stable as compared to the normal routers. Also, it provides a large coverage area. In case you have a big home and want the internet signal to be available in every room, garage, and even washrooms then D-Link AC2600 will be the perfect router for you.
Moreover, D-Link AC2600 comes with all the necessary accessories, USB ports, Ethernet ports for connecting devices through the wire. So overall, it's a great router that packs enough power, has a reasonable price, and provide a stable ethernet that we all need. So, buying it will be a great decision and we ensure that you won't regret your decision.
You may be interested in:
The Best Headphones
Best Hair dryer
Best Tablets
Bottom Line
Getting the right gaming router won't an easy job. It's hard to get what you need. You should probably look at all the features and aspects and try to get one that perfectly suits you. We have listed the best routers available on the market and hope that it will solve your network problem. In case you have any confusion or want to ask something, you can comment below or email us directly.