Digital Watches could always do more than just tell the time. Back then they may have a little subtle in design but with the passage of time they have upgraded their design. They offers so much more than simple analogue watches. They offers multitude time keeping features and have better accuracy than the mechanical counterparts.
Why wouldn't someone own one, if a digital watch can offer so much. They can be used for multi purpose, sports, hikers, mountaineers, cyclist and runners. Feature like GPS, altimeter, barometer, water resistance and dual time makes it so appealing to have one.
We have compiled a list of best digital watches ranging from affordable to ultra expensive, to add to your watch collection.
Best Digital Watches for Men (Latest Model Reviews)
Best Digital Wrist Watches Important Information
Digital Vs Analog Watches
Each of us has used analog watches. We all know that analog watch tell us time with the help of the hour hand, minute and seconds hand. The dial is equally divided into 12 parts, each part tells use the hour, minute and even seconds too. They are simple and clean while on the other hand, digital watches are quite different. They are little advanced as compared to analog watches. They tell us time by the help of integers which is displayed on the LCD screen.
Being on the technical side, digital watches are more advanced as compared to the analog watches. They use quartz mechanism for telling the time and have much more features like GPS, altimeter, barometer besides telling the time. On the other hand analog watch mayn't be as advanced as digital watches but they are more sophisticated and more stylish. They use quartz or mechanical system of wheels to tell the time.

Types of Digital Watches
Well, there are no specific types of digital watches but based on their design, features and price, we have categorized them.
First category are the ones thats bulky in design. You will oftenly see them with a big buttons, huge dial and overall a big digital watch. They are loved by most of the people that want to feel young and lively. These watches not only offer time but much more. They have GPS tracking, stopwatch, dual times and even internal memory for storing numbers or locations.
Another type of digital watches is a mix of both digital watches and analog. They design of these watches are simple and clean with rubber or steel straps. The looks of these watches are elegant and they comes with an average dial. These watches are mostly used by professionals like businessmen, hikers, runners and mountaineers. However these watches are very expensive because of their design, quality and elegant looks they offer.
Last but not the least, the smaller ones. They are lightweight digital watches with smaller screen size, dial and buttons. They mostly comes in a square or rectangular shape rather then circular one. Smaller doesn't mean less, they do have features like stopwatch and time etc. They are mostly proffered by kids and old age people.
Best Digital Watches for men Reviews 2019-2020
1. Casio Men's G-SHOCK – The GA 100-1A1
If you are looking for a tactical time piece that is rugged and have a strong build having the capability of withstanding rough conditions at an affordable price then Casio Men's G-SHOCK is the right choice for you to buy.
This is mostly used by American soldier having both analog and digital displays guarantees reliability, toughness and simple which you can expect from a good watch. The look is so premium, having a black matte finish with resin materiel. When it comes to outfits, black is always been everyone favorite.
Having both analog and digital display lets you set dual time, your home city time and World time. It's useful especially for one's who live or work abroad. Furthermore, you can select a 24 hour format or 12 hour for your convenience. The only problem with this watch is the LED lights, its not bright enough to light both the digital and analog hands.
There are various other features available in this watch, like stop watch function, countdown times, water resistance and shock & magnetic resistance. Overall its a great digital watch to buy.
2. Garmin Fenix 5X Sapphire – Slate Gray with Black Band
Garmin Fenix 5X Sapphire is something that happens when a smartwatch is created by a well known company. Beating the polish and Apple watches, Fenix 5x is a smartwatch instead of a digital timekeeper. As with most of the watches, they bother you with social media and games notification, Fenix 5x has advanced level GPS and mapping barometric altimeter.
Design of the Finix 5x is something thats eye catching. Having a black clean finish, makes it so attractive that you won't be able to take your eyes off. In this watch map, you can find the whole Europe, that can let you inform turn by turn while walking, cycling or hiking.
Finix 5x also has features for your fitness, including a 24 hour heart rate monitoring and information of daily exercise and calories burned. You get tons of other features except that its a pricey. If you have no problem with spending a lot of money on a watch, this can be your gadget.
3. Citizen Watches Mens JY8078-01L Promaster
Blue Angels are renowned Navy's flight demonstration squadron. They are know for their precision and grace showcased in each of their flight maneuvers. The same precision and grace is showcased in Citizen Watches Mens JY8078-01L with precise time keeping in around 43 cities. This isn't some random watch, having a stainless case makes it super hard to break. The straps are made of indigo blue Italian leather with yellow stitching. The blue angel insignia bezels and yellow accented dark blue dial looks fabulous.
Talking about the features of the watch, it includes a chronograph and a perpetual calendar, alarms, countdown timer, digital backlit and UTC display. Digital backlit display is a very important feature that will be useful when used at night or in dark. A dual time is also included that will be handy if you are living in some other country. There is a lot of feature with eye catching design and extreme durability which makes it the best digital watch for men.
Overall, this watch has been appreciated by customers and made by a reputed firm but all these features comes at a price. It's very expensive, if you have no problem in spending more then nothing can be better then Citizen Watches Mens JY8078-01L but if you can't afford this on, you should really go for Casio Men's G-SHOCK which is affordable plus quality.
4. Braun Men's BN0106BKBTG Prestige Digital
The minimalist design of the Braun Men's BN0106BKBTG makes it stand out of the crowd. The state of art, German made digital watch from braun is a sturdy and high functioning watch that is suitable for every man collection. The black ion plated stainless steel case is sleek and subtle with a flexable black rubber strap. The muti-function diplay of the Braun Men's BN0106BKBTG makes the perfect combination of form and function. The ergonomics and asthetics of this watch is great and makes it eye catching.
Featuring the chronograph, countdown timer, 100 year perpetual calendar with day and 5 languages. The Swiss quartz digital watch comes with a water resistant features upto 99 feet in the water, withstands rain and splashes of water. Well its good to hear but you shouldn't go for shower or swimming while wearing it.
Overall, Braun Men's BN0106BKBTG has an award winning minimalist design, that suitable for every men and surely your digital watch collection is incomplete without this one. The German made watch guarantees the quality, design and provide a lot of features. It's pricey but the features and quality of the watch is totally worth the price.
5. Suunto Traverse Alpha – Concrete
Mens Foliage Suunto Traverse Alpha, no matter if you are a mountaineer, a climber, a backpacker, hiker, fisher and beyond, when it comes to selecting the perfect outdoor watch for yourself, nothing can be better than this watch. The build materiel is flawless, made up of knurled stainless steel bezel, premium sapphire crystal glass and water repellent nylon strap makes it the best digital watch on market.
Beyond all the beautiful aesthetics, rugged attractive look and build quality, it also offers outrageous impressive features and functionality. The GPS feature is super useful when you are moving in an unknown place, GPS will create a path and can be use on your way back. Also it lets you set points of interest on the way with specific option like fishing, hunting and hiking. This is just a start of endless features like, sunrise-sunset time, Red Backlit, Night Vision Goggle Compatible, compass, weather trend and storm alarm and more.
The are endless features in this digital watch, with stunning design and extreme condition survival makes it the best digital watches for men out there. No other watch can offer so much features, your watch collection will surely be incomplete without Suunto traverse alpha.
6. Timex T49612 Expedition Trail Series
This one is a military watch that sits very comfortably on your wrist. The strap is made up of nylon strap and a lightweight resin case, hold the watch in place and make it sturdy. Furthermore, for tight fastening, it has a heavy duty buckle. It has specially been design for outdoors, no matter if its sport, hiking or mountain climbing, it will always be your gear to get. Moreover its water resistant upto 200 meters and also shock resistant with the ISO standards.
Thanks to quartz movements, the digital readout of the Timex T49612 will always be accurate. One of the most important and loved feature on the Timex T49612 is the indiglo backlit system. This features lights up the number instead of the whole LCD which is possible by specialized film the LCD tranmitivity. You will also find the other common features like compass and stopwatch etc.
Overall, this is a great watch for people, who wants a watch for outdoor activities. It can withstand rough use and the great thing is that it comes at a very a affordable price. This mean that you can get a great watch with good design, durability and features at a very affordable price.
7. Tissot Men's Touch Expert
Tissot watches has their own reputation. They doesn't have straight competitor, they produce the best quality watches and are the top contender in the market. Tissot Men's Touch Expert is a digital watch with flawless design, made of titanium and leather straps giving it a premium look. Among swiss watches, Tissot is a masterpiece, showing time in analog and digital. It can be used as a dual time watch, if you live outside the country and need to keep an eye on you home time.
Along fabulous design and style it also offer enough features to be your favorite. Being a 100 meter water resistant watch, it will be having no problem of rain or water splashes on the watch. The charging is mostly done through solar energy, the dial of the watch absorb solar energy and charge the watch. The charging level can be observed on the screen of the watch. Tissot have an edge over other watches by having a touch screen, setting up time on it is very easy. Just the analog or digital watch and change the time to your desired value.
There are tons of other features as well, like perpetual calendar, altimeter, compass a countdown timer and backlit display. Overall, with all these wonder full features and impressive design, this watch is totally worth a buy. The only bad thing is, it's super expensive, a normal user won't be able to buy it.
8. Casio Men's G Shock Stainless Watch
Whenever it comes to comparing different brands of digital watches. Casio always stands out. Along other japanese brands like sieko and Citizen, Casio have also made its name for proving quality products at a very affordable rates. Take the case of MTGM900DA G-Shock Watch. This model is a ace in the hole providing its time calibration synced with a radio transmitter in China. Supporting 48 global cities, making sure that you always be on time. It mayn't be the ferrari of timepieces but still it provides quality and affordability.
Packing a lot of technology, the MTGM900DA G-Shock uses the standard look of stainless steel case. Featuring the resin face and stainless steel casing of this unit that gives a fair generic look. It mayn't look that good but it would be a mistake to brush it off without digging deep into the technology that it offers. You first emphasis while looking on this watch should the technology and features it provides and design should a secondary thing.
As this is a digital watch, so its powered by quartz technology. The main feature of this watch is that its always on time, no matter wherever you are in the world. It picks its time from the satellite, so you won't need to ask someone when tuning your watch which makes it one of the best digital watches out there. Overall, if you want a solid watch that stays always on time which comes at a very affordable price, you should really consider this watch. It's totally worth its price.
9. SUUNTO Core All Black Military Men's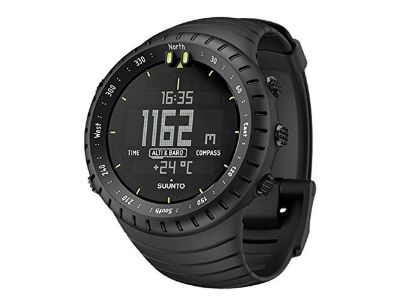 Suunto is the place to go, when you want a watch with a lot of features. The first thing that we care about is, if this watch will add to our style or not. This military watch comes in full black color which look so great. The only failing of this watch is that it doesn't feature a GPS. If GPS is what you are looking for, Then you should immediately scratch it off your list. Furthermore, the screen isn't the brightest but still bright enough that its simple to read in the sunlight.
Lets take a closer look at the watch. All black watches look damn cool. This watch comes with many features. The digital altimeter on this watch is the most accurate, so partnered with the map, it may be more useful then the GPS. It also has barometer, its an important feature on the watch that give you early warning of the impending storms. This watch is also water resistant upto 30 meters. Furthermore, having a backlit display and a compass accuracy of upto 5 degrees makes it the best digital watch to buy.
Honesty for me, this watch is more function over form. The looks is amazing, all black tactical watches is always appealing. Suunto Military watch feels good on wrist and very easy to operate. This is everything a gadget needs to be and most importantly the battery timing. Because of having no gps, the battery life time is longer then normal, it can last for an year. Overall, its a great watch, looks good and have a lot of features. Well will recommend you to buy, only if you have no problem with no GPS.
10. Timex Full-Size Ironman Classic 100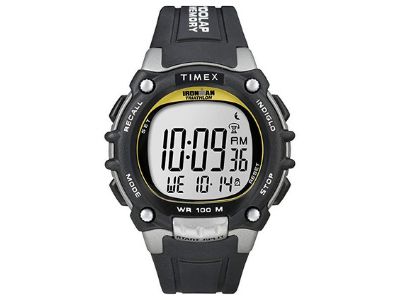 Being a sport watch lover, this one is definitely the undisputed winner crossing every finish line in the world. The impressive design, built to be lightweight and water resistance makes it out of the crowd. The five button design give the opportunity to have direct access to every feature of this watch. This will be you gadget, if you are a fan of large display watches and have a 5 button direct access to 100 lap stopwatch, customize-able alarm and interval/countdown timers.
This watch is a little bigger in size, meant for bigger wrists. Being a sport watch, whether you are an athlete, cyclist or runner, it will suit your personality. It has special timing functions that will keep you alert to your pace and alert as you exercise. The workouts are stored in the chronograph training log sorted by best lap, average lap and segment time. Furthermore it comes with a 100-lap memory cell, countdown timer, stainless steel case with fixed bezels, water resistance of upto 50m and case size of 42m.
This watch is a fabulous watch for sportsman. With the Indiglo backlighting, water resistance and large easy to read face makes it one of the best digital watches. This can be a great watch, if you want a watch for your kid to monitor his training or other sport activities. The auto movement are always on time. Overall, the design of this watch is good, have impressive functions and specially its great for for sports and outdoor activities. Moreover, its affordable and worth a look.
What Makes a Good Digital Watch?
If you really wan't to buy the best digital watch for yourself that perfectly suits your personality and make an overall good impression in public or meeting. You need to understand and ask these question to yourself first, what you want? what you need? and what you can afford? To understand that you will need to carefully read all the important aspects of a digital watch.
What Size Should I Pick?
Size of the digital watch should be the first thing to consider before going for design. No all the people like all the extra mass and features. To choose the perfect size of your choice, the first thing you need to look at is the dial or case of the watch. So of the watches have big diameter, the look great and fancy but no all us like them.
The next thing you need to look upon is the thickness of the watch. These days most of the watches comes with a thing cases but you can always hop over a thick one, this is why it important. Finally the width of the straps of the digital watch. Some may prefer wider but narrow straps are always the best. They last longer and also doesn't catch your hairs but wider straps are more fancy.
Build Materiel that I Need?
The other important thing to consider before dusting your wallet is the build materiel of the best digital watches. Digital watches are made of various materiel like steel, rubber or leather. Most of the good watches have stainless steel case or dial. Some maybe covered with leather or plastic. The material of the watch matters a lot because digital watches are mostly for runners, hikers, mountaineers and swimmers. So there are more chances of breaking or damaging you digital watch.
The Next important thing is the build material of straps. Straps of the watch are very important as they add to the style and also to the durability. Breaking of strap means losting your watch somewhere. Straps also comes in various build materials. All of them are good depending your comfortability. Some people prefer steel straps while other are comfortable with leather.
Feature that I Need?
We all know that digital watches offer more than just time. They have tremendous feature Like GPS tracking, Stopwatch, altimeter, barometer and more. These features are important because they come handy especially for hikers, mountaineers and runners. These features comes at a price. If you want a watch with a lot of features, you will need to pay more. So you will have choose a watch that have features that you need and also comes in your budget.