In an era of gaming industry, the best budget gaming laptops holds high significance. Packed with the strong features – graphic cards, fast process, high resolution & sharp display, and great audio give an immersive and movable gaming experience. Gaming is believed to be an expensive hobby and as you go with the advance technology and great peripherals, finding cheap gaming laptop is a difficult task. But gaming laptops have come a long way. Where you can get a high-end powerful laptop, there are other sleek and capable gaming laptops too without burning a hole in your pockets and in terms of gaming experience they are equally competitive providing an extreme gaming experience.
Overall, gaming laptops are exceptionally designed and dedicate to serious gamers from casual to robust. This is one of the best investments a gamer can ever make. But with so many to choose from things can get tricky, so here's a list of few best gaming laptops that we gathered in one place to make it easy for you to choose based on your needs and budget.
Best Budget Gaming Laptop 2021
You may Like to Read:
Best Mesh WiFi
Best Hard Drive for PS4
Best Gaming Laptop Under 800
Best Budget Gaming Laptop 2021 Reviews
1. Lenovo Legion Y545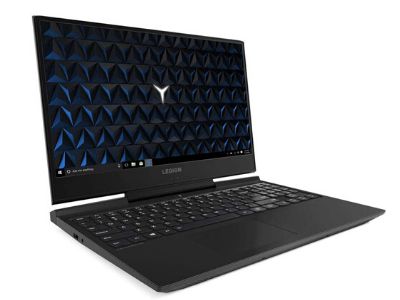 Specification
CPU: i7-9750H
GPU: NVIDIA GeForce GTX 1660Ti
RAM: 16 GB
Storage: 1TB HDD + 512GB SSD
Display: 1920 x 1080
The Lenovo Legion Y545 is a strong competitor among the best budget laptops available in the market. It provides you with incredible performance and graphics in the games powered by NVIDIA GeForce. The edge of speed, powers, performance, and responsiveness takes you to the next level in gaming experience. It is designed in a way that is strong, powerful and elegant. There is no doubt that this gaming laptop can handle any intense and forceful load.
Lenovo Legion Y545 design is very attractive and provides a great contrast to flashier counterparts. It has a 2.6-GHz Intel Core i7-9750H processor, 16GB RAM and a 128GB PCle makes it great for multitasking. Powered by NVIDIA GeForce GTX 1660 Ti with 6GM of VRAM make it highly suitable for AAA-rated games at a high-setting.
The Legion Y545 has enough ports; right side there's a USB 3.1 Type-A port and a combination headphone/microphone jack and in another side USB 3.1 Type-A port. At the backside there is a virtual smorgasbord of: USB 3.1 Type-C port, a mini-DisplayPort, USB 3.1 Type-A port, an HDMI & an ethernet jack, DC-in port and Kensington lock. High resolution display of 15.6-inch, 1920 x 1080 make everything looks sharp with perfect saturation of colors on the screen. The audio quality of Harmon/Kardon-tuned speakers installed with Dolby Atmos software is excellent. Its keyboard is truly made for gamers as there is a dedicated key for recording the gaming moments and the white backlighting and highly convenient keys for the fingers to play with. Further, matte touchpad is even and sleek to touch. It is highly receptive and gives exceptional click when pressed.
2. Dell G3
Specification
CPU: 8th Gen Intel i5-8300H
GPU: NVIDIA GTX 1050
RAM: 8 GB
Storage: 256GB SSD
Display: 15.6″ FHD
15-inch gaming laptop with high-performance graphics and comes with Alienware Command Center making it easier for gamers to customize many features of the laptop. Highlighting the latest Intel processors and optimal cooling for uninterrupted gameplay at a very reasonable price. It offers great gaming software and battery life. It is one of the best budget gaming laptops and highly recommended by many students who are pro in gaming.
Dell G3 is at 22.7mm, the slimmest 15-inch laptop that make it easier for the gaming to go on with a great gaming low light setting to have better visual and strong graphics. Fastest and powerful GeForce GTX 1050 enhance the gaming experience for its users by turning the laptop in true gaming rig through NVIDIA Pascal. It is outfitted with 4GB of VRAM, 8GB of RAM, a 128GM SSD and a 1TB 5,400-rpm HDD. This is not just good for gaming but for many other daily use purposes. It is built in a way that it can handle strong games with high setting frame rates. So, a real treat for you.
Dell never disappoints in terms of ports. The right side holds a Noble lock slot, two USB 2.0 ports and an SD card slot while on other side there is power jack, one USB Type-C Displayport, and HDMI 2.0 port, one USB 3.1 port, an RJ45 Ethernet port and a headphone jack. The display of 15.6 inch is super dull which is major con of this gaming laptop. On other hand, the keyboard is relatively small compared to other gaming laptops, but it is quite comfortable and easy to get your hands on. Moving on, the 4.2 x 3.2 – inch touchpad has matt finishing which seems little stiff to click. For a cheap gaming laptop, G3's battery life is remarkable making it an attractive offer for many.
3. MSI GF63
Specification
CPU: Intel Core i7-9750H
GPU: NVIDIA GeForce GTX1650
RAM: 16 GB
Storage: 512GB SSD
Display: Thin 9SC-066 15.6″
MSI GF63 is designed for the gamers who value and give more importance to the portability as compared to performance. It is a lightweight laptop for casual and daily basis gaming. It is best gaming laptops for the students who loves and play games in a routine and do not want to spend huge amount. So, a great and reasonable choice for entry-level gamers.
For a gamer, MS GF63 is the best gaming laptop. The display is 15.6 – inch full HD and thin bezel design giving sharp display through various angles. It is armed with a 2.4 GHz Intel Core i5-9300H quad-core processor which is fast. It comes with 8GB of DDR3 memory, a 256GB NYMe PCle M.2 SSD, and an NVIDIA GeFrorce GTX 1650 graphic card to enable more graphics and turn on in-game visual settings to have a pleasure of the best gaming experience. The OS installed is Windows 10 Home and gives you a great gaming experience without any limitaions.
MSI GF63 has all the ports that every normal laptop holds for the connectivity of your devices and peripherals. Starting from left there is a USB 3.2 Type-A port, then there are two more same 3.2 ports towards the right, a USB Type-C port. And the other ports: Ethernet, Microphone/headphone jack, and an HDMI. It is known for the best keyboards among the cheap gaming laptops available. The SteelSeries keyboard is distinctive and excellent for the comfort it gives when typing. It is highly user friendly, but the RGB lightning hold it back. However, the touchpad is very small, 10.8 by 6 cm, though the response is good and processing speed is high. Overall, audio is normal not extra ordinary along with dull & dim display.
4. ASUS TUF A15
Specification
CPU: AMD Ryzen 7 4800H
GPU: GeForce GTX 1660 Ti
RAM: 16GB DDR4
Storage: 512GB PCIe SSD
Display: 15.6" 144Hz Full HD IPS
ASUS TUF Gaming A15 is high loaded gaming laptop that moves you to victory. It provides reliable performance for gaming, streaming and everything that comes in with an ease and provides a great value in a long battery life. It is best budget gaming laptop than anything else. It is everything you want in the best budget gaming laptops; fast, real-time graphics, high performance, great visuals and mobility of lightest design.
High quality display of 15.6-inch, 1920 x 1080 gives an incredible smooth frame, great for playing games. Its core i7 CPU provide extraordinary overall performance. There is an AMD Ryzen 5 processor,8GB RAM, a 256GB SSD, GeForce GTX 1660 Ti, and AMD Radeon RX 560x graphics. It can play latest games and multitask simultaneously.
It has RGB backlit gaming keyboard is ranked as 20-million keystroke durability. The touchpads are comfortable and smooth. There are I/O ports that help you to connect your favorite devices and start operating it from anywhere. Two USB 3.2 Type-A ports allows quick transfers, and there is USB 2.0 Type-A ports, along with headphone/microphone jacks. The audio is rich and high as compared to others as there is upgrade of two speakers with four cut-outs pump out, 1.8x more sound with 2.7x deeper bass. It is also installed with self-cleaning dual fans with anti-dust technology so that system can be extended for long.
5. HP Omen 15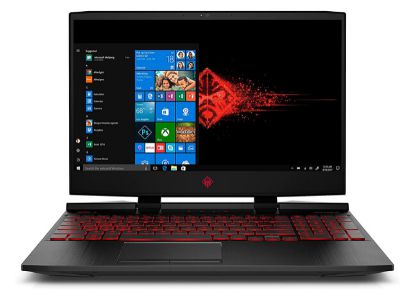 Specification
CPU: Intel i7-8750H
GPU: GeForce GTX 1050 Ti
RAM: 12 GB RAM
Storage: 1TB HDD + 128 GB RAM
Display: 15″ FHD IPS
Omen 15 Laptop is structured in way that gives desktop-like interface and experience of gaming with strong graphics, total engagements and ease to upgrade. It is best budget gaming laptop with better performance and great experience. It is great mid -tier gaming laptop with sharp display and audio. It provides lag-free entertainment. As for gaming is concerned it is one of the top best gaming laptops in a good budget.
The display is very attractive and elegant with 15.6 inches, 1920 x 1080. It includes realistic graphics through real-time technologies with NVDIA GeForce GTX 1660. The processor is super-fast, 9th Generation intel ® core ™ i7-9750h, 6-core, 2.6GHz upto 4.5Ghz that gives great gaming performance. Memory holds 8GB DDR4-2666 SDRAM which can be updated with 2 accessible slots. Hardware and storage are of 256GB pcie® nvme™ M.2 Solid State Drive.
A 2-zone dragon red backlit keyboard with 26-key rollover is formed to increase and enhance your gaming reflexes. The ports include headphone/microphone jack, 2 USB 3.1 Gen 1(side), 1 RJ-45 (rear), 1 USB 3.1 Gen 1(rear), 1 HDMI 2.0 (rear), 1 Mini Display ™ (rear), 1 USM 3.1 Type-C ™ (rear) and 1 media card reader. The authentic accurate 3D sound through any headphones or earbuds bring the depth of entertainment and pleasure while playing games, watching movie or any music. Another feature that adds value is that you can play PC games on you're the big screen of TV with OMEN Game Stream.
6. Acer Nitro 7
Specification
CPU: 9th Gen Intel i7-9750H
GPU: GeForce GTX 1650 4GB
RAM: 16GB DDR4
Storage: 512GB PCIe NVMe SSD
Display: 15.6″ Full HD IPS
Acer Nitro 7 is one of the best gaming laptops which rates high on performance and storage. The designis very attractive and powerful. It maximizes your fun and experience of gaming by extremely great graphics that you get involve in its completely. With In Panel Switching (IPS) technology you enjoy clear blur free gaming experience. The quality and texture of display is the one every gamer look for and this is what Acer Nitro 7 provides you with.
Intel's Core i5 processor along with NVIDIA GeForce GTX 1660 Ti optimizes the performance and help you play games like you never did before by giving you definitive gaming experience with powerful graphics. The 15.6 – inch IPS display with 144Hz has a full HD view. It also offers easy access to RAM and Storage with up to 32GB of DDR4 RAM, and 2TB of HDD storage to store more games and making it highly compatible for AAA-rates games.
The chiclet-style keyboards are well spaced and highly responsive, and keystrokes are quite brittle that makes typing enjoyable. Also, the red backlighting gives it a very distinctive and bright look and making it handy for you to even play in dark areas. Touchpads are even and sensitive. Ports are standard with three USB 3.1 ports along the left edge and two of the rectangular Type-A and a Type-C. It also has an HDMI 1.4 video output, an Ethernet jack, and a USB 2.0 Type-A port on the right edge. Advance technology of Waves MaxxAudio meet Acer TrueHarmony gives a competitive edge as the volume is deeply enhanced and gives entertaining real-time gaming experience.
7. ASUS GA502
Specification
CPU: AMD Ryzen 7 4800HS
GPU: GeForce GTX 1660 Ti
RAM: 16GB DDR4
Storage: 1TB PCIe NVMe SSD
Display: 15.6" 144Hz FHD
ASUS GA502 is a simple and light entry-level gaming laptop that has a proportionate set of components and offers a great option into moveable yet cheap gaming laptop. It is a great choice if you are looking for the best budget gaming laptop. It gives solid graphics performance and a good deal of specs which one cannot let go of. However, the display is relatively cloudy and light for gaming.
ASUS's 15.6 – inch,1920 x 1080 display is quite dull and dim though the panel has a smooth 120Hz refresh rate. It makes the color least sharp and very doomy experience of gaming. The AMD Ryzen 7 3750H processor and 16GB of RAM aid in spontaneous responses. It is driven by an NVIDIA GeForce 1660 Ti Max-Q graphic cards for high frame rates. ASUS 512GB SSD is faster and better than the average gaming laptops.
There are normal number of ports on ASUS GA502, starting from the left: the power jack, and Rj45 Ethernet port, an HDMI 2.0 port, one USB 3.1 port, one USB Type-C port & a headphone jack along with additional USB 3.1 ports on the other side. They keyboard has a normal standard layout with the palm rest that makes it more comfortable. Moreover, the touchpad is amazingly good, and its upright design made it more helpful and of use in gaming. It is soft and comfortable. The pad also has window precision drivers and gesture that works effectively. Audio quality is clear and high that give real-time interface.
8. Acer Predator Helios 300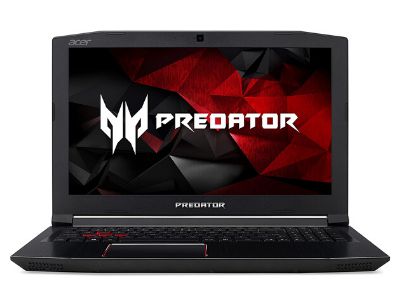 Specification
CPU: Intel i7 CPU
GPU: GeForce GTX 1060-6GB
RAM: 16GB DDR4 RAM
Storage: 256GB SSD
Display: 15.6″ Full HD IPS
Helios 300 is the ultimate gaming tool that you need to jump into and take control over the gaming experience. It is strong and ready to fight. It is one of the best budget gaming laptops with powerful components in the market.
Acer Helio 300 has a 15.6 – inch screen with 1080 resolution which is qualitative enough to give strong graphics in gaming without any slowdowns. It holds exclusive IPS panel with 144Hz refresh rate and a swift 3ms response time that helped in smooth actionplay. Overall display in term of color and contrast is decent. RAM speed of 2666MHz is a great spec that every gamer looks for. Equipped with NVIDIA GeForce GTX 1660 Ti graphics, advance Intel Core i7 processor and custom-engineered 3th Gen AeroBlade 3D Fan Technology which improvise graphics and aids in smoothly playing AAA-rated games.
The Helios 300 is well equipped with ports. The left side holds two USB 3.0 ports, an Ethernet jack and a headset jack, and on the right side there is another USB 3.0 port, a US 3.1 Type-C port, a tiny DisplayPort and HDMI jack. They keyboard is simple decent layout. There is blue light on many keys and there is an independent key for the Acer's PredatorSense App. Keyboard is easy to use with firm base and keys are strong that gives satisfying typing exposure. Further, the touchpad holds smooth surface and support gestures. Further, it has an immersive sound effects during gameplay through Waves MAXXAudio technology.
9. Lenovo IdeaPad L340
Specification
CPU: Intel Core i7-9750H
GPU: NVIDIA GeForce GTX 1050
RAM: 8GB DDR4 RAM
Storage: 1TB HDD +256GB NVMe SSD
Display: 15.6-Inch FHD
Lenovo IdeaPad L340 is the gamer's choice as it has the all the power and strength that helps you to stand out among your rivalry in scoreboard. The interface it gives is strong, smooth, fast and power efficient hence, making it the best budget gaming laptop to play modern and robust games. This is mostly preferred for gaming purpose only giving its high specs.
The 15.6 – inch IdeaPad display with 1920 x 1080 resolution is everything that is just right for the exception HD gameplay with GeForce GTX 1650 that takes you to the extreme level. The display is crisp and bright giving real power and seamless interface to a gamer. The IPS panel has a 60Hz refresh rate. As of productivity is concerned, it is smooth with 9th Generation Intel Core i5 – 9300H processor, equipped with 8GB RAM and 512GB NVMe SSD, so the games can be run smoothly.
Basic ports exist in the laptop on the left side mainly: USB Type-C port, USB 3.1 ports, and Ethernet port, HDMI 2.0 and combination of headphone/microphone port and on the right side there is Kensingston lock. The keyboard is comfortable and ready to go for play and the cool blue ambient backlighting perform good. With the Dolby Audio technology bring a real blast in the sound effects.
You May Also Like to Read:
10 Best Digital Watches for Men
Best Over Ear Headphones
Best Hair Dryer
Finding the Best Budget Gaming Laptop: Buyer's Guide
Looking out for the best gaming laptop you need to ensure the capabilities and features to operate high rated games with strong and powerful graphics. Choosing the right laptop depends on your budgets, your routine, and the types of games you want to play. There is range of laptops starting from $800 to $5000 and to find the best that meets your needs, you need to investigate following aspects.
Graphics
Graphic card or GPU is the keystone of your gaming laptop. Its role is to process the data and transfer the motion to monitor to deliver pictures. Majority of gaming laptops are built in with NVIDIA GPUs making it easier for you to find a good gaming laptop on budget.
What graphics you need? It mainly depends on how extreme gamer you are. For an entry-level gamer who need normal settings and prefer low frame games can easily do fine with NVIDIA GTX 1050 that is relatively cheap under $800 providing low graphics and normal experience. Moving to the next level, NVIDIA GTX 1060 supports high and strong graphic settings and supports more powerful games. It come between $1000 – $2000. Lastly, the premium range of over $2000 NVIDIA GTX 1080 supports heavy and extreme gaming performance.
CPU
CPU is known as the brain of gaming laptop. It handles everything other than graphics to give a smooth experience of gaming. There are outstanding options available in the market that have quad-core Intel Core i7 in high demand along with few Core i5 options. Core i5 is the slowest CPU and least considered when buying gaming laptop but for a normal routine user it is still the best at a very good price. Dual Core-i7 is the one you need to look as its processor is fast that supports gameplay, but they are little expensive than Core i5.
Display
Display is the one thing that gives best gaming performance. It should be clear and bright, and you shouldn't settle for less. For the screen, 1080p display is the best you can get for a value-oriented gaming laptop. It is better and sharp that gives bright colors to screen. For a sharper display and with high frame rates you can plum for 4K screen but then the hardware is not helpful enough to lift games. Hence, a high-quality 1080p display is relatively better in providing a great gameplay. Further, Refresh rate of 144Hz on the laptop display gives smoother experience when playing high frame rate games. This is all you can get at a best budget.
RAM and Storage
As far the memory is concerned, 8GB of RAM minimum ideal and a 16GB is exceptionally the best with 512GB SSD to install high graphic robust games at a relatively low price. This show that the gaming laptops are competent enough for an entry-level to medium tier gamer. We recommend choosing a configuration that has both SSD and a hard drive but don't fall for less than 1TB hard drive as the games takes up a lot of space and this is what a gamer need.
Other Features
We all know that gaming laptops offers more than main specification that you can not ignore as they play an important role in giving you intense gaming experience. You need to know what type of keyboard you will be having and how convenient are the keys to play with. This is one of the most important tools you will be using when playing games. So, you better go and check the buttons. They keys should be soft; the space should be even and convenient to get your hands on it. Further, investigate touchpad that how responsive it is to moveable gestures. Moreover, sound is as important as visuals when it comes to gaming. You need best edging sound with or without headphones. It gives real-time experience. Everything enhances gameplay. Hence, looking into all these details you can jump into a great deal that meet your expectations and comes in your budget.