Looking for something bigger than the smartphone but smaller than the desktop and laptop? There come to the best 10-inch tablets that have become the choice of many people around the globe. People are adding gadgets in their pockets for different purposes. Tablet fulfill your need for entertainment along with providing you with the flexibility of managing official work. In one device you have everything you need; hence it becomes important for you to evaluate different brands to choose the best 10 inch tablet in the market that fills in the gap.
What are the best cheap 10-inch tablets in the market? We have pen down few options available for you to consider that is powerful enough to perform everything you throw at them and is highly portable that you can carry it around.
Best 10 Inch Tablet 2021
1. Apple iPad
2. Fire HD 10 Tablet
3. Samsung Galaxy Tab S6
4. Apple iPad Air
5. Dragon Touch Notepad K10
6. Lenovo Tab M10 Plus
7. Samsung Galaxy Tab S7+
8. New Microsoft Surface Go 2
9. Huawei MediaPad M5
You may like:
Best Tablets
Best Tablet Under 200
Best Laptop For College
Important tips in choosing the best 10-inch tablet
Whenever you go out to buy something, the basic research you need to do is to identify the need or purpose that you want to fulfill through the best 10-inch Android tablet. This is because the market is full of thousands of choices that can confuse you. You might see one tablet that offers the best blend of features but it might be too costly for you, on another hand if there is one tablet that comes in your budget it may lack few good features that you think are necessary for your use. Hence, making it difficult for you to pick the best one.
These are a few points that can help you to choose the right tablet for your use:
Identify your need
Home:
Every individual has something in his/her mind because of which they want to purchase the tablet. If you are looking to buy a tablet for casual use at home like web browsing, using social media, listening to songs while working or studying, or playing random light games. Then you do not need to invest in high-end tablets that empty your pocket.
Work:
Some people want to shift towards tablets from laptops for official purposes as it is easy to carry them around during official meetings and even traveling for business. For such purpose, 9 to 10-inch tablets are designed that have strong software to meet your daily official tasks. They have the option for an extension of keyboard and mouse to make your life easy and let you work in comfort.
Entertainment:
Not all tablets come with good video quality, sound systems, and strong graphics for gaming. Hence, if you are looking for a tablet to serve your need for extensive gaming activities or watching movies on Netflix then a good 10-inch tablet suits you best. It has a high-end gaming rig that meets the need of all robust gamers and gives you the ultimate experience that not any light and cheap tablet can meet.
Which Operating System?
Tablets come with three operating systems: Apple IOS, Android, and Windows. If you have an idea of which Operating System you want then it gets easy for you to compare the models of that brand only.
iOS:
iOS is Apple's distinctive software that is only designed for Ipads, Iphones, and Ipods. It is one of the finest software with all the flexibility and multitasking features that anyone looks for in a tablet. However, Ipads are the most premium products and are super expensive that may not be affordable for many people in the market. It has it some restriction too of spreadsheets that make it less useful for official use. But you will have plenty of access to different applications through its App Store.
Android:
Androids target the vast market. You are never restricted to a few brands or options in the market. With many options available in the market you can customize the android system as per your requirement that will differentiate it from the competition and is custom-built for your needs. Because there are different brands and models, the price range varies from inexpensive to most premium tablets. Samsung, for example, has introduced its new tablet model closest to the iPad with high-end features and apps.
Windows:
Microsoft programs are the biggest restriction of iOS and Androids due to which many people do not switch from traditional laptops. With the launch of the Windows-oriented tablet, this gap is filled as it is highly compatible with Microsoft and works like a laptop making it an ideal choice for official purposes. You can use spreadsheets and do multitasking very conveniently on a Windows tablet.
Screen Size
You will see a market full of tablets of different screen sizes. It ranges from the smallest 6-inch to the biggest 15-inch tablet. The 6-inch tablet is compact and lightweight that you can carry around with you anywhere you go. But it lacks the basic important feature that you will see are important. The ideal standard size of the tablet is between 7-10inch, where you have the best blend of portability and productivity that serves you best at all purposes.
Battery Life
With technological innovation, the battery life of tablets has improved over the years. They give you good battery life for the whole day depending on your use. For web browsing, using social media, or working on spreadsheets the battery lasted for about 15 hours as per the testing reports. However, when you use a tablet for downloading, watching movies, playing games, etc. then the battery runs out quickly. Ideally, the battery life should last for about 10 hours that shows the strong software built and quality of a tablet, so we recommend you look for those.
Connectivity Options
At what point you want to connect your tablet with headphones or even want expandable storage, so a good tablet has a suitable range of ports for you to attach external drives. iPad does not have an option of microSD card slot but their internal storage is already huge enough that you won't have an issue with low storage capacity.
Other important specifications
Processor
Processor depicts how the tablet performs. Every brand uses a different processor hence, the speed and performance level varies due to which there is a huge price difference. A-series is used by Apple in their iPad that they improve every year. A9 is the fastest and most powerful version that is being used nowadays in all Apple devices. On other hand, Android uses processors like Qualcomm and Exynos chips. These processors are fast and give high performance too. Quad-core QUALCOMM is the fastest giving you the best experience hence, you must look for that while evaluating the best android tablets. Windows use typical Intel processors that are found in laptops. And the tablets with this processor are generally premium priced.
Storage Capacity and Expandability
Storage capacity is a significant factor as the bigger the storage capacity is the pricier the tablet will be. In iPad you don't have an option of expandability, hence, you must choose wisely keeping in mind the storage capacity. Tablets that have 8-16 GB of capacity are not enough and get fills up quickly due to which tablets become slow and stuck while you work on them. So here we recommend you look for something between 64GB to 128GB that can give you ample space to manage capacity. If you buy something less than you must if there is an option of a microSD card so that you can expand the storage whenever you want to.
RAM
RAM is another important spec that plays an important role in how the tablet performs. The better the RAM is the higher the price will be of the tablet. If the RAM is better a tablet can perform well and manage to multitask smoothly. The standard memory of RAM in a tablet is between 1GB to 4GB but the one that serves the dual purpose of hybrid, the RAM is up to 16GB as it works like a traditional laptop.
Display – Screen Resolution and Aspect Ratio
When you go and buy a tablet the screen resolution and aspect ratio are other important tool. You don't want a poor display when you pay so much for the tablet. Therefore, invest in one that has high resolution so that you get good picture quality with better viewing angles. The brightness and color correction is accurately giving you an amazing display quality.
Best 10 inch Tablet 2021
1. Apple iPad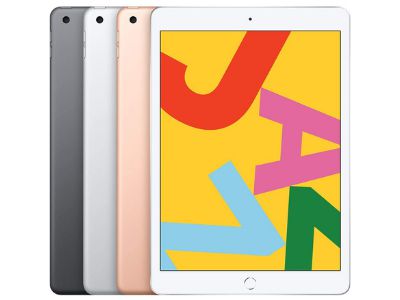 CPU: A10 Fusion chip | Storage: 32GB | Display: 10.2″ (2048 x 1536) | Thickness/Weight: 0.3 inches / 1.1 lbs
Apple has done a wonderful job by coming up with its 10.2-inch tablet in the market. In the category of best 10 inch tablet, Apple iPad is ranked most favorite among many people because of its fastest A10 processor. In addition to that, it has 3GB of RAM and comes with 32GB/128GB storage capacity that is good enough for everyone's daily use. You can easily manage to multitask and run tons of applications smoothly. Coming to the hardware side of the iPad, the built quality is thicker than other Apple products, but it is strongly built. It has a lightning port for the purpose of charging along with a 3.5mm jack for headphones.
If you look at the display it is equipped with wide colors and true tone technology that deliver the closest to reality pictures and viewing angles. So, this makes it a good choice if you want to purchase a tablet for watching movies and videos. With the resolution of 2160×1620, you will see the display is sharp, bright, and colorful. Apple has given a lot of attention to such details to make its iPad stand out in the market. Moreover, the speakers are like the predecessors that are loud with good sound quality. It gives a good balance to the sound that enhances the experience of watching movies and listening to music on the iPad.
Further, it includes Apple Pencil which is responsive to the touch screen and makes the iPad a digital notepad for you to take regular notes either for official purposes or education. The battery life is a standard of 10 hours that is good for you to carry on with your work. When it comes to the camera, the 12MP rear camera takes nice pictures. This device performs on OS 13.4 that is fast and gives outstanding performance hence, making it one of the best 10 inch tablets.
Pros: Affordable price, large display, keyboard can be connected through pins without bluetooth, easy to use
Cons: Less clarity in display, less instant pen usage
2. Fire HD 10 Tablet
CPU: 2.0 GHz octa-core | Storage: 32GB | Display: 10.2″ (1920 x 1080) | Thickness/Weight: 0.4 inches / 1.11 lbs
The fire series of Amazon has evolved over the years. With continuous innovation and improvement in its product line, they have come with the best 10-inch tablet. The 10.1-inch display has 1920 x 1200 resolutions that give a solid view of angles with a sharp and crisp display. The colors are accurate and bright that gives good picture quality. This tablet is launched in four colors: black, blue, purple, and white with
chunky bezels and thin polycarbonate back. The Fire HD 10 is powered by a 2GHz MediaTek MT8183 octa-core processor and 2GB of RAM. It can handle multitasking well. You can smoothly run the applications and do not face any issue of stuttering.
Moreover, they have given the option of 32 GB and 64 GB of storage so whatever suits one can buy that. You can also increase the storage with a microSD card in case you run out of space in the future. In addition, Fire HD 10 can easily manage to play light games that require fewer graphics. Also, it features Alexa that manages your daily routine and tasks to keep you updated on important details. You just have to command with your voice, and it will perform things.
For kids, it is one of the best tablets as you can create their restricted profile and adjust the content and apps to which they can have access. Hence, giving you privacy and control to limit screen time for kids. Fire HD 10 does not disappoint you in terms of battery life. It is great with about 12 hours of ongoing screen time. Fire HD 10 was introduced in the market to handle everything consumers throw at it. Hence, with widescreen, sharp image quality, and the fastest internal software it has ranked one of the best 10 inch tablets.
Pros: Alex integration, overall best perfromance, Dual-band WiFi
Cons: Low resoultion camera
3. Samsung Galaxy Tab S6
CPU: 2.84 GHz | Storage: 128GB | Display: 10.5″ (2560 x 1600) | Thickness/Weight: 0.22 inches / 0.95 lbs
If you are looking for a tablet that is closest to iPad Pro then this is the one you must have. It is the finest android tablet in the market with all the specs and features. It is a 2-in- tablet that gives you the pleasure of both laptop and tablets. You can work on it for hours with an attractive keyboard/trackpad and use it as a laptop. S6 has a slim design with thin bezels and soft edges that gives it an attractive look. The display is very attractive with 2560 x 1600 Pixels. You will enjoy the picture quality as it is sharp and bright. Moreover, Samsung has incorporated in it the fastest processor Qualcomm. This makes it compatible to work on different apps and data. It can manage to multitask well.
Moreover, you can choose the storage capacity of 128GB or 256GB that is built-in. So, you can store everything you want to without get worried about low storage issues. Samsung has developed its name in Stylus technology. And at this 10.5-inch screen display, it works smoothly just like a paintbrush works on a canvas. If you are a gamer and want to use a tablet mostly for gaming, then this must be your option as it has an Adreno 640 GPU that can handle all types of games even at high settings. The overall experience of your gaming is enhanced. There are SmartThing apps that let you connect to the other devices at home and manage temperature, the brightness of the light and so much more.
Also, to control and manage everything with your voice command there is Bixby Voice Assistant installed in it that listens to your commands and responds accordingly. Samsung S6 has ranked as the fastest Android tablet with all the multitasking features that Samsung has put in it. So, we highly recommend you spend money on S6 as it is one of the best 10 inch tablets in the market that has everything you must be looking for.
Pros: S Pen incuded, high quality audio, best battery backup, clear camera result
Cons: Lacks heaadphone jack, speedy processor,
4. Apple iPad Air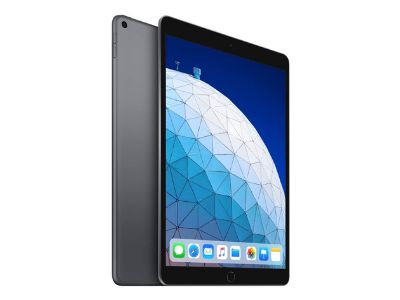 CPU: A12 Bionic chip | Storage: 64GB | Display: 10.5″ (1668 x 2224) | Thickness/Weight: 0.24 inches / 1.0 lbs
Lenovo Tab M10 is the latest addition to the Lenovo family that is the most powerful and fastest in the market. It comes in the category of best budgeted 10-inch tablet that makes it highly popular among people. Its 10.3-inch display gives you an excellent view of pictures, videos, and movies. It is an IPS panel that gives wide viewing angles along with a perfect color gamut that you will enjoy using the tablet. The design is decent and sleek with a plastic gun-metal chassis. The overall design of the tablet is of plastic, but it gives a premium look making it stand out in the market. Also, it offers two colors black and white.
Moreover, for sound, it has Dolby Atmos that gives you an immersive experience of everything you play on the tablet. Moreover, there is a face recognition privacy setup that lets you unlock your tablet from your facial impression. It's highly secure and protected. You can restrict the content and timing for the children to use as per your own choice. In addition, to reduce the eye strain while using the tablet it has eye- protection technology installed. It will not cause any headache or any kind of strain over your eyes.
Lenovo M10 features a 450 octa-core processor offering 2.3Ghz main frequency along with 32GB storage capacity and 2GB RAM. Storage capacity is low that will fill up quickly, but the good thing is you can extend it up to 256GB through a microSD card. However, the performance level is exceptional in that you will be able to run applications, stream videos, and play games smoothly. Also, the battery life is great up to 7 hours for regular screen time that is good enough for you. Therefore, looking at everything it offers we have ranked it high on the best cheap 10-inch tablets in the market.
Pros: Smooth performance, good battery life, elegant display
Cons: Lacks stereo speaker setup
5. Dragon Touch Notepad K10
CPU: 1.3 GHz Quad-core | Storage: 32GB | Display: 10.1″ (1280 x 800) | Thickness/Weight: 0.3 inches / 1.96 lbs
Dragon Touch K10 is on our list of the best 10 inch tablet that is armed with the fastest Android 9.0 pie operating system. It has 2GB of RAM and a 64-bit quad-core processor that results in smooth performance. You can streamline videos or movies, play light games and browse websites in a smooth manner. You will hardly face any performance issues with this powerful operating system. Moreover, the IPS display of 1280 x 900 resolution proved to be perfect for watching Netflix and playing games as the colors are well saturated with accurate brightness levels. You can view the screen from different angles and will see rich colors. Overall, it enhances your overall experience of using this tablet.
Additionally, it has 32GB storage so that you can store a lot of data, photos, songs, etc. on the tablet. If you run out of storage capacity later, you can extend it through a microSD card up to 128GB. Another great feature is a rear 8MP camera that takes excellent pictures for you to post on social media. Also, it incorporates a 2-megapixel front camera for you to enjoy video calls with your loved ones. Moreover, it has a built-in Google Assistant through which you can do plenty of tasks like answering calls, managing calendars, control the smart thermostat, and more. It has a good range of ports so that you can connect external devices.
As of battery life, it meets the standard time of 10 hours of smooth entertainment and work. With its smart power-saving technology you do not have to worry about charging it while watching movies or playing games. For the sound, it has dual speakers that give a robust sound to your audio and let you enjoy music, movies, and games. With such features and specifications, Dragon Touch K10 has a lot to offer at a very affordable price hence, one of the best cheap 10-inch tablets existing in the market.
Pros: Latest android 9.0 Pie, premium features at affordable price
Cons: Plastic body
You may be interested in:
Best Pressure Washer
Best Smart Thermostat
Best Washing Machine
6. Lenovo Tab M10 Plus
CPU: 2.3 GHz Octa-Core | Storage: 32GB | Display: 10.3″ (1920 x 1200) | Thickness/Weight: 0.33 inches / 1.6 lbs
Samsung Galaxy Tab S+ is the most premium brand of Samsung that is targeted toward high-end users. The software installed in the tablet makes it one of the best android tablets on the market. It features 865 plus Qualcomm Snapdragon and 8 GB of RAM that ensures smooth delivery and running of everything. You will not face any issue regarding the slow performance or any stuck in between work, hence making it feasible for every task. When it comes to the display side, it is perfectly sharp with bright colors that even when you are sitting far away you can read through things very clearly. It also comes with a stylus pen that is very smooth and pleasurable to use. It is highly responsive hence you enjoy working through it especially sketching and making notes.
Moreover, it is a tablet for watching movies, playing games, but at the same time, it is also pitched as a laptop replacement with the dedicated Dex mode for professional tasks or office-related work. Coming towards the audio, it promotes quad speakers that give high pitch sound and enhance your overall experience of using this tablet. For the storage, it has an excellent capacity of 128 GB that can be increased through a microSD card. But this also is more than enough to store a large amount of data.
Samsung Galaxy S7 Plus is a great deal if you are looking for the best tablet in the market after the iPad. It never disappoints you on the battery life as it supports 45-watt fast charging that lasts for more than 10 hours. Also, the camera quality is excellent which makes you capture a beautiful moment of your life and do video calls with your friends and family. Overall, it is a worthy investment for you to consider.
Pros: Fast and powerful processor, kid's mode included, dual microphones
Cons: Normal design
7. Samsung Galaxy Tab S7+
CPU: Octa Core 3.09 | Storage: 128GB | Display: 12.4″ (2800 x 1752) | Thickness/Weight: 0.22 inches / 2 lbs
Apple products have a certain image in the mind of consumers. They are widely recognized in the market for the best quality product that is powerful, classy, and user-friendly. In the tablet category, the iPad air comes as a premium product that is large has a better processor, rich display colors, and strongly built. It comes in four different colors silver, space grey, rose gold, and green. These colors attract users so much that no one can resist buying it, other than colors it also comes with specs that are irresistible, Taking you to the next level in the tablet market, this iPad Air features a 10.5-inch retina display. It gives super clear and vibrant pictures at 2224 x 1688-pixel resolution.
As of design, it is quite thin and lightweight that you can carry it around anywhere you want to. And with its excellent battery life of about 10 hours, you can use the tablet on the go without getting worried about charging. Moreover, it supports the smooth running of all the applications with its fastest processor of A12 Bionic chip with 64-bit architecture and Neural Engine. It gives you the fastest performance with no lagging and stutter issues hence, making the use of tablets enjoyable for you. You can play games as it supports strong graphics giving you the ultimate gaming experience.
Moreover, it offers a stylus pen and a smart keyboard that transforms the tablet completely. You can use it for multi-purpose at your own ease. Though they will add additional cost to your pockets overall it enhances your experience. Also, the camera is good that takes nice pictures. So if you are looking for a premium experience through a tablet then you must own this Ipad Air as it is one of the best 10 inch tablets in the market.
Pros: 5G connectivity, fast processor and RAM, clear audio
Cons: LCD instead of OLED, expensive
8. New Microsoft Surface Go 2 – 10.5″
CPU: Intel Pentium Gold | Storage: 64GB | Display: 10.5″ (1920 x 1280) | Thickness/Weight: 0.3 inches / 1.2 lbs
The markedly improved Microsoft Surface Go 2 offers better computing performance, a larger display, and longer battery life than the original, making it a solid work-from-home (and idle-time) companion among Windows tablets. This 10.5-inch tablet display is excellent to view content from various sources with 1920 x 1280-pixel resolutions. Also, the colors are rich and sharp hence you will enjoy watching movies and videos on this. Coming to the design, it features silver magnesium chassis with an attractive logo giving it an elegant look. Apart from this, it has built-in kickstand through which you can make it a laptop and feel comfortable while using it.
As the tablet is lightweight and compact, it makes it highly portable to carry around wherever you go. It has few ports too that you will find useful like a USB-C port, headphone jack, and Surface Connect port. Along with this, the keyboard Type Cover gives a good typing experience as the keys are comfortable to press on with accurate traveling of keys. It also features dual speaks that make the sound quality excellent while playing games and watching videos. Internally, it is equipped with an Intel Core m3-8100Y CPU and 8GB of RAM that makes it a healthy fit for daily tasks. There is 128 GB of memory that is good for storing all your data.
Surface Go pro is highly preferred by the parents for regular home use and kids' entertainment. It is seamless and secure hence; you can set aside your privacy concerns. Also, the surface pen has improved and has become more responsive towards the touch, you can easily sketch, draw, and take notes with it. Overall, it is ranked highest in the best cheap 10-inch tablets in the market with all the specs and features that it offers.
Pros: Light and compact design, good audio volume, face-recognition
Cons: No keyboard cover
9. Huawei MediaPad M5 Lite
CPU: 2.36GHz Octa-core | Storage: 32GB | Display: 10.1″ (1920 x 1200) | Thickness/Weight: 0.3 inches / 1.01 lbs
One of the greatest inventions of Huawei, a very successful model with a blend of high-tech components with a good chance of high sales figures. It features 10.1- inch 1080P display so that you will have clear and crisp picture quality. The colors are accurate with an extensive brightness level that you will enjoy watching movies and playing games on this tablet. Also, the quad-core speakers give excellent sound quality with perfect bass that feels good to your ears and you enjoy the sound it gives. It features Quad-core with a 1.2 GHz clock frequency and 16 GHz GPU for graphics that makes the gaming experience pleasurable for you.
The spec sheet of MediaPad 10 sounds promising and the tablet could be a sales hit providing that the hardware and software are in sync. Though Huawei is a newcomer in the market for tablets, the great specifications attract the buyer. Moreover, its design is minimalist that gives it a luxurious look with curves around the corners. This tablet is lightweight and compact in size hence you can carry it around. Also, it comes with the M-Stylus pen that is responsive to the touchscreen so that you can jot down notes and data easily. Also, for your eye protection, it has a certain mode that decreases the strain on your eyes and even reminds you to not get close to the screen.
Apart from this, it has a 7,500 mAh battery, which sets another benchmark of excellent battery life. You will conveniently carry on with your work and entertainment without being worried about charging throughout the day. When it comes to tablets, all you have in mind is Apple and Samsung. Hardly people will notice other brands and even search for them. But with this launch, Huawei has become one of the best budgeted 10- inch tablets in the market that offers good value for money.
Pros: Rich audio, long battery life, best display
Cons: Low quality camera
Also read:
Best Gaming Laptop
The Best Gaming PC
The Best Gaming Monitor
Best 10 inch tablet FAQ's
Android vs iPad : Which one is better?
When you have to make the decision between Android and iPad you have to clearly think about your usage nature and the positive plus negative sights of these two tablets' types. Talking about the iPad its main strength is the ecosystem having the app store with millions of apps that are specially designed for the iPad's large display. iPad's are more stable in use as compared with Android tablets. As Apple OS is restricted to only Apple devices so the perfection in bug removing is promising because the number is less. Whereas, iPads have less customization and expansion ability. Also, if you want to extend the storage capacity the only solution is cloud service you just can't do it with an SD card. On the other side we all know that Android is an open platform there is no supervision so you might face malware issues sometimes. Furthermore, the android updates are not compatible with all the devices. At last, if you are looking one for watching movies or it's easy for you to operate the Android go for it then. On the other side if you want it for official work and you want to maintain your scope well then iPad will be the perfect choice for you. Also, the selection depends on your personal choice.
Should i buy a tablet or lapotp
Before taking the decision regarding laptop or tablet first you have to confirm for which purpose you need the one. For casual activities such as web browsing, watching videos, or playing games tablets are a perfect choice, also they are portable and compact in design. More, for productivity laptop's powerful hardware works better as compared with the tablet. But nowadays, all thanks to advanced technology now you can take the joy of both laptop and tablet in the shape of convertible or 2 in 1 laptop.
Is 10 inch an optimal screen size?
In old times 10 inch screen was considered the favorite size for tablets. But now after the popularity of 12 inches screens, they are now considered as mid-size screens. For the standard tablet tasks, this category works perfectly. Moreover, they can be carried easily everywhere especially at business meetings. When it comes to thumb-typing the 10-inch screens seems practical in portrait mode while in landscape it's not that good.